CES is (almost) all about cars this year
January 1, 2016 - 12:30 pm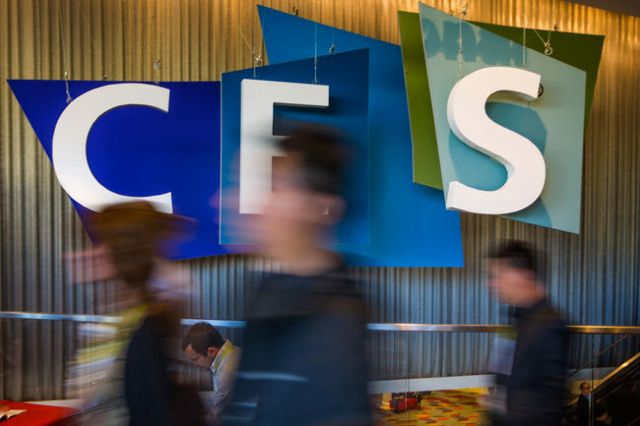 If you didn't know any better, you'd think this year's edition of CES, an international consumer electronics show, is all about cars.
Dozens of the new product introductions to be made next week at the Las Vegas Convention Center and the Sands Expo Center will come from auto companies.
CES attracts an estimated 170,000 people from around the world. The show is open to consumer electronics professionals, but not to the public.
The 170,000 is a conservative estimate; last year, 176,676 made their way to the largest CES ever. But this year, organizers say they will cap registrations at between 150,000 and 170,000 to improve the quality of the show.
The popularity and expected growth of CES have made its sponsor, the Consumer Technology Association, one of the key backers of the plan to expand and refurbish the Las Vegas Convention Center.
The four-day show technically opens Wednesday and runs through Saturday. But veterans know there are nearly as many events and press previews before the show as there are during it.
CES organizers and more than 4,000 media members will show up at McCarran International Airport around the time New Year's Eve revelers depart after their three-day holiday weekend.
One of the preview events will hold particular interest to Southern Nevadans. Faraday Future, the electric car company that last month announced it is building a 900-acre, $1 billion car manufacturing plant at Apex, will have a pre-show announcement about its car.
What exactly Faraday will show remains a mystery, but the company indicated it would unveil "a concept" Monday night.
Faraday will be joined at CES by nine of the world's top 10 auto manufacturers, and the amount of space dedicated to auto technology is up 25 percent from last year, said Karen Chupka, senior vice president of CES.
"It's fair to say that the automotive manufacturers are going to launch all their new technologies at CES," Chupka said. "It dovetails very nicely since the Detroit Auto Show occurs right after our show, so the companies will show their technology here and then show it to the auto manufacturers."
Some of the companies exhibiting at CES specialize in self-driving — or autonomous — vehicles, while others are introducing gadgets to help motorists.
Dallas-based Vinli, for example, is introducing a device that plugs into a vehicle's data port and turns it into a "smart" car.
During CES, Vinli will provide 500 Uber drivers with Vinli devices, which will make the cars into mobile WiFi hot spots. The devices can also wirelessly connect to other transportation-related applications and roadside assistance.
Automotive gadgets aren't the only products that will be unveiled at CES.
Chupka 29 exhibitors will be showing unmanned aerial systems — drones — this year, up 200 percent from 2015. The number of wearable technology companies will be up 300 percent.
Other exhibits will highlight robotics, smart-home technology and high-end home-entertainment systems.
CES serves as a showcase allowing startup entrepreneurs to market their products to large distributors. This year, 500 startups will exhibit at CES, compared with 375 last year. A record 2.4 million square feet of exhibits are planned, with the largest show floors at the Convention Center and Sands Expo Center. There also will be exhibits at Westgate Las Vegas, Renaissance Las Vegas, the Palazzo and Venetian, Wynn and Encore, Aria, Vdara and the Cosmopolitan.
The list of keynote speakers at the conference is a who's who of top technology executives. Among those scheduled to make addresses are Brian Krzanich, CEO of Intel; Herbert Diess, CEO of Volkswagen Passenger Cars; Reed Hastings, CEO of Netflix; Mary Barra, CEO of General Motors; Ginny Rometti, chairman and CEO of IBM; W.P. Hong, president of Samsung; and Robert Kyncl, chief business officer of YouTube.
This year's CES will have new security rules. In the past, it's been common to see attendees carrying their materials to the floor in suitcases, backpacks and wheeled bags.
This year, organizers say such bags will be banned from the show floor. Visitors also will be screened before entering the floor.
Follow @RickVelotta on Twitter. Contact reporter Richard N. Velotta at rvelotta@reviewjournal.com or 702-477-3893.