Chamber chief puts vast past to work in Las Vegas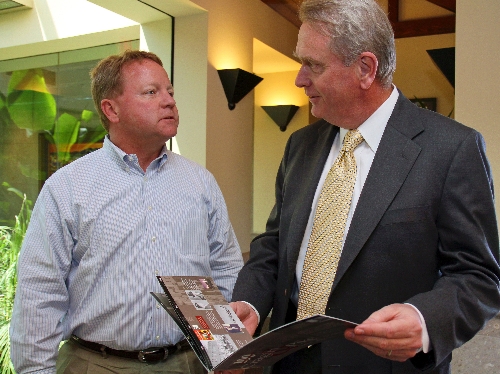 You'll learn all sorts of interesting things in a chat with Matthew Crosson.
Before he took over on April 26 as president and chief executive officer of the Las Vegas Chamber of Commerce, Crosson's diverse career included stints fighting terrorism as an assistant district attorney in New York, launching one of the nation's few small-business health insurance exchanges and interviewing world leaders including both presidents Bush and former British Prime Minister Tony Blair in front of live audiences.
Through it all, Crosson's seen and heard it all, from a sting operation involving 1 million machine guns to a firsthand account from former Federal Reserve Chairman Alan Greenspan on how famed saxophonist Stan Getz changed the course of U.S. economic history.
Crosson, the former head of the 5,000-member Long Island Association business group, now brings his experiences to the 6,000-member chamber. His goals here? Help diversify the local economy, support small companies and bridge education and business.
Question: What brought you to Las Vegas?
Answer: I think Las Vegas is very well-positioned for an economic expansion. When I look at the situation of other states around the country compared to what we have available to us here, despite the fact that unemployment is high and foreclosures are high, I think there is a very promising future here in many ways. I think the future direction of the country in terms of business development is exemplified by the attributes Las Vegas already has.
Question: What's been the hardest part about relocating, and what's been the easiest part?
Answer: The hardest part is that right now, I'm separated from my family. They're still back in New York. That's not easy, but we're doing the best we can. Skype helps. We're able to see each other through Skype. The easiest part has been the manner in which people in the chamber and in the community have accepted my arrival. It's been a very friendly reception. I've gotten to meet and start to get to know a lot of people, and it's been very welcoming, which has made the whole transition a lot easier.
Question: Local companies say it can be difficult to persuade educated professionals to relocate to Las Vegas. What lessons can we draw from your experiences?
Answer: It is an issue. There are misperceptions about Las Vegas in the minds of some people, but almost always, that's among people who've never been here. There are people who, when you say you're going to live in Las Vegas, their response is, "What hotel are you going to live in?" Their whole image is limited to the Strip. They don't understand the breadth of the whole community. There also are substantive issues that need to have the entire community's focus, and education is at the top of that list. It will make it more difficult to bring other businesses here if they perceive the educational system is inadequate.
These issues are not insurmountable at all, and I think Las Vegas has a great deal going for it relative to our competition around the country with respect to economic development. However, persuading a CEO to move his or her company is not a simple process. The employees of the company need to want to move, and they need to feel they can live in a new place and enjoy their lives there. The leaders of the company need to know they'll find the work force they need. We're already well ahead of the competition, but there are some issues we need to pay attention to.
Question: What do you enjoy most about Las Vegas so far?
Answer: The sun. It's sunny almost every day. It's also easy to get around. Las Vegas is a very livable place. There are a lot of fun things to do. All of those things that I see and like are things that almost anybody is going to like, and they are advantages.
Question: You've interviewed some very notable people, including both presidents Bush, former British Prime Minister Tony Blair and political pundits Sean Hannity and James Carville. Any interesting stories? Did James Carville and Sean Hannity throw water at each other backstage or anything dramatic like that?
Answer: No, but when we did the program with Sean Hannity, James Carville and Tim Russert, it was before Barack Obama had become the Democratic presidential candidate. Hillary Clinton was still in the race. So I started the program by telling James Carville that he had to stand up and make the case for (Republican candidate) John McCain, and Hannity had to make the case for Hillary Clinton. Sean jumped to his feet and said, "This is the worst moment of my life! I can't do it!" The audience had a great laugh. But he eventually did it. They both did. If John McCain had made as effective a case for himself as Carville did, he might be president today, and Sean did a great job with Hillary Clinton.
I was concerned about interviewing Alan Greenspan, because he's a brilliant guy, and he's brilliant in an area I don't know that much about. I needed to be able to have him talk in a way the audience could understand about economic issues, but more importantly, I needed to make him a human being for people. We had a chat about his life, and he told me that when he was a kid, he took saxophone lessons. His saxophone teacher had one other student, and one day, Alan Greenspan went to his lesson before the other student had finished. After Alan Greenspan listened to that other student, he decided the saxophone wasn't for him, and that he would do something else. The other player was Stan Getz. Alan Greenspan said, "I listened to Stan Getz and said, 'What am I doing here?'Â "
Question: What was the most notable case you worked on with the New York Frauds Bureau?
Answer: In the 1970s, two rogue CIA agents, Edwin Wilson and Frank Terpil, created terrorist training camps in Libya. They had 1 million machine guns, 10 million rounds of ammunition and poisons and stuff. We created a sting operation in which two undercover detectives posed as Latin-American detectives. The investigation led us around Europe and the United Kingdom. We arrested him, and it became a big story. "60 Minutes" did a segment on the investigation and won an Emmy, and PBS and the BBC did documentaries on it. Terpil was given bail by a judge in New York, and he fled the country. I tried him and convicted him in absentia. He remains a fugitive, living under protection in Cuba.
Question: What were your biggest accomplishments at the Long Island Association?
Answer: I focused No. 1 on rebuilding the economy of Long Island in the 1990s. After defense downsizing had cost the region about 100,000 jobs, we had to restructure the economy and figure out what high-tech industries would replace aerospace and rebuild the confidence of the community of Long Island. No. 2 was developing a close working relationship between education and business. We did a lot with the K-12 education system. And No. 3 related to affordable housing. We got legislation passed requiring that 10 percent of all housing built on Long Island be affordable.
Question: What do you hope to accomplish with the Las Vegas Chamber of Commerce?
Answer: The most important thing is to get through the remainder of the recession, and to help particularly small businesses, which generate most of the jobs in this community or any community. We need to help them get through the recession, to try to get more business for them, to persuade more people to shop within the community and spend money in the community, thereby helping businesses survive the remainder of the recession.
Second would be to help bring the community together to develop a plan for economic diversification, because clearly the economy of the region needs to be diversified, and diversity would benefit everyone in the community, at all places and all levels. It needs to be done, and I think the chamber of commerce is well-situated to bring the entire community together to diversify.
Question: In what areas can we diversify?
Answer: Advanced (clean) energy in general is a logical choice. Offshoots of existing industries, including gaming, are logical choices. I think there can be a significant information-technology base here, as well as other forms of technology. Beyond that, I think Las Vegas can be seen as and be developed as a center for creativity in all sorts of industries — creativity in design, creativity in thought. Las Vegas can be the creative center of the country. In many ways, it already is, but we can brand it that way and attract people here. But there are also probably ideas and industries we don't talk about that can also be an important part of our future. Many of the things that can help you build an economic future are right in front of you. The process of talking about our future and exploring what already exists here helps diversification.
Question: What do you like best about representing businesspeople?
Answer: Businesspeople are the community. The vast majority of any community is made up of people who own or work for small businesses. There's a segment of people who own or work for larger businesses as well, but either way, the business community is inseparable from the community as a whole. Businesses thrive only in communities that thrive. I like encouraging businesspeople to be involved in the community, to take responsibility for the health and welfare of the community, to help build a sense of community. That is what gives the economy strength, and it's also personally satisfying for the businesspeople.
Question: What's your biggest career accomplishment?
Answer: In my earlier career, I created a multistate law-enforcement organization that is now the National White Collar Crime Center. When I was with the court system, I created and negotiated through the Legislature legislation relating to building of courthouses in New York, which led to the largest justice-related building program in the country outside of the federal government. And with the Long Island Association, I would have to say it was the work I did in the 1990s to help rebuild the economy.
Contact reporter Jennifer Robison
at jrobison@reviewjournal.com or 702-380-4512.
VITAL STATISTICS
Name: Matthew Crosson
Position: President and chief executive officer, Las Vegas Chamber of Commerce
Age: 60
Quote: "Businesses thrive only in communities that thrive. I like encouraging businesspeople to be involved in the community, to take responsibility for the health and welfare of the community, to help build a sense of community."
Family: Wife, Elaine; son, Daniel.
Education: Bachelor of Arts from Georgetown University; juris doctorate from Fordham University School of Law.
Work history: Deputy chief of the Frauds Bureau, Office of the Assistant District Attorney in New York County; assistant counsel to the office of New York Gov. Mario Cuomo; chief administrator, New York State Unified Court System; president and chief executive officer of the Long Island Association; president and chief executive officer, Las Vegas Chamber of Commerce.
Hobbies: Golf, reading.
Favorite movie: "Lawrence of Arabia" (1962).
Hometown: Wilton, Conn.
In Las Vegas since: 2010.
The Las Vegas Chamber of Commerce is at 6671 Las Vegas Blvd. South, Suite 300 and can be reached at 641-5822.