Chef's not leaving Las Vegas, thanks to Downtown Project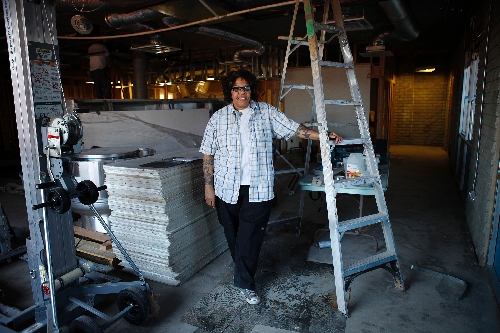 Chef Natalie Young was packing her bags to move back to Santa Fe, N.M., when Downtown Cocktail Room owner Michael Cornthwaite introduced her to Tony Hsieh.
Cornthwaite wanted Young to stay in Las Vegas, and thought the Zappos.com chief executive might have an offer the chef couldn't refuse.
"The first time (Hsieh) ever met me, he said, 'What size restaurant do you want?' " Young said, recalling her chance encounter at Cornthwaite's downtown lounge.
Hsieh's downtown revitalization group, the Downtown Project, works with small businesses interested in setting up shop downtown. The group's $50 million small-business fund invests in entrepreneurs like Young, helps them craft business plans, find space for their new ventures and research back-end services like point-of-sale systems.
The Downtown Project's offer of help persuaded Young to stay. In September, she will open Eat, a breakfast and lunch spot on the ground floor of an apartment building at 707 Carson Ave.
Young will serve American cuisine with New Mexican influences and a bit of French flair she picked up as a chef at the Paris' Eiffel Tower restaurant. Prime rib hash with Hatch green chilis will be a signature dish.
The Downtown Project's Don Welch, who oversees the small business fund and has worked closely with Young to build out her restaurant, said his team is looking for businesses with four core values.
"Is it community-driven?" he said. "Is the person passionate about it? Do we think they can execute it? Is it sustainable? If it meets that criteria, with community and passion being the two most important, we'll sit down and talk."
Since the Downtown Project's $350 million investment pool became public last year, Welch said hundreds of businesses have expressed interest in moving downtown. Welch's team now accepts video pitches for funding and tries to respond to every submission.
Eat is the fund's first project. Two others, a studio and film production company and a boutique, have been signed. A handful of others are in negotiations.
The fund's second venture is a pop-up retail shop owned by fashion industry veteran Sarah Nisperos. Nisperos' store in the lobby of the Downtown Project's new headquarters at 515 Fremont St., is a practice run for her boutique Coterie, which is planned for the Project's shipping container park at the corner of 7th and Fremont streets.
The pop-up store will open in about three weeks with merchandise from other downtown businesses, like The Beat and Le Thai, and a sampling of the men's and women's apparel and accessories Nisperos expects to stock at Coterie.
Nisperos, once a fashion consultant for Zappos, is looking for brands that fit with Coterie's mission of "conscious consumerism." She plans to sell ecoconscious clothing and accessories and work with brands that are dedicated to a cause other than just fashion.
Restaurants like Eat and retail shops like Coterie are at the forefront of the Project's efforts.
"In my mind, food is what's going to draw people down here," Welch said. "(But) it's the one thing that takes a lot more planning. To get a retail spot open is a lot easier than getting a restaurant open."
It's also easier to find and retrofit an older downtown building for a boutique than a breakfast spot. Welch said one of the small-business fund's biggest challenges is finding suitable spaces for all of the businesses that want to move downtown.
Focus Commercial Group Realtor Brandon Wiegand said there's a "fair amount of space" available downtown, but tenant improvement costs are often too high for small businesses to take on. Downtown landlords, usually individual owners, don't have the money on hand to help with build-out, particularly for restaurants, which are more cost-intensive than other businesses.
Young two weeks ago began building out her 2,200-square-foot space, tearing up carpet and removing wood panels to reveal the exposed brick walls and concrete floors that will house her dream project.
"I'm a cynic, but I'm telling you, this … is happening," Young said. "It happened to me."
Contact reporter Caitlin McGarry at cmcgarry@reviewjournal.com or 702-387-5273.