City of Las Vegas turns suitor's attention toward Major League Soccer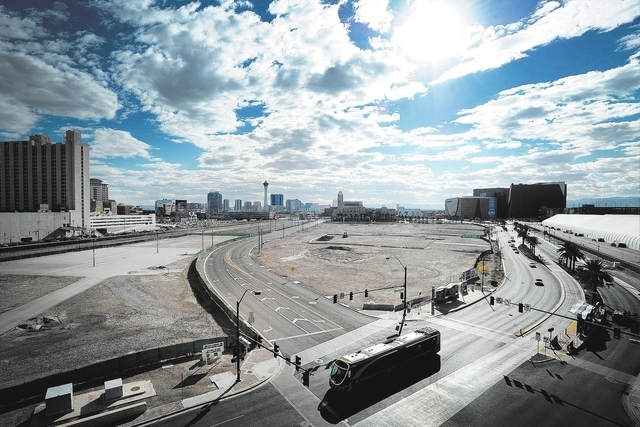 Always the flirt for a major-league sports team, the city of Las Vegas now is romancing big-league soccer after a proposed basketball/hockey arena fizzled.
Las Vegas Mayor Carolyn Goodman and the City Council last week green-lighted a partnership of development company Cordish Cos. and Findlay Sports &Entertainment to try to land both a Major League Soccer franchise and to find a way to pay for a downtown soccer stadium. A new soccer stadium is expected to cost about $125 million, while the MLS expansion fee would be in the $70 million range.
That's no easy task for the Cordish-Findlay partnership. Las Vegas faces formidable competition to land an MLS team, competing against San Antonio, San Diego, Sacramento and Minneapolis. All are vying for the last available expansion team for MLS, which is the big league of U.S. professional soccer. MLS will add five teams, for a total of 24, by 2020. New York, Orlando and Atlanta have secured three slots, with soccer star David Beckham finalizing a deal in Miami for the fourth.
And when it comes to building a stadium and securing a team, the Las Vegas partnership will face equally stiff competition right here at home.
UNLV is seeking a publicly funded campus stadium, with a consultant's report projecting 44 annual events — including 17 Major League Soccer games — at the proposed 50,000-seat venue.
The consultant, Dallas-based CSL, said 17 MLS regular-season home games at a UNLV-based stadium would generate annual attendance of 306,000 fans, based on average attendance of 18,000 per game. Those fans generate income for a stadium. For example, if per capita fan food and beverage spending is $10, that's $3 million in food and beverage revenue per MLS season at a stadium. Other potential revenue streams include event parking, merchandise and rent.
Besides playing 17 regular-season home games, an MLS team also might play postseason matches, exhibitions or matches against international teams, which could add another two or three home dates.
MLS games easily would offer the most events at a potential UNLV stadium. The proposed venue also would attract MMA fights, boxing matches; concerts, rugby, motor sports and, of course, UNLV football games.
'FRIENDLY' COMPETITION?
In this competition to land a Major League Soccer team, it looks like the city of Las Vegas and UNLV are not exactly playing what is known in the soccer world as a "friendly."
Goodman, who has inherited the sports team/stadium cheerleader baton from husband Oscar, said both proposed stadiums — a downtown soccer venue and a UNLV all-purpose one — are viable. But she argues the proposed UNLV stadium should "not be for major league sports franchises."
That perspective drew a rebuke from UNLV stadium board member and Regent Cedric Crear.
"I don't buy that," Crear said of the mayor's argument that UNLV shouldn't have a major-league tenant.
"The purpose of building a stadium is to attract multiple types of events. (A UNLV stadium) is a viable candidate to house any event," Crear said.
The Findlay family owns 16 car dealer­ships in the Las Vegas area and 28 in four states. Justin Findlay, managing partner of Findlay Sports &Entertainment, formed specifically to recruit an MLS team and to develop a soccer stadium plan, said both a downtown soccer venue and an on-campus stadium can coexist, and they even can complement each other.
"We feel having a soccer team (downtown) would create more opportunities for international matches" at the UNLV stadium, Findlay said. He noted that when the Los Angeles Galaxy of MLS plays a popular international team such as Manchester United, the match is in a large stadium such as the Rose Bowl, not at the Galaxy's smaller soccer stadium.
"There's nobody who wants to see UNLV get a stadium more than the Findlay family," Findlay said.
A downtown soccer stadium would be better positioned to land a team than an all-purpose stadium on a college campus a few miles from downtown, industry analysts say.
"We want soccer to be a priority and primary tenant, and the stadium in an urban core," said Dan Cortemanche, a spokesman for Major League Soccer.
MLS A BETTER FIT?
Acting UNLV President Don Snyder, who chairs the 11-member UNLV stadium board, said Findlay has told him an MLS team in Las Vegas would fit better in a stadium built for soccer.
While saying he would rather land a soccer team on campus, Snyder said the prospect of 17 MLS games at a university stadium "does not drive economics," and that both venues can succeed regardless of where the soccer ball bounces.
But another UNLV stadium board member, Kirk Hendrick, questioned that assumption.
"If one could accommodate soccer, I don't know if we need two," said Hendrick, chief legal officer at Las Vegas-based Ultimate Fighting Championship.
MLS teams do play in stadiums designed for both soccer and for football. For example, the Seattle Sounders play at CenturyLink Field, the football home of the NFL's Seattle Seahawks, and averaged a league-leading 44,038 fans per game in 2013.
Last year, Chivas USA in Southern California had the lowest average attendance, at 8,366 per game at StubHub Center in Carson, Calif. Average attendance across the MLS is 19,000.
Las Vegas is not the only city with two entities vying for an MLS team and stadium. In Minneapolis, the NFL's Minnesota Vikings and a professional soccer team, Minnesota United of the North American Soccer League, are each working on a stadium project and trying to land the final MLS franchise.
Some MLS soccer-specific stadiums also host college football. BBVA Compass Stadium in Houston, where the Houston Dynamo of MLS is the primary tenant, also is home to Texas Southern football.
WHO SHOULD PAY
Goodman already is sounding the call for the soccer-specific stadium in Las Vegas, preferring a tourism or visitor tax over a local tax to help pay for the downtown venue.
"My hope is that public funding would not be needed," Goodman said.
The Las Vegas City Council last week gave Cordish and Findlay until Sept. 1 to piece together a funding plan for a downtown soccer stadium. The partnership also has until Dec. 1 to draw a Major League Soccer commitment to put a team in Las Vegas.
The fact that several cities — and even multiple groups within those cities — are vying for an MLS team shows how far the league has advanced since it was launched in 1996 with 10 teams. The average team value has increased to $103 million, according to Forbes magazine. The MLS runs under a single-entity system and keeps team payrolls at $3 million, a tiny fraction of team payrolls in other professional sports.
Several years after it was created, MLS nearly collapsed. But two MLS founders, Phil Anschutz and Lamar Hunt, salvaged the league. Anschutz owns the Los Angeles Galaxy and half of the Hoston Dynamo, while Hunt owned the NFL's Kansas City Chiefs and two MLS teams before his death in 2006.
An Anschutz subsidiary, Anschutz Entertainment Group (AEG), is a partner with MGM Resorts International on the $375 million privately financed arena on the Strip behind New York-New York, but there is no interest by Anschutz to be involved in bringing an MLS team to Las Vegas.
Contact reporter Alan Snel at asnel@reviewjournal.com or 702-387-5273. Follow @BicycleManSnel on Twitter.