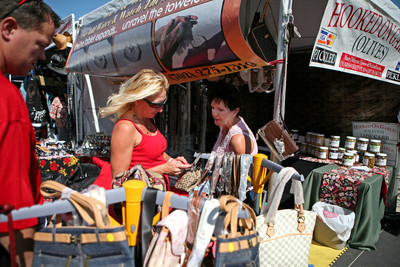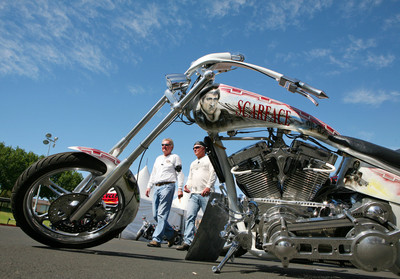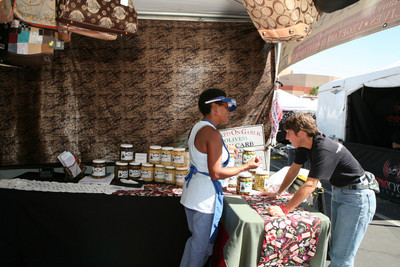 Sharing a space that's smaller than most jail cells, Jean Butterowe's booth at a recent motorcycle show was the epitome of the phrase "small business."
Butterowe runs a business called Chaps By Jean that sells embellished biker chaps, handbags and original jewelry, among other items.
"I sell everything that Wal-Mart doesn't have," says Butterowe, a 30-year Las Vegas resident.
She can pack her business in the back of a large sport utility vehicle or ship it across country in boxes.
But Butterowe mostly stays as close as she can to the lively convention, trade show and special-event market in Southern Nevada.
That's because the Las Vegas area is the No. 1 destination in America for trade shows and conventions, which gives Butterowe and other entrepreneurs access to an industry worth $8.2 billion annually without going too far from home.
It is why local businesses exhibit at Las Vegas conventions and sell at consumer shows and other events that allow for direct sales.
Butterowe considers it a good show if she can earn bank her expenses plus 40 percent. She recalls the first show she worked in 1997. She estimates it cost her $1,600 just for a booth and she brought $5,000 in inventory.
"The first year I didn't sell squat," Butterowe said.
It's easier now to make money, especially in Las Vegas because she doesn't have to pay for cross-country shipping, a hotel room and rental car. Easier, but not easy.
"You can't just go buy a bunch of stuff and stick it in a booth," she says. "You have to have some kind of plan for what you do."
Steve Schuldenfrei agrees.
Schuldenfrei is president of the Trade Show Exhibitors Association in Chicago.
Cracking into the trade show and convention business can be lucrative if done well. If not, an exhibitor or seller can wind up spending a lot of money for little or no return.
One of the first considerations should be what category of show to attend.
Someone like Butterowe, who sells items from a booth, is likelier to benefit from a consumer show.
Those are shows and events that are open to the public and will allow vendors to sell on the show floor or grounds.
Then there are professional shows or conventions. Typically, only people with a professional connection to a certain industry can attend. Some of the top shows in Las Vegas, like the International Consumer Electronics Show and the Specialty Equipment Market Association car parts show fall into this category.
Those shows are for professional buyers and sellers to look at products and make big orders.
They don't typically allow buying and selling of individual items on the show floor, which means the events are more valuable for networking and finding new clients for a product or service.
Picking the category of show to attend is simple, Schuldenfrei said.
"If you are selling jewelry you need a consumer show," he said. "If you are selling jewelry to retailers you need a trade show."
Once potential exhibitors or vendors choose the category, they need to pick the show. That's where it gets more complex, especially in Las Vegas where there are myriad shows with different price points and customers. There is also intense competition to participate in the most successful shows.
The desirability of the show is reflected in the cost to exhibit.
The International Consumer Electronics Show, the biggest show in town in terms of attendance and media coverage, can charge exhibitors in the neighborhood of $40 per square foot, said Chuck Schwartz, who runs SEMA and the Bike Fest.
SEMA, a show with large attendance and heavy media coverage, charges about $20 per square foot. Bike Fest charges about $7 per square foot.
"If you deliver a lot of business you can charge more," Schwartz said.
But there's more to the cost than just floor space.
Schuldenfrei said potential exhibitors should get a prospectus from show management that outlines the cost for electricity, Internet access, floor covering and other extras that might not be included in the space rental price.
"If it is not on that list you are not getting it for the inclusive price," he said.
Exhibitors should also know work rules.
Exhibitors or vendors are mostly allowed to do simple setup on their own. But approved union labor is required to do more elaborate work in most cases.
"The minute you pick up a screwdriver or need a forklift to move your booth," you are potentially on the hook for union labor, he said.
"You can't just bring in your employees, even if they are union employees. They might not be in the right union" Schuldenfrei said.
Stella Smalley, who sells specialty olive and garlic products in person and online through a business called Hooked on Garlic, shared Butterowe's booth.
Smalley said she has success at folksy or down-home events like farmers markets and gun shows.
She recently moved from Northern California to Las Vegas and tries to do business close to town.
"I'll go outside of Las Vegas if they have a really great show," Smalley said.
Keeping her overhead low by doing most of her own work and staying close to home is part of Smalley's business model. It requires hard work, though. She loads and unloads heavy cases of olives by hand from her pickup truck.
In return, however, she gets the benefit of a source of income and flexible work hours.
The flexibility means she can take care of her mother, a senior citizen who needs assistance regularly.
She advises would-be entrepreneurs to be ready to work hard to succeed.
"It is a lot of work," said Smalley as she unloaded the truck under the sun at Bike Fest in the Cashman Center parking lot. "They have got to really want to do it."
This story first appeared in the Business Press. Benjamin Spillman writes for the Business Press' sister publication, the Las Vegas Review-Journal. He can be reached at 477-3861 or at bspillman@reviewjournal.com.