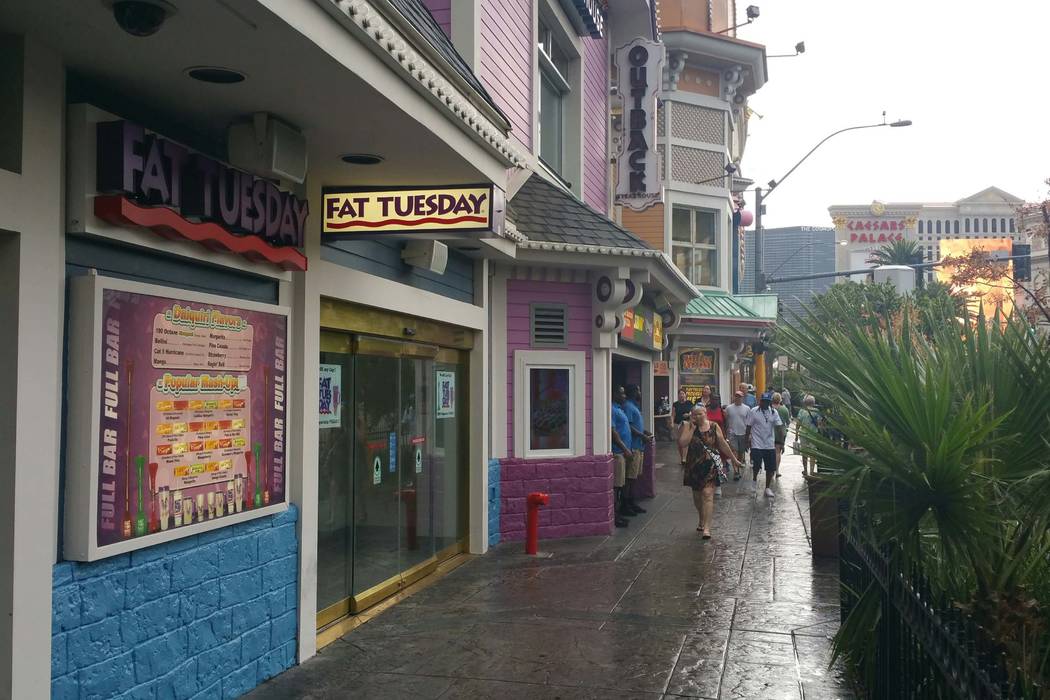 A state government agency has accused a co-owner of two bars on the Strip of sexually harassing female employees.
A representative of Bar Two LLC, which runs two locations of the New Orleans-style bar chain Fat Tuesday, is expected to appear before the Nevada Equal Rights Commission on Thursday to respond to the accusation.
According to the complaint from the commission's administrator, a video shows the co-owner, Yakov "Jackie" Hefetz, slapping a female staff member's behind.
Another video described in the complaint shows Hefetz simulating sex acts behind a female staff member in the presence of customers at the now-closed Fat Tuesday inside Imperial Palace. Imperial Palace became The Linq Hotel in 2014.
Bar Two LLC's current Fat Tuesday locations are at Caesars Palace and Casino Royale.
Nevada Equal Rights Commission Administrator Kara Jenkins filed the complaint in July to request the commission serve Bar Two with an order banning the company from harassing employees.
Jenkins said she is confident the state will settle with Hefetz's company. The complaint makes no demand for the company to pay a financial penalty should Jenkins prove the accusations.
Mary Chapman, an attorney representing Bar Two, said a settlement has not yet been reached and declined further comment.
Co-owner Moshe Rosenblum told managers in a March 2014 email that "corrective action" was taken to stop Hefetz from harassing employees, according to the state's complaint.
Phone calls placed at the Bar Two-operated Fat Tuesday locations were not returned. The Bar Two co-owners did not return written messages asking for comment.
Between 2012 and 2014, Eddie Yan, an assistant general manager at the time, had complained to Rosenblum about the co-owner's behavior, according to the state's complaint.
In 2014 Yan was demoted to a supervisor role. He no longer works for Fat Tuesday, according to his Facebook account.
A company has not been brought before a public hearing since 2007, Jenkins said. The case will also go to her agency's federal counterpart, the Equal Employment Opportunity Commission, for consideration.
"We've had a reputation in the past for going easy on people, which we do not," Jenkins said. "To get this far, it means a blatant disregard to the rights of employees."
The case reflects a difficulty faced by businesses when someone who can't be fired engages in inappropriate behavior, said Deanna Forbush, an attorney who specializes in employment law and works out of the Las Vegas Valley office of the Clark Hill law firm.
Companies that are found guilty in a federal case can face a fine between $50,000 and $300,000, depending on the company's size.
A possible solution for companies is contracting with a third party for an employee hotline, Forbush said.
'Take immediate corrective steps," she said. "This kind of thing could bring a company down."
Contact Wade Tyler Millward at wmillward@reviewjournal.com or 702-383-4602. Follow @wademillward on Twitter.