Construction employment makes steady rebound in Southern Nevada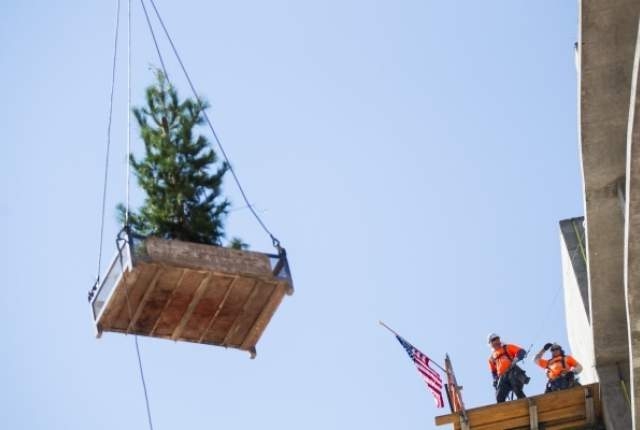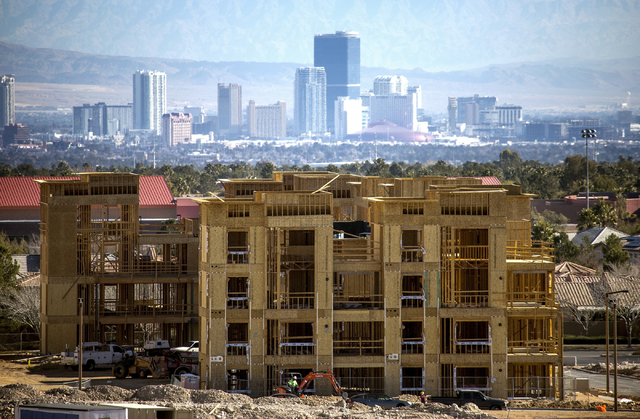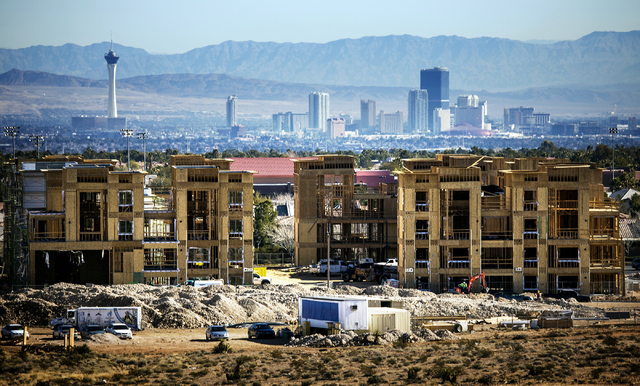 Southern Nevada's construction sector started 2016 strong.
Employment spiked 8.3 percent year over year in February, as billion-dollar projects papered drawing boards across the Las Vegas Valley.
Right about now, you're probably sighing: "Haven't we been here before?"
Not exactly, industry observers say.
Sure, today's building boom shares echoes of the market's frenetic pace before 2007, when the building bust hijacked the local economy and held it hostage for half a decade.
But this time, the activity is manageable. Those surging growth rates come mostly from the fact that construction came to a standstill in the recession. Population growth, job gains and record visitor volumes mean the building sector should continue to expand at its rate today through 2016, and likely into 2017, experts say.
"While they look nothing like they did at the height of the market in 2006, the fundamentals within the construction industry look much more stable at their current levels," said Brian Gordon, a principal in local economics research firm Applied Analysis. "The off-the-chart growth rates of a decade ago were clearly unsustainable. Our construction industry is better-positioned today."
A look at the numbers
Nowhere is Nevada's construction bust more obvious than in its job numbers.
Building jobs peaked at 148,000 in 2006, and plummeted 68.4 percent to 46,700 in 2012.
Taxable sales traced to construction reached $144 million in January 2009 but dove 78 percent to $31.8 million in January 2012.
Those numbers have bounced back markedly in the last two years.
Employment is up 56.7 percent from its low, to 73,200 in February. Taxable sales were up 60.1 percent in January, the latest month with available numbers, to $50.9 million.
Mike Shohet, president of commercial construction trade group NAIOP Southern Nevada, said he sees the gains in his association's membership rolls, which were up 10 percent year over year at the end of 2015 to more than 400.
Membership in the Nevada Contractors Association soared 25 percent from mid-2014 to the end of 2015, though it fell by nearly 40 percent in the downturn, added Sean Stewart, the group's executive vice president.
"It's definitely interesting times," Stewart said. "When I speak with contractors and employees, there's a lot of optimism. People are excited. They understand it's a different growth pattern, and that it could potentially be very good for Nevada."
That growth pattern has been broad, spreading to virtually every corner of the building industry.
Housing recovery helps
The recovery began picking up speed in 2013, with a small revival in housing, and took flight in 2014 with an upsurge in industrial and retail construction. Thanks in part to a 2 percent population growth rate that's running roughly three times the national average, new-home permits have doubled, from a 2011 low of 3,700 to today's 7,500 annual closings, though that's still a fraction of the 33,000 permits local builders pulled in 2004.
Where there's population growth, there's demand for new services. Enter the $1.2 billion, 155-acre Union Village near U.S. Highway 95 and Galleria Drive. The health care-centered project, under construction now, will include hospitals, retail, cultural centers and senior living when it's complete in about a decade.
Big shopping and dining projects have bolstered construction, too, including the 1.6 million-square-foot Downtown Summerlin; the 55,000-square-foot Grand Bazaar Shops at Bally's; MGM Resorts International's 3-acre The Park at T-Mobile Arena; and a 40,000-square-foot retail project fronting Treasure Island.
Even the resort sector gave an assist as visitor volumes reached new records in 2014 and 2015. Light site work started in 2015 on the Strip's $4 billion Resorts World Las Vegas, and building went vertical on the $373 million, 201-room Lucky Dragon hotel and casino on Sahara Avenue just west of Las Vegas Boulevard. The $375 million T-Mobile Arena, a joint venture between MGM Resorts and AEG, opened April 6.
Strength in industrial
But few construction subsectors have surged like the industrial market.
TWC Construction saw the swing coming in October 2014. That's when developer Prologis enlisted the Las Vegas builder to put up what was then the largest local speculative industrial space in a decade — the 464,000-square-foot Las Vegas Corporate Center No. 19 at Pecos and Gowan roads.
Many more industrial spec spaces would follow, driven in large part by a strong e-commerce market: Today, the market has nearly 6 million square feet of spec industrial space in the works, though some of that might not get built if leasing activity slows.
Still, "if half of what we see coming across our desk is built, it's going to be a good market for all of us," said TWC's CEO, Matt Ryba.
Thanks to the boom, TWC's business volume soared as much as 60 percent in 2014 and 2015, Ryba said. The contractor's full-time employee base is up more than 35 percent, to around 30 people. Company executives anticipate revenue gains of another 20 percent to 25 percent in 2016, though the employee roster likely won't grow that much.
That slower employment growth won't be the case in general.
A spur to suburban retail
Job gains in construction should stay at their current levels at least through 2016, observers said.
"We see growth in all sectors," said Stewart, forecasting another year of roughly 10 percent annual gains in the jobs base.
Gordon said that should include the residential side, where a passel of apartment projects including The Constellation in Summerlin and The Mercer at Tropicana Avenue and Grand Canyon Drive, will supplement steady demand for new single-family homes.
The new rooftops will spur additional suburban retail, particularly in underserved markets such as the southwest, Shohet said.
Plus, a new, local gasoline tax has fueled nearly $1 billion in revenue for public-works projects in Southern Nevada, such as the $559.4 million Project Neon, the 3.7-mile overhaul of the Spaghetti Bowl interchange between Interstate 15 and U.S. Highway 95.
What's more, two planned megaresorts — Resorts World Las Vegas and Alon — won't reach peak construction until they're close to the middle of their building timeline, Gordon said. If both projects pick up on schedule in 2017 and 2018, that could mean sustained labor demand beyond this year. Construction's current growth rate is sustainable for the next two years if all projects in planning move forward, he added.
But that could mean labor shortages.
TWC has been "fortunate" for now in finding enough people, said Mark Wilmer, the company's executive vice president.
"It's been an employer's market for us. There's a lot of good talent looking to get back into the game," Wilmer said.
Others are struggling, though. It's tough to find qualified workers in some trades, particularly carpenters, drywallers, electricians and, in the resort sector, millwork and upholstery, Shohet said.
And even with today's bumper crop of jobs, the city's construction jobs market will likely never return to its peak.
That doesn't disappoint industry watchers.
"We know that level of growth and expansion can have negative repercussions when economic conditions slow down, and that type of unsustainable pace of growth probably isn't something the community should be striving for," Gordon said.
Added Shohet: "It was a little bit irrational at that time. A lot of projects got built that probably shouldn't have been built."
Contact Jennifer Robison at jrobison@reviewjournal.com. Find @_JRobison on Twitter.
RELATED
Determined desert dwellers: Construction industry returns to life in Las Vegas
Nevada forecasts massive job growth through 2017
Las Vegas seen benefiting from solid growth in '16