Construction to begin on first phase of full-scale health village
October 6, 2014 - 11:05 pm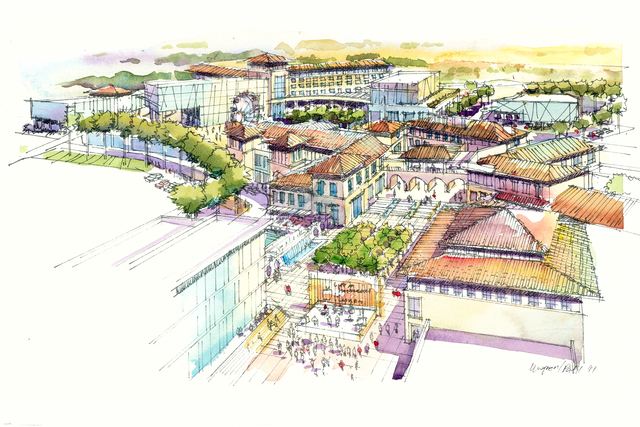 Construction will start Wednesday on the anchor business of what is to become Nevada's first full-scale health village.
Union Village will break ground during a ceremony Wednesday in Henderson, Union Village spokeswoman Wendy Sloan said. Gov. Brian Sandoval is expected to attend.
An acute-care hospital will be the first facility to begin construction in the $1.2 billion village project at the northeast corner of U.S. Highway 95 and Galleria Drive. It will be the sixth Valley Health System hospital in Southern Nevada.
"This project is right for the city of Henderson," Mayor Andy Hafen said. "It has been said that this is the right location, the right vision and the right time."
Union Village bought 170 acres of land for the project from the city in January. It is the biggest health care project in the world and the only complex of its kind in the country, Union Village founder Craig Johnson said.
The Valley Health System purchased 38.5 acres of that land to develop the hospital.
"No longer will people have to travel out of Nevada to get the quality health and medical care they need or see specialists who aren't available in Southern Nevada," City Council Member John Marz said.
Hospitals have been notoriously put in less-than-prime locations, Johnson said. This village will be at the city's forefront.
Plans for the village were first conceived in 2010. The land is being prepared now, and construction is set to begin in the first quarter of 2015, Johnson said. The project's first phase — the hospital and medical center — is expected to open at the end of 2016.
The village will change the dynamic of senior care by making different levels of care available in the same complex. Rather than being transported to several different facilities and spending unnecessary time in hospitals, seniors will be able to recover in skilled nursing settings at a lower cost, Johnson said.
About 6,000 visitors a day are expected on campus including employees, residents of the 1,000 senior units and residents of the 400 non-age-restricted condos, Johnson said.
The four-part village will consist of Union Centre, Union Plaza, Union Place and Union Park. It will be a place to work, live and play, Johnson said.
Union Centre will be home to the new hospital and health center; Union Plaza will have a specialty retail center, medical offices and residential apartments; Union Place will house a senior community; and Union Park will serve as the village's civic and cultural arts center.
No announcements have been made of other businesses planning to join the campus, but Johnson said there are plans for a movie theater, a health club and a hotel.
Johnson said he expects those announcements to be made next year.
Johnson said 5,000 construction jobs and 12,000 health care and retail jobs will be created by the project, which is also projected to generate $5 billion for the local and state economies over its 80-year expected life. The figure was calculated by estimating tax revenue from employee income, sales, and property taxes, and Union Village's property and sales taxes, Johnson said.
Contact Kimberly De La Cruz at kdelacruz@reviewjournal.com or 702-383-0381. Find her on Twitter: @KimberlyinLV.