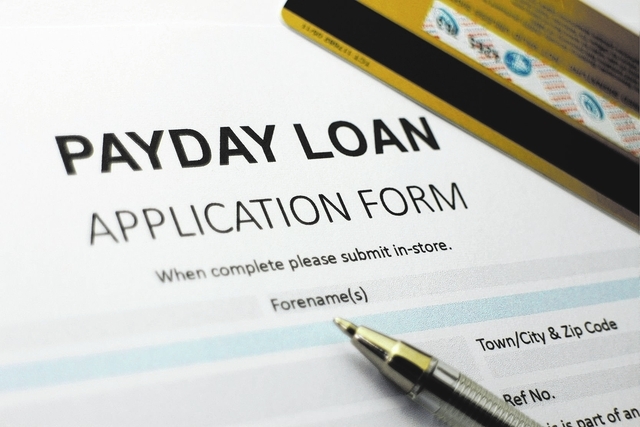 The Consumer Financial Protection Bureau will accept complaints from consumers about payday loan products.
Payday loans, also known as cash advance loans, traditionally are low-balance, high-interest unsecured loans, which advocates argue are meant to help people with no recourse to meet an immediate cash need.
Critics of payday loans argue they trap borrowers in endless, expensive debt cycles..
Some credit unions and banks have rolled out alternatives to the high-cost products, but consumer groups have argued the so-called alternatives are actually payday loans.
In Las Vegas, One Nevada Credit Union offers an Advance Pay loan. The credit union advertises on its website that it is "a more affordable option than your typical payday lender."
One Nevada offers up to $1,000 for up to two weeks, with $100 in interest.
Wells Fargo offers Direct Deposit Advance, which offers a line of credit up to $500 and fees of $1.50 for each $20 borrowed. The advance is automatically repaid when an account receives any direct deposit of $100 or more.
Traditional financial institutions argue these products are less expensive and do not exploit their clients.
"Before the Consumer Bureau, consumers who had trouble with payday lending products had few places to turn," bureau director Richard Cordray said. "By accepting consumer complaints about payday loans, we will be giving people a greater voice in this market."
Payday lenders have spread across Southern Nevada over the past 20 years, beginning with storefront locations. Many local payday operators now offer loans online.
The bureau has authority to oversee the payday loan industry and began supervising payday lenders in January 2012.
Consumers can submit payday loan complaints about unexpected fees or interest, unauthorized or incorrect charges to their bank account, payments not being credited to their loan, problems contacting the lender, receiving a loan they did not apply for and not receiving money after they applied for a loan.
To submit a complaint, visit www.consumerfinance.gov/complaint or call 855-411-2372.
Contact reporter Chris Sieroty at csieroty@reviewjournal.com or 702-477-3893. Follow @sierotyfeatures on Twitter.