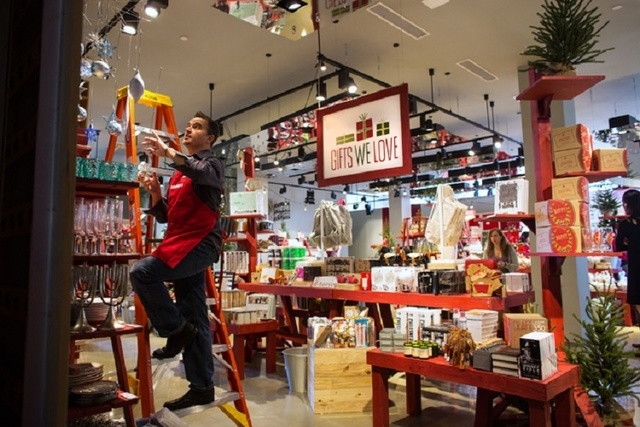 Bursts of red-colored blankets, dinner plates and Christmas tree ornaments hit your eye, before rows of candy come into view. Peppermints, chocolates and hot cocoa packets take over your line of sight, almost hiding the clear glass cocoa mugs just below.
On a Wednesday morning, Phoenix resident Susan Fogle remarks, "Oh, how cute" about the candy display, then keeps walking around the 6,700-square-foot store. She's one of about six casually dressed women strolling through the shop inside Town Square.
The Tree Lot at Crate & Barrel is here, Las Vegas, at least until Dec. 31.
Located across from the pond next to Brio and across from Tommy Bahama's, the temporary store in Town Square, 6605 Las Vegas Blvd. South, marks the Northbrook, Ill.-based brand's first entry into the Las Vegas market.
"We're very excited to have (them) open up. It's a new concept and they've chosen four locations nationwide to unveil this holiday pop-up concept. We feel very privileged to be chosen as one of the locations," said Town Square Marketing Director Jaimesen Mapes.
Pop-up locations of The Tree Lot at Crate & Barrel also opened in Nashville, Tenn.; West Des Moines, Iowa; and Albany, N.Y. Each location will offer online ordering for customers interested in the brand's full line of home furnishings and gift registry options.
In other cases with other brands such as Microsoft, temporary holiday stores have led to permanent ones after the season is over.
"From the landlord's perspective, we would love to have Crate & Barrel here. There are a lot of things that go into making that decision on either side. There are no guarantees or promises that this would lead to a permanent location but we feel that Crate & Barrel would be a great fit," Mapes said.
The store focuses on the holiday season, featuring Hanukkah and Christmas items such as a brass menorah and random gifts such as writing paper and Kentucky Bourbon-themed candles. The store doesn't sell the home furnishings Crate & Barrel has become famous for in other locales, but it does feature a few bowls, wine glasses and other Barrel-esque items in case you want to get a fix.
"I just think it's fun to look at," said Fogle about why she came into the store on Wednesday.
At Town Square, the Tree Lot is just one of many openings scheduled.
Next week, Sugar Factory is slated to open in the former space vacated by Meatball Spot. Crazy Pita will be opening in December, filling a void in the fast-casual space in the center.
"We've made an emphasis to provide a little more quick-casual with Panda Express and some additional tenants that will be coming online here soon as well," Mapes said.
Town Square also is home to a new boutique owned by Kandi Burruss, a former member of the 90s R&B group Xscape and a cast member on the Real Housewives of Atlanta. Anime Revolution just opened, and coming in February will be Look Style Society, a dayspa salon.
As for GameWorks, its opening has been moved back to March. When finished, it will house 37,000 square feet of bowling, video games, bars and restaurants.
"They ran into a few construction delays and some issues with permitting but they're scheduled to open in first quarter," Mapes said. "That's going to be a huge addition."
In about 90 days Minibar.Ber.Shop, featuring the $20 haircut and $2 beer, is slated to open. Flemings is slated to open in January.
"We have a few other openings I can't talk about yet because they're not signed," Mapes said.
The center, with the new tenants, is almost 90 percent occupied.
New office tenants are Solar City, which recently took over the space formerly occupied by the Las Vegas Metro Chamber of Commerce, Faris Lee Investments and Regus.
"If you haven't been to Town Square in a while, there's been a lot of new additions," Mapes said. "It's constantly evolving. We love to hear feedback from our guests and hear what they want to see at the property."
Contact reporter Laura Carroll at lcarroll@reviewjournal.com or 702-380-4588. Follow @lscvegas on Twitter.