Crate & Barrel plans store at Downtown Summerlin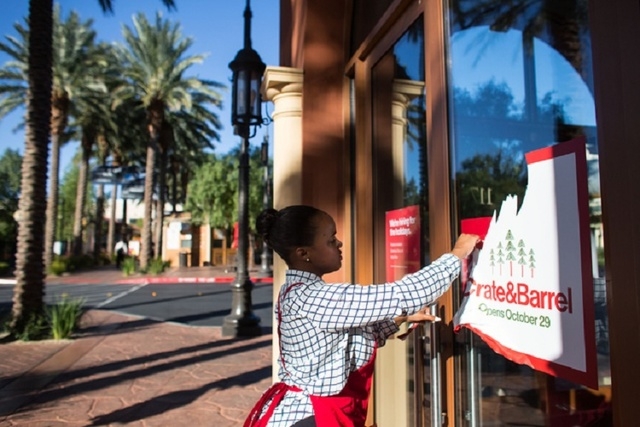 It's official.
After years of rumors that it wanted to open its first Nevada location, home goods retailer Crate and Barrel said Wednesday that it has signed a lease with Downtown Summerlin for a store that would neighbor the Lazy Dog restaurant and furniture showroom Ethan Allen, on the center's north side near West Charleston Boulevard and the 215 Beltway.
Crate and Barrel CEO Doug Diemoz said "enthusiasm" for the company's pop-up store in fall 2013 at Town Square Las Vegas on South Las Vegas Boulevard "confirmed just how important a market this is for Crate and Barrel."
"We are excited to announce the opening of our first Nevada location in Summerlin," Diemoz said.
Added Summerlin President Kevin Orrock: "We are pleased to welcome Crate and Barrel to Downtown Summerlin. We continue to lead the industry with new and notable openings, further meeting the evolving desires of our customers. Crate and Barrel is one of the most sought-after home furnishings retailers and we look forward to its opening and great success in Downtown Summerlin."
A spokeswoman for Crate and Barrel said the retailer wouldn't provide store information such as square footage or planned opening date until "additional details are finalized."
A representative in the city of Las Vegas' Building and Safety Department said the agency had no construction plans on file for the store because its parcel falls within Clark County's jurisdiction.
Clark County's Building Department said it couldn't release details including square footage and start date until it officially issued a permit for the site.
But a 2007 story in the Review-Journal said Crate and Barrel planned to open a 34,000-square-foot, two-story store in Downtown Summerlin, then called the Shops at Summerlin Centre.
Company founder and then-CEO Gordon Segal said at the time that Crate and Barrel had been studying the Las Vegas market "for the last several years."
"Our customers have been asking us to open a store in this area for some time, and we look forward to welcoming them to our new Summerlin Centre location," he said.
But development on the shopping center stopped in 2008, as the recession took hold.
Building resumed in 2013, and Downtown Summerlin opened in October 2014.
Crate and Barrel is the latest in a parade of home-furnishings retailers with big plans for new stores in the Las Vegas Valley.
IKEA is wrapping up construction on its first Nevada store, a 341,000-square-foot showroom on 26 acres along the 215 Beltway at Durango Drive near Sunset Road. The company has set a May 18 opening date for the 300-employee store.
Like Crate and Barrel, IKEA flirted with the market for a decade before choosing to set up shop here. Company officials said in 2015 that the time was right at last because the Las Vegas Valley's population had breached the 2 million mark.
Construction continues as well on a 70,000-square-foot RH Gallery store that Restoration Hardware is building in Tivoli Village, at Rampart Boulevard and Alta Drive.
The Crate and Barrel deal also marks the ongoing lease-up of Downtown Summerlin.
The shopping, dining and entertainment district launched with 85 of its 125 stores open.
In a note last week to shareholders, David Weinreb, CEO of Summerlin developer The Howard Hughes Corp., said 115 of the center's 125 stores are open. That's an occupancy rate of 92 percent.
Downtown Summerlin has also had 17 million visitors, Weinreb added.
Downtown Summerlin's Class A office tower, One Summerlin, is 70 percent leased, and its first residential component, the 124-unit Constellation apartment community, will soon begin leasing.
The shopping center is the 106-acre first phase in the development of 300 acres in the heart of the Summerlin master plan. Future plans include additional office towers and mid- and high-rise condominium buildings.
Contact Jennifer Robison at jrobison@reviewjournal.com. Find @_JRobison on Twitter.