Despite increased prices, land deals can be had if you know where to look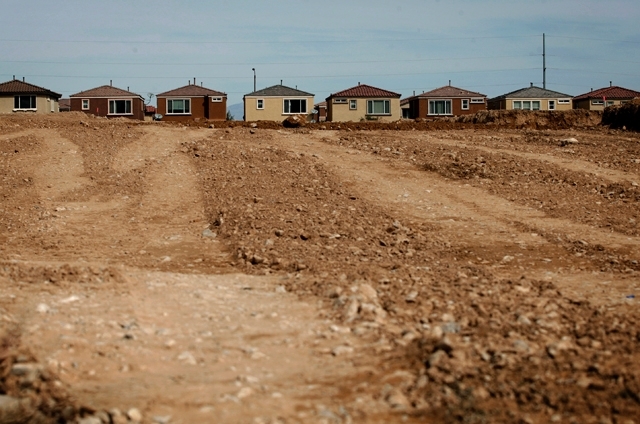 You missed the boat again.
You bought into a Nasdaq index fund in early 2000, just before the exchange crashed. You snapped up your house in 2006, at peak local prices. And you've stood by watching as investors bid up local land prices in a feeding frenzy that's doubled and tripled values in some submarkets.
Not so fast, though: With land, at least, you can still right the ship. You haven't missed out on investing, although your pickings today are definitely slimmer than they were six months to a year ago. You'll need to avoid specific markets, take some risks and maybe even find an investment partner to close a deal. But all that effort could be worthwhile.
Sure, land prices are up 55.7 percent year over year, to $183,813 an acre, according to a recent report from research firm Applied Analysis. And property that trades today at $300,000 an acre might have gone for as little as $100,000 to $150,000 an acre during the recession's depths, added Curtis Allsop, a senior land associate with Newmark Grubb Knight Frank in Las Vegas.
But consider that land prices tipped pre-boom scales at upward of $1 million an acre, and you're still looking at "tremendous value," Allsop said.
Still, it's not the market it was before the bust, so don't expect to buy today and flip for $1 million an acre in six months. Nor can you just throw a dart at a map of the Las Vegas Valley and hit a decent bargain.
For starters, don't even think about buying anywhere near Summerlin, Green Valley or other in-demand areas, where prices have already soared to well above average. Allsop recently worked a deal for more than $450,000 an acre just outside Summerlin. And the southwest is becoming a tough market, too: Pardee Homes paid $405,000 an acre for a site at Sunset and Fort Apache in June.
So Allsop recommended looking at "B" markets, such as south Henderson or northwest Las Vegas. You might also find options in McCarran International Airport's common management area, a 5,000-acre swath of land to the airport's west that's been off-limits to residential development. New, quieter jets mean the Clark County Aviation Department is opening up the area to land buyers and builders willing to pay for any difference in value that comes from switching zoning from commercial to residential.
It helps to determine when the current owner bought the parcel. If he purchased at the market's peak in 2005 or 2006, you probably can't offer him enough to make it worth his while, Allsop said.
And be ready to take your time — and a little risk — with an investment. Your best bet may be to buy a piece of land with less-valuable zoning, such as industrial or commercial use, and put in six to nine months of work getting it rezoned to residential for a value boost. To cut risk, meet before you buy with a city or county official to gauge support for changing the use. In general, local officials are pretty agreeable to any zoning change "that facilitates development sooner rather than later," Allsop said, and with today's supply-and-demand imbalances, the Las Vegas market needs new houses way more than it needs new commercial centers.
As for financing, forget about borrowing to invest. Banks are simply not lending to investors who plan to buy and hold without developing, Allsop said. On the outside chance you can scrounge up financing, it could come with an interest rate of 12 percent to 18 percent.
Instead, consider partnering up to buy if you don't have the cash to do a deal on your own. The best-case scenario is to find someone with development experience, and discuss working together in a joint venture that allows you to stay in the deal as a junior partner.
As the market grows, opportunities should expand as well. Just as land in "A" markets in and around upscale master-plan communities has gotten out of reach for many investors, so will "B" markets likely appreciate. In coming months, that could make "C"-grade property in the east and northeast more popular.
Allsop said he expects "B" and "C" markets to have good values for investors for at least the next year or two.
If you plan on jumping in the game, remember to consult a broker or attorney for advice before you close that deal.
■ The shuttered Manhattan West has a new restart date. Construction on the southwest Las Vegas project, rechristened The Gramercy, will get under way in September after a four-year building hiatus, new owner The Krausz Cos. of California announced July 8. The mixed-use project will have 200,000 square feet of upscale office and retail space, as well as 245 apartments in two towers. The first tenants should be able to move in around late spring.
Brad Peterson of CB Richard Ellis is the leasing agent for The Gramercy's office space. Thomas & Mack Development Group is overseeing construction, and Martin-Harris Construction is the general contractor.
■ Anthony Phillips of Luxury Real Estate Management closed in early July on the sale of Nevada's highest-priced condo in dollars per square foot. The 599-square-foot unit, on the 56th floor of The Cosmopolitan of Las Vegas, sold for $675,000, or $1,127 per square foot.
Contact reporter Jennifer Robison at
jrobison@reviewjournal.com or 702-380-4512.
Follow @J_Robison1 on Twitter.