Developer Jim Rhodes ups mining investment in Blue Diamond Hill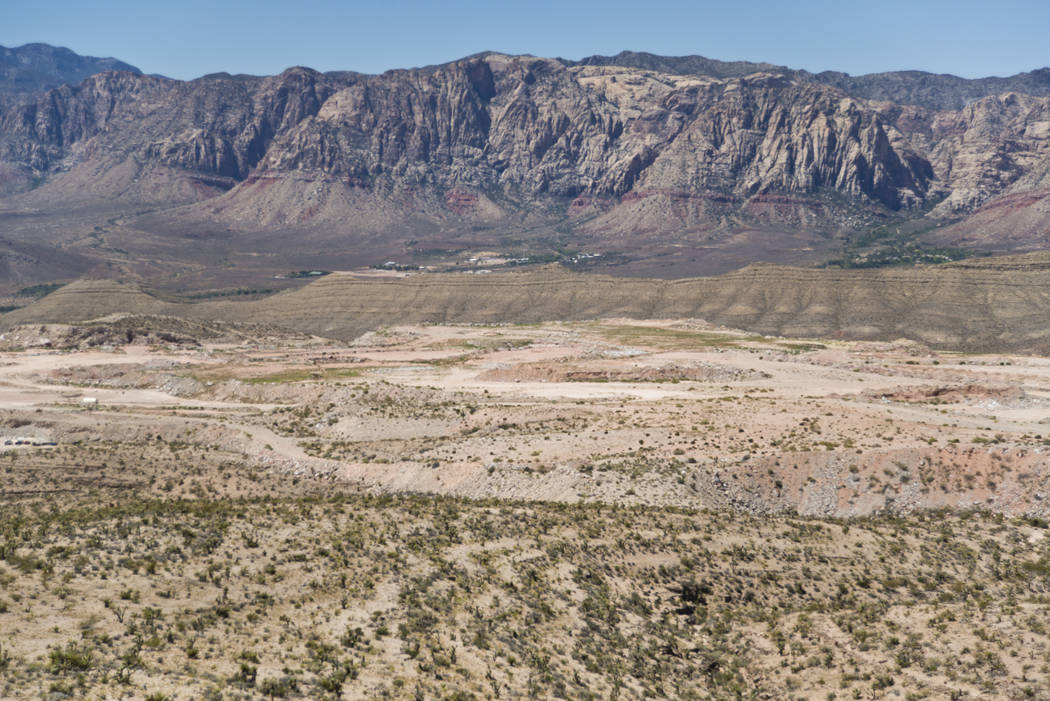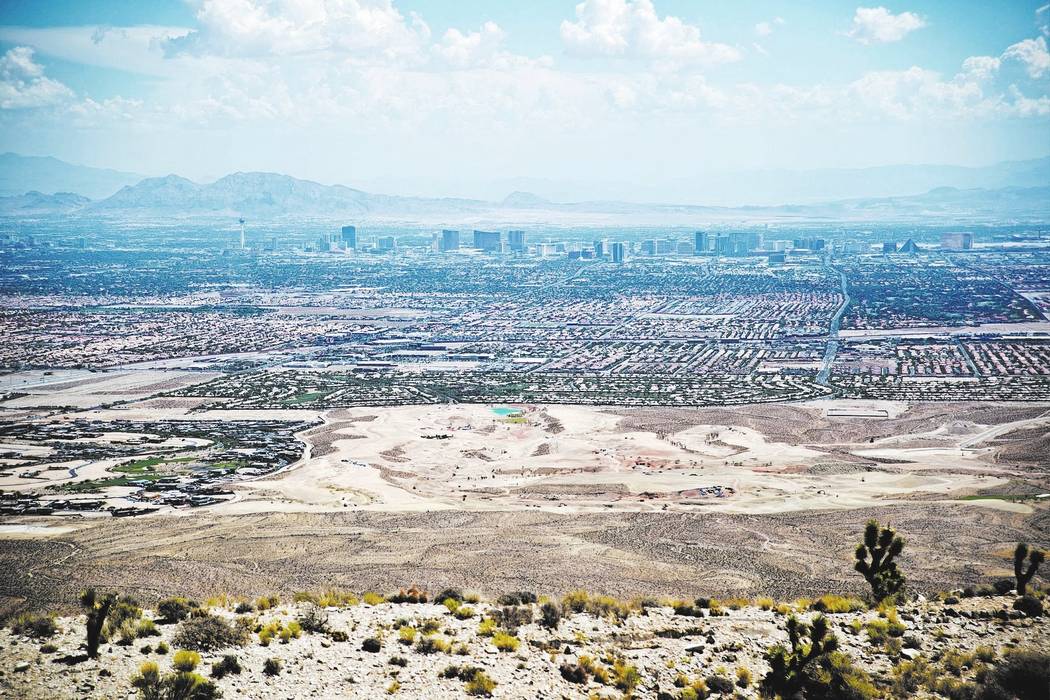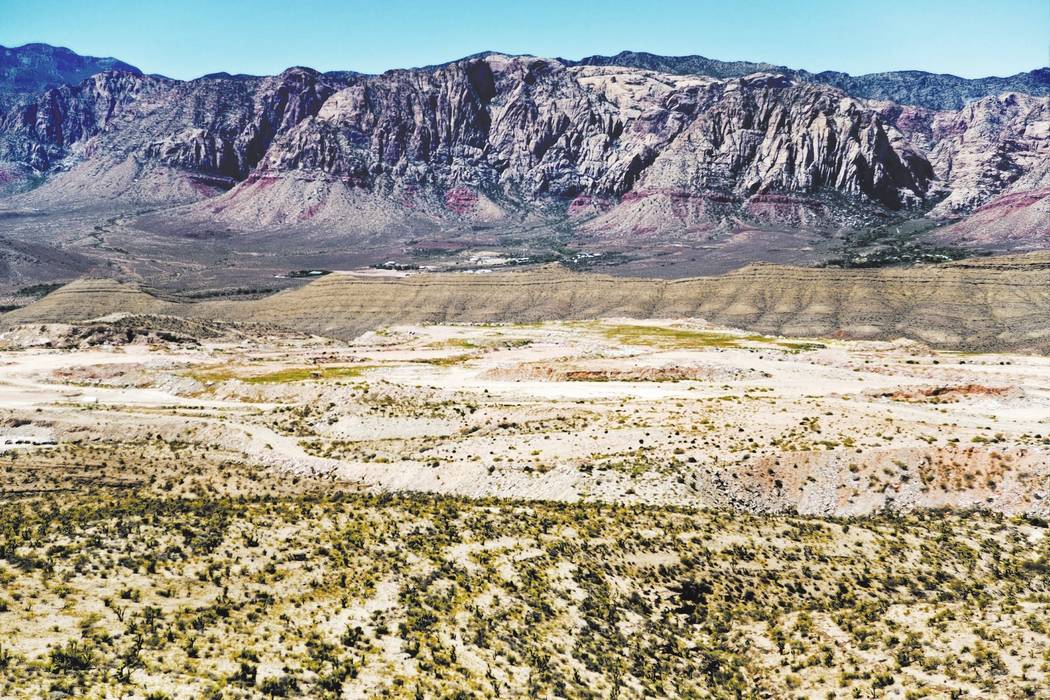 Las Vegas developer Jim Rhodes has sold mining claims for Blue Diamond Hill, giving his gypsum business there a boost of funding, his representative said.
Rhodes — who is looking to build thousands of homes atop the southwest valley hill, a long-controversial project headed to trial this year — sold mining claims on 1,375 acres to Denver investment firm Resource Land Holdings, Clark County records show.
Rhodes has slashed the number of homes he wants to build on Blue Diamond Hill from around 5,000 to 3,500. But the Resource Land deal is another sign that he won't replace the mine with subdivisions anytime soon.
The mining-claims sale, for about $3.4 million, closed Feb. 15, but that amount may not reflect the entire influx of funds.
Ron Krater, planning consultant for Rhodes' company Gypsum Resources, said this week that he does not have an exact figure for the funding, but it's "most likely" higher than what county records show.
Gypsum business
Krater said the deal is "basically a loan" backed by mineral reserves as collateral and will help his client expand its mining and distribution operations.
"We're in total growth mode," he said.
Along with mining claims, Rhodes granted Resource Land easements for surface entry and the operation of mining equipment, county records show.
The company says on its website that it aims to "build portfolios of resource-rich real estate," including agriculture and timber, and backs investors who "often discover opportunities that exceed their current financial means to pursue."
Resource Land executives could not be reached for comment.
Krater couldn't confirm the volume of gypsum that's being mined and sold, though Rhodes told the Las Vegas Sun in a 2014 story that he sells about 1 million tons annually.
The non-toxic mineral can be used in drywall, toothpaste, soil, food, and surgical casts, according to the Gypsum Association.
About 60 to 70 percent of the gypsum produced at Blue Diamond Hill gets shipped to California's Central Valley for agricultural uses, and 30 percent is used for construction materials, according to Krater.
Cash
Krater stressed that Rhodes' group did not sell Blue Diamond Hill and still holds all development rights. He also said the recent transaction has no impact on Rhodes' homebuilding plans.
The funding is not the only recent infusion of capital for Rhodes. He obtained a $15 million loan in 2016 for the gypsum business and increased the loan to $21 million last year, county records indicate.
Records indicate the lender was Chicago-based JDI Realty. Efforts to speak with JDI partner Bennet Schwartz, who signed off on the increase, were unsuccessful Thursday.
Krater said the debt has been "retired," or paid off.
Litigation
Blue Diamond Hill borders the Red Rock Canyon National Conservation Area, and mining operations started by the 1920s. Rhodes, original developer of the Rhodes Ranch community and the founder of builder Harmony Homes, acquired the mine in 2003. He controls nearly 2,500 acres there.
His development plans for the mine have been controversial for years, marked by lawsuits as well as opposition from the small, nearby community of Blue Diamond.
A case involving environmental group Save Red Rock, Clark County and Gypsum Resources is scheduled to go to a jury trial in Clark County District Court on Sept. 4.
Save Red Rock attorney Justin Jones, whose client wants to block the housing project, said this week that he wasn't aware of the Resource Land deal. But he figured it "probably" would affect Rhodes' development, saying plans call for "reclamation work" to be finished before houses can be built.
Krater said that Rhodes has no timeline for when he hopes to start building homes.
Rhodes also has plans for schools, retail and open space on Blue Diamond Hill, according to Krater.
Contact Eli Segall at esegall@reviewjournal.com or 702-383-0342. Follow @eli_segall on Twitter.