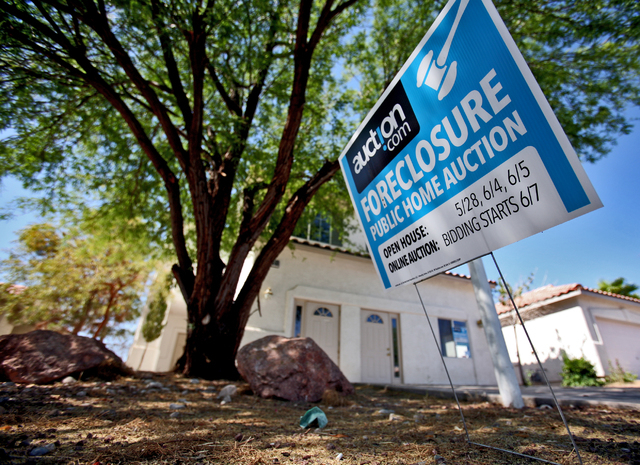 Even as Southern Nevada's housing market surged ahead in June, one indicator flashed caution signs.
When the Greater Las Vegas Association of Realtors released its latest numbers July 7, the median price was bumping up against $200,000 for the first time since 2008. Inventory was creeping toward healthier numbers at last. And cash investors made up their smallest share of the market in half a decade.
What could possibly have gone wrong?
Well, check out distressed sales.
They posted a noticeable uptick in June, after spending pretty much all of 2014 in decline thanks partly to a lapse in a federal law that lifted income taxes on forgiven mortgage debt. Short sales rose to 10.8 percent of the market, up from 7.9 percent in May. Bank-owned sales were 10.1 percent of closings, compared with 9.1 percent a month earlier.
Don't panic yet: Depending on whom you ask, June's performance isn't necessarily an overture to more market trouble. And even if it is, that's not necessarily a bad thing, some observers say.
Start with whether we're seeing a trend or a one-month statistical anomaly.
Heidi Kasama, president of the Greater Las Vegas Association of Realtors and a managing broker with Berkshire Hathaway HomeServices-Nevada Properties, said she thinks June's jump was probably a one-time event. For one thing, distressed-sale numbers have become so small — somewhere around 300 closings per month for short sales, for example — that it doesn't take much of a gain to swing them significantly.
More important, the median price of a local, single-family resale has nearly doubled from its January 2012 low of $118,000. And where prices are higher, equity grows, too. That helps more households slip above water on their mortgage, so they no longer chase desperate measures to escape their financial burden.
"It psychologically changes for many homeowners," Kasama said. "At one point, things were hopeless. Now, they're walking away from something that has value to them again."
Kasama predicted that short and bank-owned sales would stay below 25 percent of the market for the foreseeable future.
"We've had people talk about shadow inventory for five or six years," she said. "But when I talk to reps from Fannie Mae, they've cut down on (bank-owned) listing agents. They don't have enough listings for them. They can't find enough inventory for the agents they have."
That's only because Nevada's roller coaster of foreclosure legislation hasn't finished its ride, said Tim Kelly Kiernan, broker-owner of Kelly Realty Group at Re/Max Extreme.
Some short sales and foreclosures dragged on as a passel of laws first loosened, then tightened, the default process, Kiernan said. June's upward blip may have been some of those delayed sales coming to fruition.
That may happen more and more, Kiernan said, especially because more than a third of local homeowners with mortgages owe more than their home's value.
"I think there's a window of time where we're going to see an uptick in short sales and distressed properties," he said.
"We still have large numbers of people underwater, and a lot of people are still delinquent. Common sense leads us to believe these people have to be taken care of, one way or another."
Kiernan agreed with Kasama that banks are not likely sitting on any sizable "shadow inventory" of empty, foreclosed homes.
Where Kiernan sees potential supply problems, though, is in the 50,000 or so local homeowners who are 90 days or more late on their mortgage, or who have received a notice of default.
"They're never going to catch up on their mortgage. They're either going to be short-sold or foreclosed on," he said.
Seen in that light, June's distressed-sales gain isn't a bad thing.
"We have to get through this backlog of inventory. We can't allow homeowners to not pay their mortgage for years on end or have properties sit vacant with unpaid mortgages. It's just not good for our economy," he said.
That median resale prices could rise in lockstep with distressed sales is also heartening, Kiernan said.
"Both halves of the equation did good things. We might just be in this crazy market for years to come, with all of these short sales and foreclosures out there."
■ Henderson's Cadence master plan has added a fourth homebuilder to its development lineup.
The LandWell Co., which is developing Cadence, announced July 2 that Richmond American Homes bought two parcels totaling 34 acres inside the community. The land will hold 221 homes.
Neither LandWell nor Richmond American disclosed a purchase price.
One subdivision will have 138 home sites with two-story homes ranging from 1,800 square feet to 2,200 square feet. The second will have 83 homes from 2,050 square feet to 2,555 square feet. Construction is scheduled to begin in late 2014, with home sales starting in early 2015.
Richmond American joins Woodside Homes, Ryland Homes and Lennar at the master plan. Woodside announced its involvement just two weeks ago. Lennar has started work on a 17,000-square-foot recreation center for the active-adult community it's building.
Cadence will have 13,250 homes and 450 acres of open space, including a 50-acre central park, a 100-acre sports park and 30 miles of trails.
There'll also be a bike-share program and Wi-Fi in public parks.
■ Another big, local builder made a recent land play.
KB Home LV Laurel Hills LLC scooped up 20 acres at the southeast corner of Grand Canyon Drive and Wigwam Avenue.
Robert Torres and Scott Gragson of Colliers International represented KB in the $7.85 million buy.
KB bought the land from several trusts. The acreage is zoned for multifamily use of 18 units per acre, according to Clark County records.
Brokers with Colliers also recently wrapped up a big lease agreement.
Renae Russo and Eric Molfetta represented landlord Gaumond Family Trust dba Tower Investments in a 60-month lease of 14,998 square feet of industrial space at 3874 Silvestri Lane, inside Patrick Business Park, to tenant TNTS. The lease was valued at $381,846.
Contact reporter Jennifer Robison at jrobison@reviewjournal.com. Follow @J_Robison1 on Twitter.