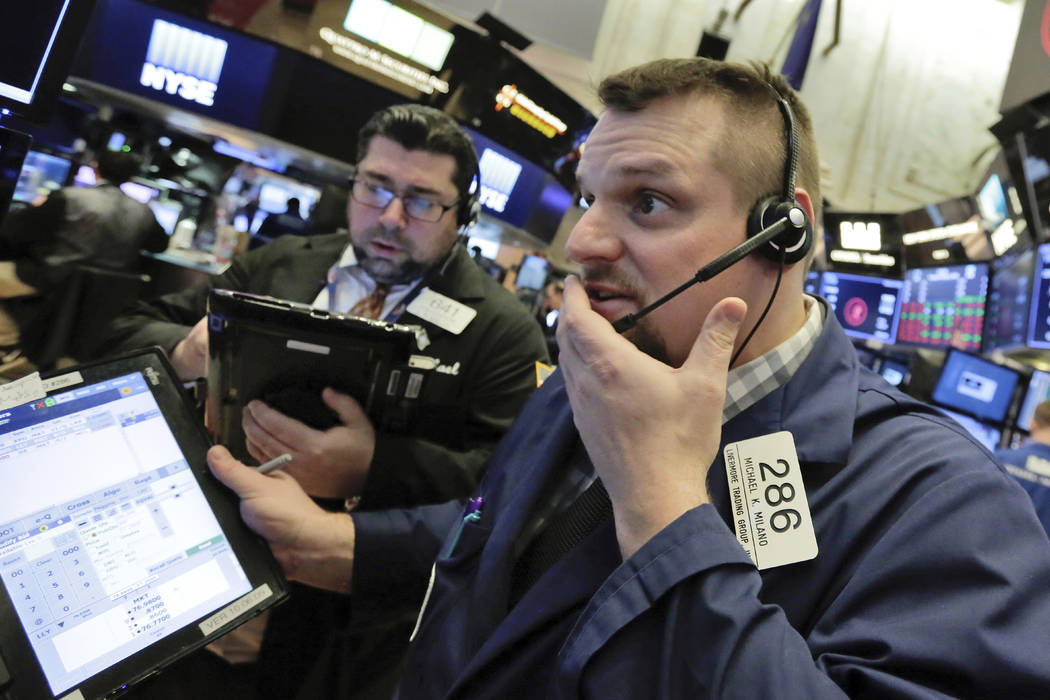 NEW YORK — Stocks plunged again Thursday, and for the second time in four days the Dow Jones industrial average sank more than 1,000 points.
The two best-known stock market indexes, the Dow and the Standard & Poor's 500, have dropped 10 percent from their all-time highs, set Jan. 26. That means they are in what is known on Wall Street as a "correction," their first in almost two years.
Stocks fell further and further as the day wore on and suffered their fifth loss in the last six days. Many of the companies that led the market's gains over the last year have struggled badly in the last week. Those included technology companies, banks, and retailers and travel companies and homebuilders.
After huge gains in the first weeks of this year, stocks started to tumble last Friday after the Labor Department said workers' wages grew at a fast rate in January. That's good for the economy, but investors worried it will hurt corporate profits and that rising wages are a sign of faster inflation. It could prompt the Federal Reserve to raise interest rates at a faster pace, which would act as a brake on the economy.
"Far and away the most important things are the fear that the Fed is going to make a mistake, and higher wages are going to cut into margins," said Scott Wren, senior global equity strategist for Wells Fargo Investment Institute. The worry, he said, is that the Fed will raise interest rates too quickly.
The Dow Jones industrial average lost 1,032.89 points, or 4.1 percent, to 23,860.46. Boeing, Goldman Sachs and Home Depot took some of the worst losses.
The S&P 500, the benchmark for many index funds, shed 100.66 points, or 3.8 percent, to 2,581. It hasn't been that low since mid-November. The Nasdaq composite fell 274.82 points, or 3.9 percent, to 6,777.16.
'Fear of getting caught'
Tom Martin, senior portfolio manager with Globalt Investments, said he didn't see anything specific moving the market lower today, just a continuation of a shift in investor mindset from fear of missing out in a rising market to worry of clocking big losses in a market that's turned.
"This is going to take longer to work out than people expect," he said. "In January we talked about fear of missing out. What we have now is what I call fear of getting caught."
The losses were broad. Eight stocks fell for every one that rose on the New York Stock Exchange and 490 of the companies in the S&P 500 took a loss.
The market didn't get much help Thursday from company earnings reports, several of which disappointed investors. While U.S. companies mostly did well at the end of 2017, a number of them had a weak finish to the year.
Hanesbrands, which makes underwear, T-shirts and socks, reported a smaller profit than investors expected, and its forecast for the current year didn't live up to analysts' estimates either. The company also said it will pay $400 million to buy Australian retailer Bras N Things. The stock dropped $2.39, or 10.9 percent, to $19.57.
IRobot, which makes Roomba vacuums, plummeted 32 percent after projected a smaller annual profit than Wall Street was expecting. The stock dropped $28.24 to $59.80.
Twitter had a banner day, soaring 12 percent after turning in a profit for the first time. Its fourth-quarter revenue was also better than expected. The stock rose $3.27 to $30.18.
Online delivery company GrubHub soared after it announced a partnership with Yum Brands, the parent of Taco Bell and KFC. GrubHub will provide the delivery people and technology to let people order food from those restaurants. GrubHub jumped $19.13, or 27.4 percent, to $89.04.
Among stocks of local interest, Wynn Resorts Ltd. was down $8.04, or 4.53 percent, to $169.28. MGM Resorts International was down $1.18, or 3.4 percent, to $33.50. Switch gained 19 cents, or 1.30 percent to $15.16. Southwest Gas Corp. lost $1.62, or 2.37 percent, to close at $1.62.
Oil down
After a sharp loss Wednesday, benchmark U.S. crude lost 64 cents, or 1 percent, to $61.15 a barrel in New York. Brent crude, the international standard for oil prices, gave up 70 cents, or 1.1 percent, to $64.81 per barrel in London.
Stocks in Europe declined and bond yields increased after the Bank of England said could raise interest rates in coming months because of the strong global economy. That also sent the pound higher. Britain's FTSE 100 fell 1.5 percent and the French CAC 40 lost 2 percent. Germany's DAX declined 2.6 percent.
Bond prices wobbled and turned higher. The yield on the 10-year Treasury note rose to 2.83 percent from 2.84 percent. Rising yields have made bonds more appealing to some investors compared to stocks. The yield on the 10-year note was as low as 2.04 percent as recently as September.
What is a stock market correction?
A "correction" is a Wall Street term for when an index like the Dow industrials or the Nasdaq — or an individual stock — falls 10 percent from its most-recent high. The Dow fell 1,032.89 points Thursday to 23,860.46, which is 10.4 percent below its record close of 26,616.71 set on January 26. A correction is not the same as a bear market, which is defined as when a stock index or individual stock falls 20 percent from its most-recent peak.
Is the entire stock market in a correction?
Two of the U.S. stock market's three major indexes are in correction territory now. The S&P 500, the index that investors pay the most attention to, is in a correction, down 10.2 percent from its recent high. The Nasdaq composite is close, but not all the way there, down 9.7 percent from its record.
When was the last time we had a correction?
The last correction for the S&P 500 ended in February 2016, when worries about a sharp slowdown in China's economic growth rattled markets around the world.
Are corrections a normal thing for the market?
Even the most bullish of market strategists will say a correction is ultimately healthy for a market because it removes some of the froth and speculation.
The Associated Press