Downtown guru Hsieh tinkers with 'urban camping' in Airstream trailer
January 3, 2015 - 7:39 am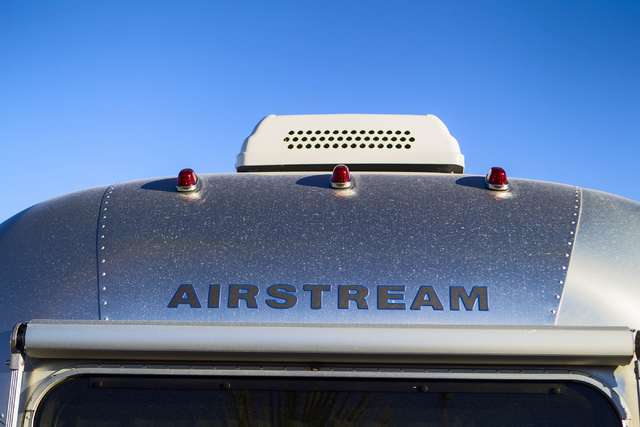 Tony Hsieh's newest project in downtown Las Vegas is an urban trailer camping experience — or "living experiment" with community kitchen, campfires and "the world's largest living room."
And the Zappos.com CEO/Downtown Project founder and some friends are using the legendary Airstream trailers on a 1-acre site on East Fremont Street as their laboratory.
The East Fremont location between Ninth and 10th streets includes about 20 of the popular silver trailers, which have been used during the Life Is Beautiful music festival, as green rooms for bands for various downtown events and by actors for movies filmed in downtown.
Now, Hsieh wants the Airstreams, which were purchased by Downtown Project about two years ago, to possibly be part of the world's largest Airstream hotel or a residential setting. It's all under consideration.
"We've talked about possibly one day building the world's largest Airstream hotel and/or residence to provide a unique hotel/living experience in downtown Vegas," Hsieh wrote in an email to the Las Vegas Review-Journal. "Part of the goal of the living experiment is to figure out what amenities and elements would make it a fun and memorable experience."
Hsieh bankrolled Downtown Project with $350 million to redevelop the East Fremont corridor from the Fremont Street Experience to Maryland Parkway while helping financially fuel popular downtown events such as First Friday and Life Is Beautiful.
Downtown Project has purchased land, redeveloped sites into commercial projects such as Container Park and created art, education, tech and music projects.
It's also opened the John E. Carson Hotel commercial center, The Market grocery, the Oasis boutique hotel and the Bunkhouse tavern/music venue. Downtown Project has also submitted plans to the city to convert the rundown Fergusons Motel at East Fremont and 11th streets into an outdoor retail and office center with three taverns, a grassy amphitheater and a 60-foot piece of art titled "Big Rig Jig."
Hsieh said the Airstream park is partially inspired by the Burning Man festival, but he noted, "It's probably more accurate to describe it as an urban camping experience with everyone sharing the world's largest living room (which has a community kitchen and campfires)."
Hsieh, who has temporarily moved out of his residence at The Ogden in downtown to live with friends at Airstream village, is known for his penchant of trying to create conditions to foster "collisions" between people so that they connect.
So, he said the Airstream living experiment is giving him the chance to bump into more people than ever before.
"Downtown is great because of all the collisions that happen when you're out and about," Hsieh said.
"The Airstream park living experiment we've been doing has resulted in even more collisions even when not out and about," he said.
"I see my neighbors a lot more now than I did when living in a house in the suburbs or living in an apartment building."
The trailer village could also provide housing for musicians playing gigs in what Hsieh and Downtown Project hope will be a "live music corridor," which would include the Bunkhouse and the new Wheelhouse, an outdoor live music venue.
Hsieh added there are other nearby projects in the works such as a fried chicken and Chinese restaurant being opened by Natalie Young, who created the popular EAT restaurant in downtown and a new bookstore.
"It'll be exciting to see how the whole area transforms in 2015," Hsieh said.
Contact reporter Alan Snel at asnel@reviewjournal.com or 702-387-5273. Find him on Twitter: @BicycleManSnel