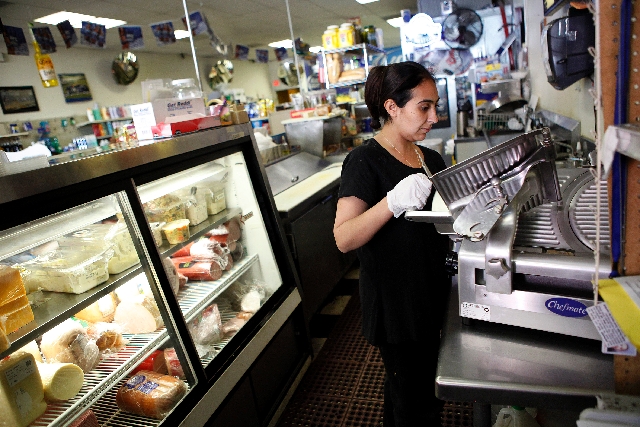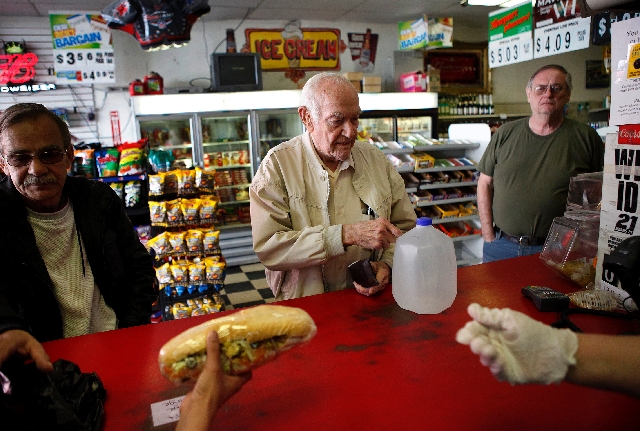 A decade ago, Fremont Family Market & Deli, a small but profitable market, was booming as downtown Las Vegas struggled economically. This was largely because of its location, across the street from the El Cortez, and a loyal customer base.
But the redevelopment of East Fremont has proved too much. The Fremont Family Mart & Deli will close March 24, as bars, restaurants and clubs continue to replace mom and pop stores along the two-block stretch.
"We are a casualty of redevelopment," Fremont Market co-owner Steve Yono said. "We couldn't reach a deal on a new lease with our landlord."
The closure will leave thousands of nearby residents without a neighborhood market.
"It was a great run for 15 years," Yono said. "But now, the closest market will be Albertsons on Charleston (Boulevard) and Bruce (Street). There are a lot of elderly residents that are going to have problems."
Yono said that when his family leased the 1,900-square-foot space in the late 1990s it was just a boarded-up building that needed a lot of work. From the start, the business did more than just sell beer and cigarettes; it was a place where nearby casino employees and residents could shop for a meal, he said.
"Talk about pioneers; we were here when no one wanted to be here," Yono said. "There were police chases and countless other problems."
Today, Fremont Market & Deli employs eight people and earns
$1.6 million a year. The market's eight employees are looking for new jobs.
On Wednesday, Yono and his brother, Manny, continued to reduce shelf space in parts of the store as they prepared to close. Yono has stopped ordering products for the store and is trying to figure out how to pay $4,000 to move a cooler into storage.
Fremont Market pays $3,500 a month in rent, just $1,000 more than it did in 1998 when the store opened. Yono expects any new tenants to pay $5,000 a month.
Mamita's Mexican and Cuban restaurant adjacent to the market closed in November.
He said negotiations on a new five-year lease failed after their landlord, Richard Sturman, delayed writing a new lease, and then offered a three-year lease, before pulling any extension off the table.
"We hoped to relocate somewhere in the neighborhood, but there isn't anything left to lease," said Manny Yono. "We invested 15 years here and to have to start over is a little hard right now. We are definitely casualties of downtown redevelopment."
Sturman, owner of AAA Coin and Jewelry in downtown Las Vegas, said he leased the 6,500-square-foot building to the Downtown Project. He declined to discuss lease terms.
"I feel comfortable with that group," Sturman said. "They have basic plans for the building, but that's basically it for now. Part of my reason for doing this, is it's going to help the (Fremont) district."
The Downtown group, led by Zappos CEO Tony Hsieh, has set aside
$350 million to assist in the revitalization of downtown Las Vegas.
Business owners say they understand the need for redevelopment, but add that they were never approached by the city or developers about what they'd like to see happen. They are angry about not being able to find leasable retail space in downtown Las Vegas.
"We don't know what's going to happen to us," said Mike Jones, co-owner of A Cut Above The Rest barber shop at 616 E. Carson Ave. "We've been here for 22 years. We'd like to stay around longer."
Jones said many of the neighborhood's small businesses have closed.
The Downtown Project, which opened the Commonwealth tavern on East Fremont Street, is preparing to renovate the John E Carson Hotel on the northwest corner of Sixth Street and Carson Avenue. The partners purchased the 65-unit hotel in April for $2.1 million.
A small tobacco and convenience store still operates in one of three retail spaces on Carson. The barber shop and hairstyling business closed and the other space sits empty, a wood-and-metal desk the only thing left behind by its previous tenant.
"We were told that we have until the end of March," said Dave Hoffman, a smoke shop employee. "We are still trying to negotiate a lease. We've been here five and a half years."
Hoffman and Yono agreed that the city should support redevelopment efforts downtown.
"We want people to know the other side," Yono said. "We also support our mother, Nazhat. We lost our father, Manny Yono Sr., 15 months ago. Now we are losing our business."
Contact reporter Chris Sieroty at
csieroty@reviewjournal.com or 702-477-3893.
Follow @sierotyfeatures on Twitter.