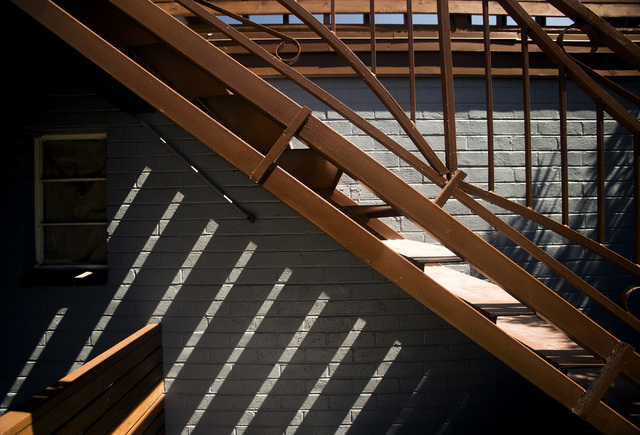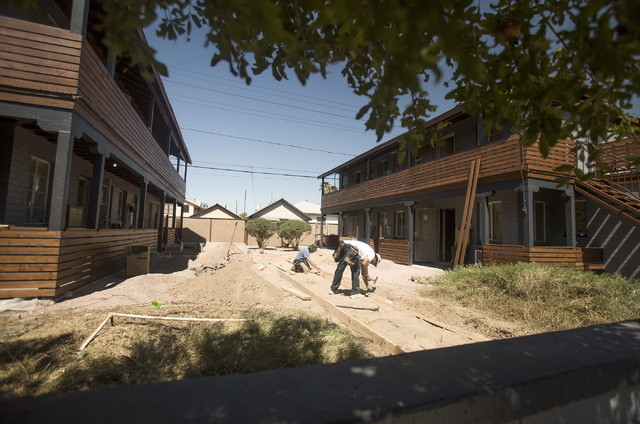 News flash: An eight-unit apartment complex is being renovated along the East Fremont downtown corridor, and Zappos CEO/Downtown Project guru Tony Hsieh is not behind the rehab job.
Instead, it's a trio of native Las Vegas brothers — Mike, Sam and Paul Argier — who have invested $650,000 in buying and renovating the urban residential property at 323 N. 11th St. into apartments that will range from $700 to $1,100 depending on whether it's a one-bedroom unit or one with two bedrooms.
The Argiers have dubbed the rehabbed homes, "Urbanity Apartments." It's a pair of four-unit, two-level symmetrical buildings that face each other, with a courtyard in the middle and a single entrance into the center commons. On Wednesday morning, two construction workers were preparing a center sidewalk on the 1/3-acre lot.
The brothers are tapping into the neighborhood's changing vibe, as Downtown Project is transforming the nearby closed Fergusons Motel into a commercial center featuring shopping, bars, a mini-amphitheater and outdoor artwork a mere block and a half away. Hsieh's $350 million Downtown Project is investing in land redevelopment, small business, tech startups, education and art in downtown.
A block down 11th Street from Fergusons is the Downtown Project-renovated Bunkhouse Saloon, which re-opened Monday.
Mike Argier, a real estate developer living in Summerlin, said his family saw the buildings' potential when he and his brothers bought the property in November. The 1948-circa apartments feature both front and back doors and are located near the end of 11th Street, where the road dead ends at U.S. 95.
"It was in rough shape, but it has great bones. It's all brick with original wood floors on the second floor," Mike Argier said Wednesday. He noted artists will paint small murals on the sides of the twin buildings.
The Argiers envision Zappos, Downtown Project and other downtown employees as prospective tenants, because the focus is on renting the 600-square-foot and 800-square-foot apartments at prices below the rents at places like The Ogden and Juhl.
Mike Argier said four or five people have already contacted him about the rentals just through word-of-mouth. He plans a Sept. 19 grand opening. His brother Sam works as a meteorologist at KIRO-TV in Seattle, while brother Paul splits time between Las Vegas and Los Angeles. The trio are Green Valley High School graduates.
Contact reporter Alan Snel at asnel@reviewjournal.com or 702-387-5273. Follow @BicycleManSnel on Twitter.