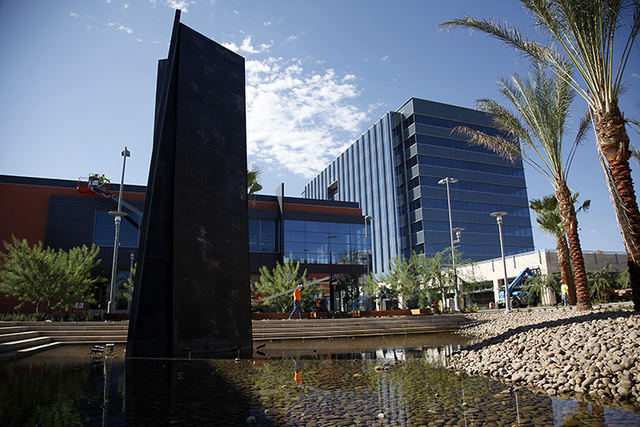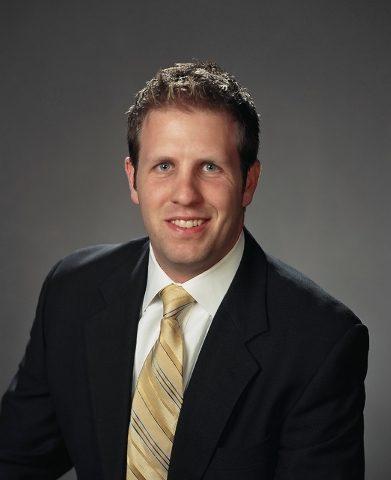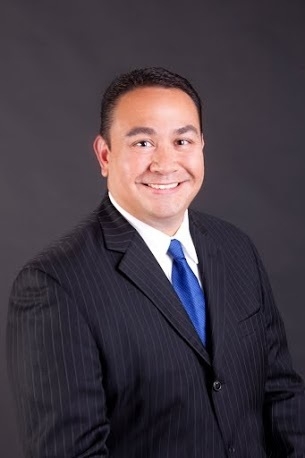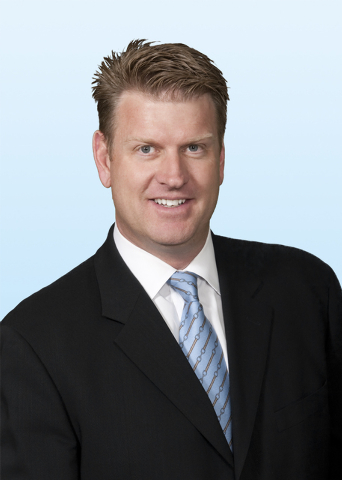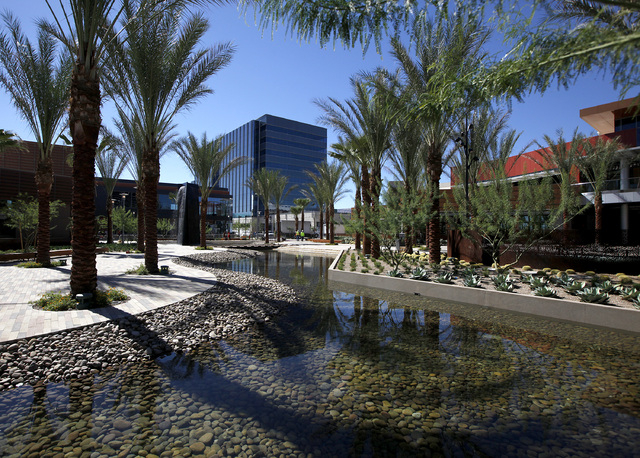 The opening of Downtown Summerlin will dramatically change the commercial real estate market in Southern Nevada, five senior industry executives agree. But they differ on just how those changes will be felt in the valley's submarkets.
The five — Michael Newman, managing director of CBRE; Frank Gatski, president and CEO of Gatski Commercial; Paul Chaffee, partner, NAI Vegas; Jeff Mitchell of Virtus Commercial; and Scot Marker, senior vice president of Colliers International — each fielded questions in the Business Press' "virtual round table" format. Their responses have been edited for space and clarity.
Here's what they had to say:
Q: How does Downtown Summerlin change the commercial real estate market?
Newman: The opening of Downtown Summerlin sends a big signal both nationally and locally that the Las Vegas economy is recovering. It is the single largest development in the valley since Town Square opened in 2007, and it is one of the country's three largest projects under active development. Downtown Summerlin will offer a new and unique destination for shoppers, diners and entertainment seekers around the valley and attract some brands that aren't currently operating here. It's an exciting new venue for the entire valley given its accessibility via the 215 Beltway.
Mitchell: Downtown Summerlin is a dynamic factor for change in the Las Vegas commercial real estate market. It serves as a beacon market indicator to the national real estate industry that Las Vegas is viable and is creating new growth opportunities for retail, based on demand from retailers for a high-caliber, large-scale, non-resort-corridor retail project. This signal is positive broadly as it also carries into the office, investment and industrial sectors.
Secondly, Downtown Summerlin and the closely proximate Sahara Center (at Sahara Avenue and Hualapai Way) add a substantial quantity of retail space to the West Valley submarket. This places additional pressure on more established retail centers such as Boca Park — the most productive sales/square foot retail project off-Strip — Village Square, Tivoli Village (still experiencing some growing pains) and even Fashion Show mall to stay competitive and continue to create unique opportunities for customers and retailer success.
Thirdly, Downtown Summerlin shifts the focus away from strip retail for brand growth combining large department store anchors and compelling lifestyle components. This is something that Forest City's Galleria at Sunset mall has failed to fully realize in Henderson.
Chaffee: The Downtown Summerlin project will be a paradigm shift for the commercial real estate market. The retail needs for the Summerlin populous should be met by this project, redirecting shoppers from the Strip to a more localized shopping experience. The Downtown Summerlin project will also drive office and tertiary users into the Summerlin area, as the project will direct a high volume of customers.
Gatski: Downtown Summerlin will shift the retail and entertainment focus for local residents particularly on the west side of town from the strip to a more localized friendly venue. It creates a benchmark for future development not seen for decades. Downtown Summerlin is a positive sign of both investor confidence and consumer confidence for the entire Southern Nevada commercial real estate market.
Q: At what point are we in danger of becoming "overretailed"?
Marker: I have been asked this question for years but I'm not sure if this will ever happen. I believe the strong retailers will always evolve to address the changes in consumers' needs and buying habits. Will we ever grow tired of the latest model of anything? Whether it is a car or a mobile phone, there will always be a desire to obtain the "new and improved" version of a product. A better question may be, how do we retenant vacant spaces in transitioning trade areas?
As our neighborhoods get older, the residents change and so do their shopping needs. Shopping center owners need to be aware of their neighborhood and the needs of those who live there.
Mitchell: Staying with the theme of Downtown Summerlin, the old adage is that "retail follows rooftops" and new rooftops are rapidly underway in Summerlin. The growth is not speculative. And, from a demographic standpoint, this growth is population-based and our economy continues to grow beyond the recession rebound. Retailers understand this dynamic and seek to capture the disposable income. Downtown Summerlin is perfectly situated to capture demand in a synergistic anchored retail environment.
The market will also determine if we are overretailed — survival of the fittest. Marketwide, unanchored retail is always the most at risk. As with most new large retail projects, there will certainly be fallout of retail tenants in the first couple of years. Downtown Summerlin will experience a stabilization period. National retailers will likely weather this phase; mom and pops will have a harder time — it's a function of capital. Food and beverage is also acutely at risk. This area is highly competitive and margins are tight, especially with continued labor cost increases, I anticipate several second-generation food spaces at Downtown Summerlin in the next 24 months.
Gatski: If the Southern Nevada economy continues to grow at a sustainable pace and investors and developers look at the supply versus demand, I believe we will be able to continue developing retail at a pace that keeps up with demand with minimal concern of becoming "overretailed." Hopefully we've learned from the mistakes made prior to 2008.
Newman: I don't think we are in danger of becoming "overretailed" in the foreseeable future. National retailers are generally well prepared in their evaluation of markets and individual location criteria. It's the local retailer that sometimes doesn't have the financial and analytical resources that the big national or regional folks have. As a result, we see more turnover with this class. When times are lean, the local retailer may not have the financial ability to weather the storm to better times. That said, I think the tough times are gradually passing and I expect retail will continue to gain strength. Overall, the market has seen about 1.5 million square feet of positive absorption (a demand indicator) over the past three years and the vacancy rate has decreased by about 360 basis points from a high of about 14 percent in 2011 to about 10.4 percent in the second quarter. We will probably see an increase in vacancy, as a result of a few Target store closures. Downtown Summerlin is not going to cause "overretail" in the market but will enhance the product mix that is in demand for the Summerlin area and, to some extent, the entire valley.
Q: What is the outlook for retail space that's vacant today?
Chaffee: The Las Vegas retail market continues to improve, albeit at a moderate pace. First quarter 2014 showed vacancy rates holding steady from the previous quarter with modest declines for the 11th consecutive quarter to reach the lowest vacancy rate in approximately five years. Net absorption was positive once again as it has been for nearly two years, a trend that has occurred quarter after quarter within the same time frame. Sales volume rose in fourth quarter 2013 with averages at $88 per square foot over third quarter 2013 with averages at $129 per square foot. First quarter 2014 produced sales averages of $114 per square foot. Construction activity continues across the valley, the effect of which will be interesting to see as we continue to monitor demand. With positive indicators within the Las Vegas economy showing signs of stabilization and an improving job market with retail and hospitality leading the way, it appears that there is a strong probability that the demand will be able to keep up with the forward supply of product expected to hit the market in 2014.
Newman: That's a tough one. A lot of the vacant space today is in areas or neighborhoods that have made a demographic shift in the last 10 years, causing many tenants to relocate or cease their business. This has left a number of empty grocery store shells and few alternative uses. Retailers rely on grocery anchors to drive traffic so, when the grocer (or other anchor) leaves, the remaining tenants struggle. We have seen some grocers with an ethnic emphasis go in behind and fill the vacancy, but there is only limited opportunity for this. I think well-located and well-designed centers will continue to prosper but many centers that are located in the center of our community may take a long time to infill. In some cases, that infill may come in the way of a redevelopment of an alternate use.
We have seen several big-box retailers, namely Target and Albertson's, close underperforming stores, however landlords and sublessors have been flexible to find possible alternative uses (call centers for example) or demise the space for retailers requiring smaller footprint. The market has been bifurcated with strong leasing in the Summerlin, Henderson, to some extent the northwest, but the central core area is still suffering from high vacancy and is ripe for redevelopment or repurposed for other uses.
Another interesting trend has been the influx of medical users leasing space in retail centers. This is a result of medical users taking more of a retail approach to location analytics opting for accessibility, and visibility than being located in traditional office locations.
Gatski: We have seen vacant space being absorbed at a rate close to that of 2006 and 2007 again. With the strengthening of our local economy, coupled with that of disciplined development, the retail vacancy rates will continue to drop over in the near future.
Marker: The owners of vacant space in our market need to evaluate their product to determine a viable tenant or tenants. In some cases, this is not always going to be a retail user. This will become a bigger challenge as Las Vegas grows and matures. Another factor that will impact shopping center vacancy is the use of the Internet by major retailers to sell their products.
Q.: What area is going to be hot for retail in 2015?
Mitchell: Summerlin, Southwest and Downtown. Long range, Henderson Galleria area will see further growth with Union Village being a major catalyst.
Marker: In regards to shopping environments, open air centers will be hot. Open-air shopping experiences have been the trend for a number of years and they will continue to evolve. As a common trend, many consumers are drawn to the feeling of being in a downtown setting that is buzzing with activity, like many urban environments such as the Gaslamp District of San Diego or Union Square in San Francisco. We have already seen a few versions of this concept locally. Initially, we had The District in Green Valley, which was actually an evolution of the Green Valley Town Center back in the mid-1990s. Both centers were developed by America Nevada Co. Then came Town Square, developed by Turnberry, which raised the bar substantially and now we are lauding the opening of Downtown Summerlin. Change is seemingly constant.
Chaffee: I believe that the area surrounding the Downtown Summerlin project will be hot as well as the Chinatown/Asian market corridor along Spring Mountain (Road). The Strip is always hot and will continue to be so. The strip centers within the new home developments in Inspirada and Mountain's Edge will continue to grow as the market recovery continues. Also, with the limited amount of available distressed retail properties, I believe we are going to see higher trade values for distressed properties in traditional sales and auctions.
Newman: Path of growth areas like Summerlin, ease of access locations along the north and south beltways and locations within the resort corridor should continue to thrive as new home development continues to grow … but keep in mind that we're not expecting "explosive" retail growth. We will continue to add and improve but at a slower pace. The Southwest will see some growth as result of the Ikea store, and ancillary retail projects built around that area to take advantage of the additional traffic. Retail follows rooftops and we will likely not see significant retail development until 2016 and beyond when new home communities start to build and sell.
Q: Dust off your crystal ball and give us a prediction for the retail vacancy rate and average price per square foot — across the whole metro area — at the end of 2015?
Gatski: Looking into the proverbial crystal ball with an optimistic eye, it wouldn't be surprising to see retail vacancy rates fall below 12 percent overall and drop into the single digit (percentages) in some submarkets. This will take into account new construction that will keep the number somewhat artificially inflated. The average price per square foot has steadily been moving away from the unrealistic benchmark of $1 per square foot that's permeated the market during the recession for many neighborhood shopping centers; we should see this rate climb closer to an average of $1.25 to $1.50 (net-net-net) overall and over $3 per square foot for certain retail locations by the end of 2015.
Mitchell: 7.3 percent; $1.40 per square foot per month
Marker: Rates and vacancy in most areas of Las Vegas will remain the same. The economy will continue its path of slowly getting healthier. We will still see centers in the older neighborhoods struggle to lease their vacant spaces. Some large vacant boxes will remain empty (because of) lack of demand. In the Las Vegas retail market, there are a few centers that could truly benefit from creative owners with capital to rebrand or repurpose their center's image and increase lease rates and lower vacancy. It just takes time and a team that is focused on the same goal.
Chaffee: Although we will have a dynamic and fluid market, I believe that the retail rental rates will rise by 5 cents to 15 cents per square foot (net-net-net) into the end of 2015 while vacancy rates will continue to decline as consumer confidence rises.