Electric bikes steal the show at Interbike in Las Vegas
September 21, 2017 - 5:36 pm
Updated September 21, 2017 - 10:50 pm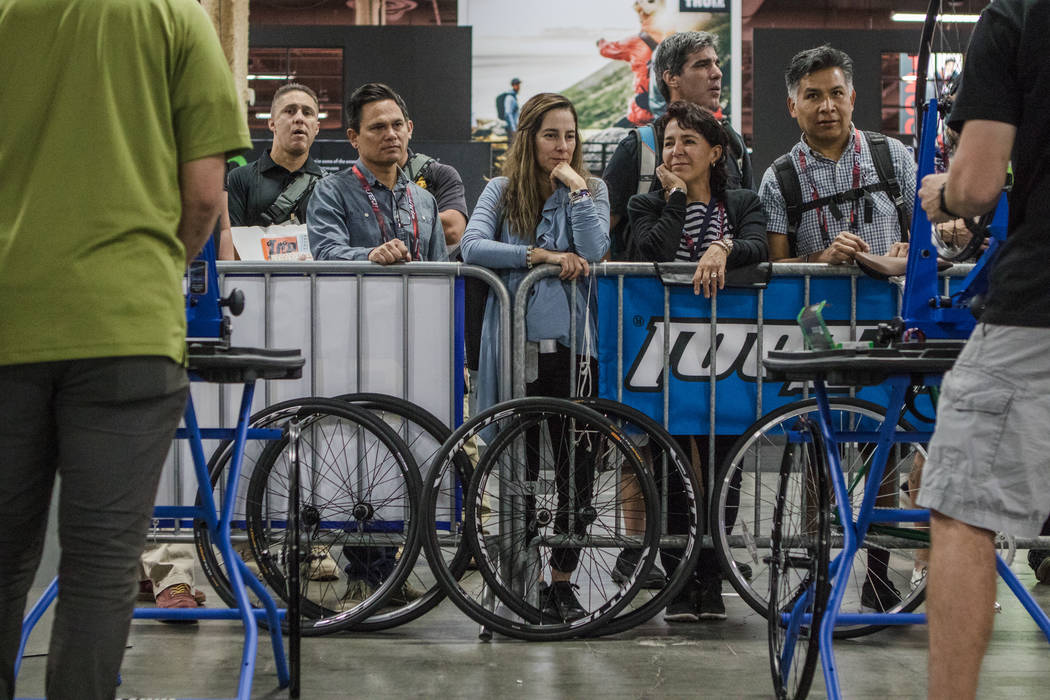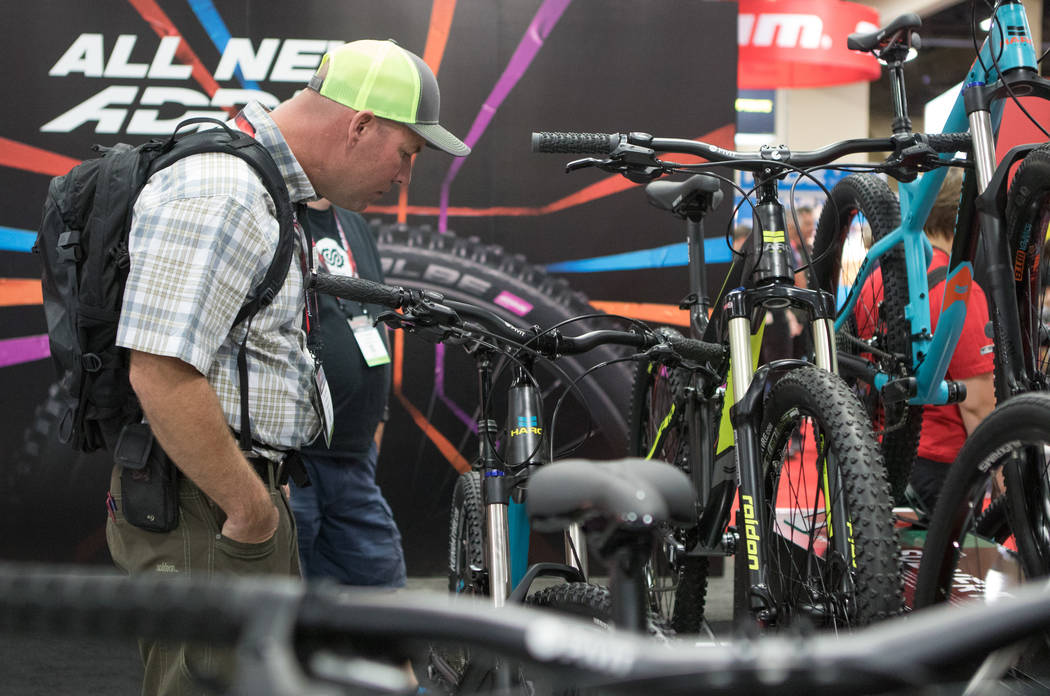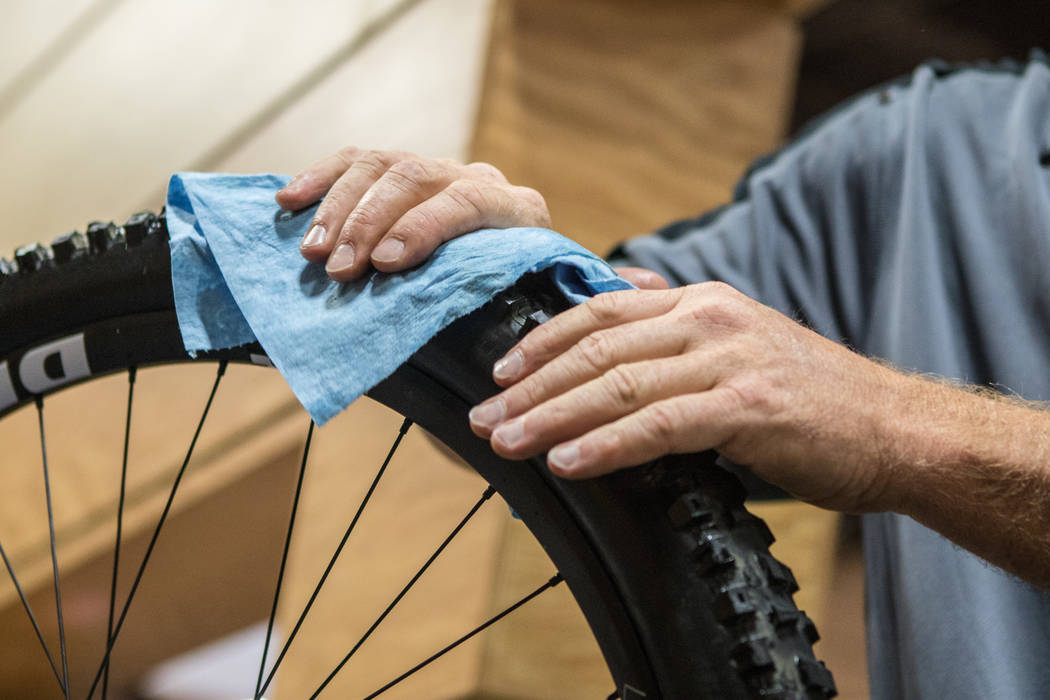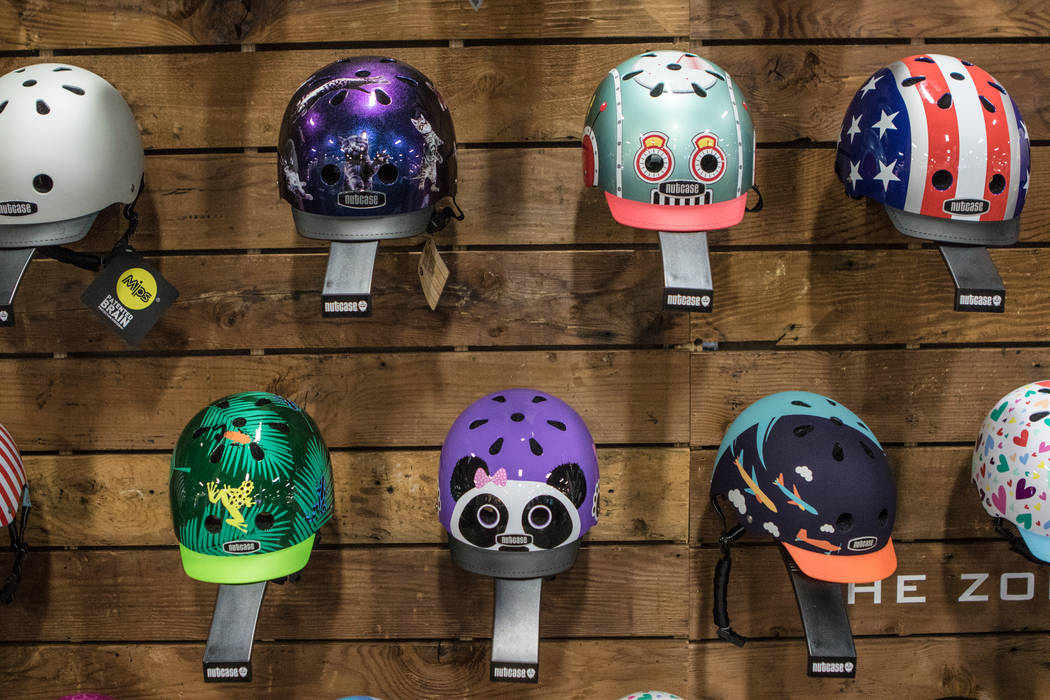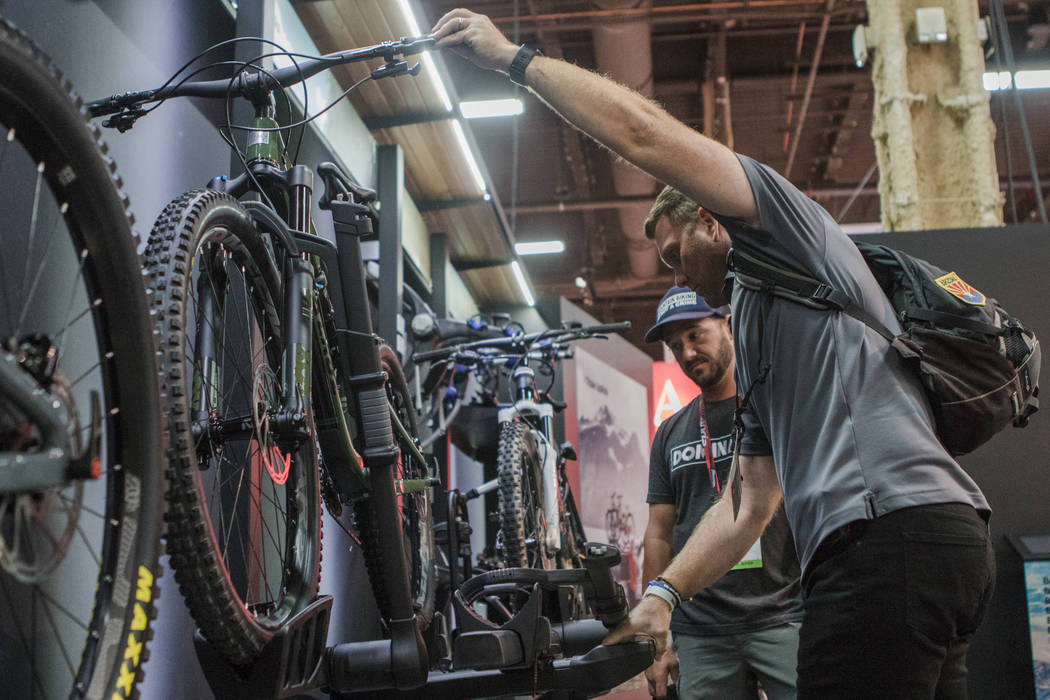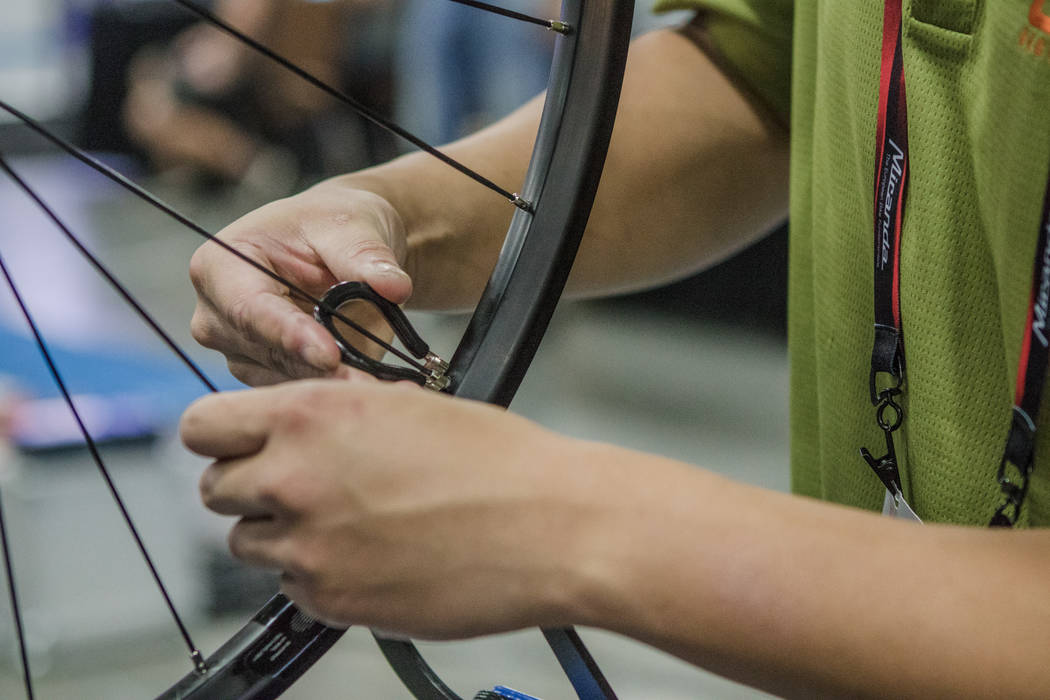 Zeno Panarari's life was destined to be tied to motorcycles in some way.
The son of a champion motorcycle racer, Panarari grew up in a region of Italy so well known for its gasoline-fueled bikes that it's sometimes called Motor Valley.
Thus, when the mechanical engineer took to building a bicycle, it turned out more like his father's motorcycle than a Schwinn pedal bicycle.
The 26 x 4.80 tires are double the width of mountain bikes, while the seat extends into the front frame. The bicycle can also ride by merely twisting a hand gear.
"Motorcycles are in my DNA,'' Panarari said as he presented his new Carbon electric bike, which weighs 80 pounds and starts at $5,000, at the Interbike International Expo this week at Mandalay Bay Convention Center.
Panarari's model was just one of the many eye-grabbing electric bikes on display at Interbike, the cycling industry's largest North American show, with roughly 25,000 attendees and hundreds of exhibitors. The three-day show ends Friday.
While the U.S. cycling industry is in stagnation as younger people pursue new forms of sport and recreation, the electric bike industry is speeding ahead, according to industry professionals.
Between 250,000 and 300,000 electric bikes are sold annually in the U.S. and and that number is doubling every year, said Las Vegas resident Ray Verhelst, executive director of the Electric Bike Association, a nationwide organization.
That said, the growth is coming from a low base. There are about 15 million bicycles sold annually in the U.S., according to Verhelst. Jay Townley, an industry analyst, puts the number of U.S. electric bike sales much lower, at below 100,000.
U.S. independent bike dealers, the main attendees at Interbike, had initially been hesitant to add them to their inventory, said Megan Tompkins, publisher of Bicycle Retailer and Industry News.
While the early adopters of a new technology are often society's younger generations, that is not the case with the electric bike. The largest buyer of electric bikes is the 55-to-65 age group, Verhelst said. That is followed by the 45-to-54 and 65-plus age groups.
"The buyers are older people with active lifestyles, but they may have had knee surgery that makes electric bikes a great fit,'' said Verhelst.
Interbike organized a 1,500-foot test track at the expo for dealers to try more than 180 models of electric bikes. The track was sponsored by German electronics producer Bosch, which makes components, like batteries, for electric bikes.
Tenfold increase
Overall, there are about 50 companies presenting electric bikes at this year's show, a near tenfold increase over the past five years, according to Interbike organizer Emerald Expo.
The electric bikes come in as many shapes and sizes as there are models – from Panarari's motorcyclelike bike to cargo bikes, mountain bikes, big wheel trikes and foldable scooters. There were even electric skateboards.
"That is where the market is going,'' said David Reed, a marketing specialist for Bianchi, referring to electric bikes.
Bianchi, an Italian maker, introduced its first electric bike to the U.S. this year, said Reed.
The U.S. significantly trails Europe in adopting the electric bike. About 2 million electric bikes are sold per year in Europe and will account for 40 percent of the market by 2020, said Verhelst.
Higher energy prices and narrow, congested inner-city streets have helped push the adoption of electric bikes in Europe.
"If you look at Europe, it is e-bike, e-bike, e-bike,'' said Dudley Smit, international account manager for Netherlands-based Johnny Loco.
Panarari expects the U.S. to follow suit.
"The next big market for the electric bike is the U.S.,'' he said, adding 40 percent of people visiting his company's web site Moto Parilla are based in America.
Townley said electric bikes could "take off in the U.S." in the coming years as cities incorporate them into ride share programs for use by older generations.
Cargo bikes
Cargo bikes are another growing theme at this year's show. Johnny Loco is exhibiting at Interbike for the first time to market its cargo bikes. Canada-based WIKE and Italy's T-Cargo also demonstrated cargo bikes.
Both Johnny Loco and T-Cargo offer electric cargo bikes. The Johnny Loco cargo bike is aimed at young families while T-Cargo's model has more of a commercial use. U.S. Postal Service employees attended the show and took interest in the T-Cargo model.
Contact Todd Prince at tprince@reviewjournal.com or 702-383-0386. Follow @toddprincetv on Twitter.
Close to home
Though Las Vegas is not a great city for bicycling, Ray Verhelst, executive director of the Electric Bike Association, said the electric cargo bike might be a good option for parents taking their children to schools located close to home. He said he has even spotted them in Seven Hills area in Henderson.