NV Energy customers would foot bill for natural disaster plan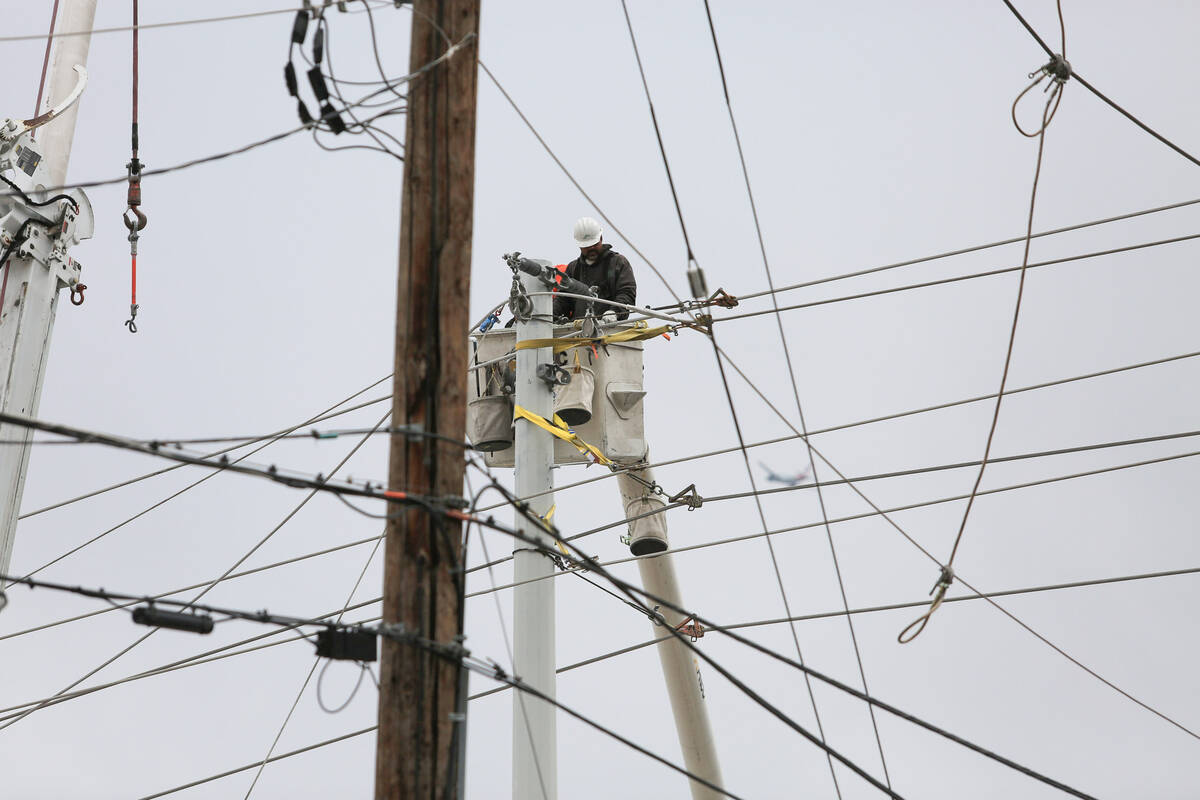 NV Energy submitted a $373 million spending proposal to state regulators to protect its infrastructure against extreme weather and natural disasters in Nevada — a plan that ratepayers would have to cover.
The utility's Natural Disaster Protection Plan, filed March 1, would fund services such as maintenance of older equipment, vegetation management, installing weather stations, improving insulation on power lines, placing some power lines underground as well as hiring meteorologists and fire experts to help the utility respond to natural disasters, according to Jesse Murray, vice president of electric delivery at NV Energy.
He said the plan is an "extension" of its first NDPP, which covered 2020 to 2023 and came with a price tag of $270 million.
"We've learned a lot of lessons in the first plan that we've implemented in the second plan, but the core strategy remains the same," Murray said. "We are holistically looking at our infrastructure, looking at our system and trying to figure out ways to make it more resilient."
The three-year plan would start in 2024 — if approved by the Public Utilities Commission — and the costs would be collected retroactively, meaning NV Energy will spend cash on the protection plan's resources one year and collect the costs from ratepayers the following year. NV Energy also said in its application that it would pursue federal, state and local grants to decrease costs to its ratepayers.
Murray estimates that there are about 1 million NV Energy ratepayers in Southern Nevada and about 350,000 ratepayers in Northern Nevada.
The $373 million would cover 2024 to 2026, with $171.1 million toward capital projects and $201.9 million on operations, maintenance, administration and general, or OMAG, spending.
It proposes to spend $76.9 million in Southern Nevada and $296.1 million for the utility's Northern Nevada coverage area.
The utility stated in its filing that the plan is vital because climate change and increasing temperatures will likely make natural disasters worse in Nevada.
"The effects of climate change are already here," Alex Hoon, senior meteorologist at NV Energy, said in filed PUC testimony. "We are seeing longer, drier periods that are having significant effects on drought and longer fire seasons. … Climate change brings heightened threat of wildfires, high wind events, winter storms, thunderstorms/microbursts, monsoons/flash flooding as well as heat waves/drought to all regions of Nevada."
Second filing
NV Energy is required to file a disaster protection plan every three years, after Senate Bill 329 was passed in 2019 requiring the utility to create the plan. The law was enacted to help protect the state's infrastructure after several deadly wildfires took place in the West, including the 2018 Camp Fire in California that killed 85 people and destroyed thousands of buildings.
Its latest plan marks the second time NV Energy has filed an NDPP.
Its first plan was approved by the PUC in September 2020, despite pushback from the Nevada attorney general's Bureau of Consumer Protection and major gaming companies over the whole state paying the same usage fee.
In past rulings, the PUC has been supportive of a statewide rate even if it means Southern Nevadans would effectively subsidize energy users in the much less densely populated northern part of the state.
"A natural disaster in Lake Tahoe, or Mt. Charleston, or the Las Vegas Strip impacts Nevada's economy," said a 2020 PUC order.
The Bureau of Consumer Protection estimated that so far during the first disaster protection plan ratepayers in Southern Nevada have paid $47.6 million in fees for Northern Nevada, according to a PUC filing.
Murray said there have been positives to its first plan, citing the recent storms that blew 50 mph winds through Las Vegas last month.
"(In 2017,) we had somewhere in the neighborhood of 47,000 customers that were impacted in that wind event," he said. "The wind storm we had a couple of weeks ago had an impact of less than half of that. So we had 20,000 customers (without power) at the peak."
NV Energy expects the PUC to decide on its latest plan in August.
Contact Sean Hemmersmeier at shemmersmeier@reviewjournal.com. Follow @seanhemmers34 on Twitter.