Solar plant capable of generating night power goes online near Tonopah
February 22, 2016 - 5:00 am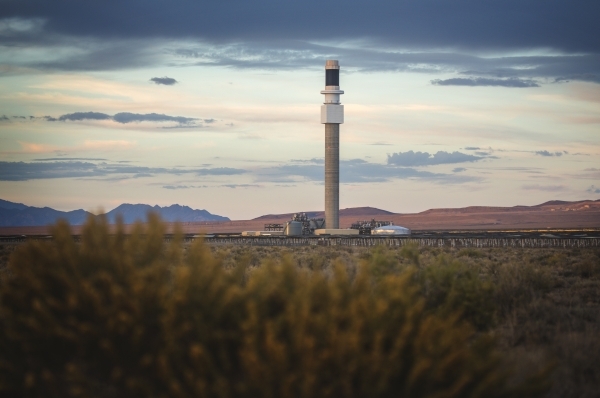 A new solar plant that can store the sun's energy and generate power day or night is now in full commercial operation outside of Tonopah.
Electricity from the Crescent Dunes Solar Energy Plant, 225 miles northwest of Las Vegas, has begun flowing to homes in Southern Nevada, according to NV Energy, the facility's only customer.
Santa Monica, California-based SolarReserve, owner of the project and its technology, touts Crescent Dunes as the world's first — and so far only — utility-scale solar power plant with fully integrated energy storage technology.
It delivered its first megawatts to the grid during a test run in October. In the months since, SolarReserve officials said it has demonstrated it can generate its full load of 110 megawatts, enough to supply about 75,000 homes.
"Consistent with the rollout plan, the facility will ramp up to its full annual output over the coming year," the company said in a statement Monday.
The plant took more than four years to construct, far longer than even company officials predicted. It cost almost $1 billion, including $737 million in federal loan guarantees.
A spokeswoman for NV Energy declined to comment on SolarReserve's announcement that Crescent Dunes is now online.
The state's largest electric utility has agreed to buy the plant's entire output at 13.5 cents per kilowatt hour — roughly twice the cost of power from a natural-gas-fueled plant — for the next 25 years.
The 1,600-acre facility built on federal land uses more than 10,000 mirrored heliostats, each with the square-footage of a small house, to focus sunlight on a 640-foot-tall central tower, heating the molten salt inside to more than 1,000 degrees.
The heat stored in the molten salt is then used to convert water to steam and drive generators to produce electricity.
SolarReserve said the system allows Crescent Dunes to deliver power on demand like a coal, natural gas or nuclear plant, only with zero emissions, little water use and no hazardous waste.
Solar industry analysts and investors are waiting anxiously to see how the technology performs, especially in light of disappointing early results from other large concentrating solar arrays, albeit ones without the ability to store the sun's energy to generate power at night.
So far, company officials said, the molten salt receiver at the heart of the system is working better than expected.
SolarReserve CEO Kevin Smith predicts the success of the plant outside Tonopah will "further accelerate implementation of renewables around the world, including within emerging markets such as Africa, Latin America and Asia."
"Our proven, U.S.-developed energy storage technology deployed at the Crescent Dunes facility is already being used as a blueprint for projects in these emerging markets," Smith said in a statement.
SolarReserve is slated to start construction on a similar plant in South Africa later this year, and plans are in the works for a 260-megawatt array in the Atacama Desert of northern Chile.
The company has provided a boost to Tonopah, the boom-and-bust mining town of about 3,000 people that serves as the Nye County seat. At the peak of construction two years ago, more than 1,000 people worked on the project and spent money in Tonopah's hotels, restaurants, gas stations and grocery store.
The power plant now ranks as the rural county's second-largest individual source of tax revenue, contributing almost $3 million in property taxes to Nye's total budget of about $72 million.
And U.S. Sen. Harry Reid, D-Nev., said he believes the perks from the project are just getting started.
"Nevada will benefit for decades as engineers and experts from around the world come to Tonopah to see what is possible when the public and private sectors come together to build the next generation of clean energy technology," Reid said in the same statement from SolarReserve. "This project is an excellent example of that collaboration, and Nevadans should be proud to have this engineering and clean energy marvel in their state."
— Contact Henry Brean at hbrean@reviewjournal.com or 702-383-0350. Follow him: @RefriedBrean