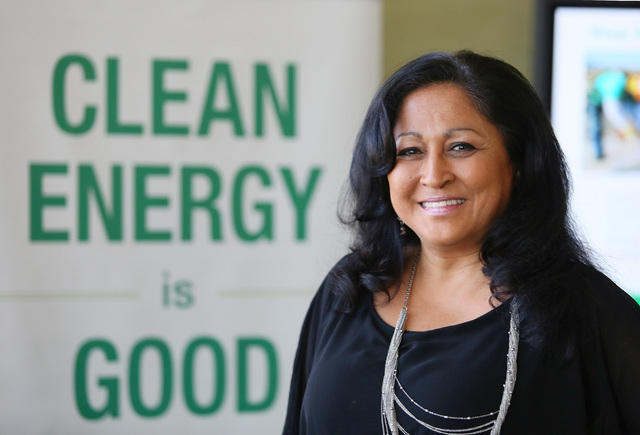 She's Las Vegas' queen of green.
Annette Bubak, co-founder of the Green Alliance, is a longtime instructor who helps real estate agents learn about energy efficiency and green homes. She is builder/sales manager for SolarCity, which provides solar systems for homes in Las Vegas.
The 51-year-old Bubak, who moved to Las Vegas from Utah in 1988, worked in property management and new home and condominium sales and marketing during her career.
She previously owned general contracting companies that did energy efficiency improvements before taking a position with SolarCity at the beginning of the year.
What role do you have in real estate today?
I have had my real estate license for 21 years. I am now an instructor for Realtors. How I do that is through the National Association of Realtors. They have a green designation for Realtors, and I help them get that.
What is a green designation?
Realtors receive a green designation after taking the course. They are able to tout they are knowledgeable and skilled in real estate properties that are green energy efficient and have renewables.
What is your role with SolarCity?
It is working director with the homebuilders here in Las Vegas and helping them offer solar as a standard or optional feature for their homes at the point of building the home. So far, it's been fairly successful. I joined their team in February. We now have more than 25 communities offering solar, and I foresee it really growing.
Can you explain a little more about SolarCity?
It is the largest solar provider in the United States. We have over 32 percent market share, and we have more than 6,000 employees across the United States. Locally, we have 500 employees, and with the growth rate we have we will have about 1,000 employees by the time 2014 is over.
What do you do?
We install solar systems and provide a lease for the solar system It is a zero-down program. The homeowner pays for the energy it produces with no money up front.
How prevalent is it now?
We have almost 30 communities that are offering SolarCity solar. When I came on board, we had about four. It is growing every day. I am projecting we are to have 10 percent of new homes built with our solar systems in 2014. We are seeing major market transformation. We have very energy efficient homes and now homebuilders are adding solar, which is essentially creating a hybrid home.
How much more expensive is a home with solar?
None. Zero. There is no money up front and customers pay as they go. The bill ranges. It depends on the size of the system that goes on their roof. It depends on how much energy they produce and using. We are seeing anywhere from $50 to $100 a month, depending on the size.
What is the Green Alliance?
We are a non-profit that brings together like-minded organizations, businesses and individuals and we create different initiatives that impact the community in a positive way.