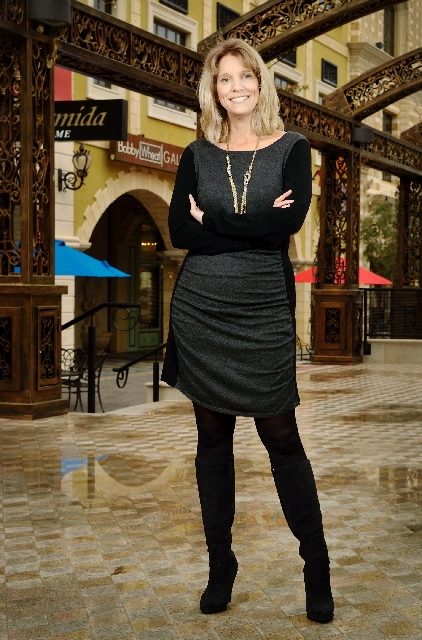 Like plenty of other people, Tivoli Village General Manager Tonia Chafetz moved to Las Vegas for warm weather and a hot economy. The difference in Chafetz's case is that she actually helped make the city's economy hotter, managing retail marketing for some of the Strip's biggest properties when shopping passed gambling on the list of top tourist activities.
Before joining Tivoli Village in 2010, Chafetz worked for General Growth Properties, a major mall developer that owns Fashion Show. Today, Chafetz is leading Tivoli Village in its latest evolution as an off-Strip destination for celebrity chefs, including Angelo Sosa, a finalist on Bravo's "Top Chef" and owner of the newly opened Asian restaurant Poppy Den.
What's your favorite spot for a power lunch?
We have multiple restaurants to choose from at Tivoli Village, so there's no reason for me to leave. Because we do have so many choices, I don't want to put one over the other. I have a lot of favorites. The French onion soup at View is delicious, and Brio has great salads. I also do power lunches at Poppy Den and Cantina Laredo. For breakfast, I enjoy Leone Cafe. It's turned into a place where half of the people there are in meetings or on computers. With companies like Merrill Lynch and Regus (office suites) at Tivoli, a lot of people go to Leone Cafe to do business.
What's your favorite hotel on the Strip?
I don't spend a lot of time on the Strip, because I worked down there for years. I do go if I'm drawn to a particular show or restaurant. Normally, I'd go to the Wynn, because my husband works there, and has pretty much worked for Wynn properties since we moved here from Michigan in 1989. Steve Wynn is one of the founders of Las Vegas, and his hotels are classic and beautiful. Wynn and Encore have beautiful restaurants and shops.
How do you unwind?
I have two dogs that my children would actually say I like more than them. And I have teenagers, so occasionally, that's true. I go home and put on my sweats, and I take my dogs for a walk in the evening. It's very cathartic — a time for me to reflect on my day and be thankful for everything I have. It's almost like meditation.
How did you get into retail?
It was kind of by accident. My degree is in broadcasting and communications. I worked for TV stations and ad agencies. Somewhere along the line, I got a job with Pepsi in sales and marketing. My accounts included the casinos and properties like Fashion Show. I met the people at Fashion Show and ended up going over there to do (its) marketing, partnerships and sales.
What do you like best about your job?
With Tivoli Village, I was brought on about six to eight months before opening. It has been amazing being a part of something that was built in my own community, because I live up in the northwest. To leave a mark on something that's being built for Las Vegas, as part of the resurgence of Las Vegas, and to be a part of those plans and that growth and the community events we have here — that's really what I enjoy.
What's the future of retail in the Las Vegas market?
I think Las Vegas retail will continue to grow. We grew very fast for a long time, and then it was very stagnant for a while. I think we're definitely back on the climb up. It's a slow crawl up. It's not moving lightning-speed fast like things did eight or nine years ago, but I don't know if that was real growth. A little of that was inflated. Today, growth is more stable and sustainable. It's kind of like the hare winning the race in the long run. Retailers coming into our projects and other venues here are being very methodical. They're doing their research. It's not the flash-in-the-pan thing we saw several years back. I think everyone coming in now believes in the market for the long term.