Exodus of big-box stores leaves gaping holes in Las Vegas retail scene
February 19, 2017 - 3:34 pm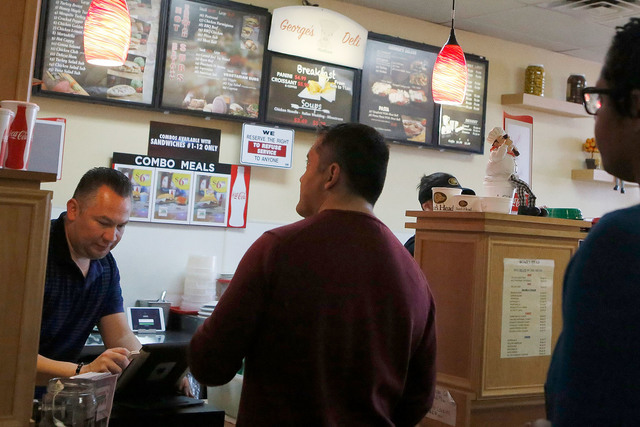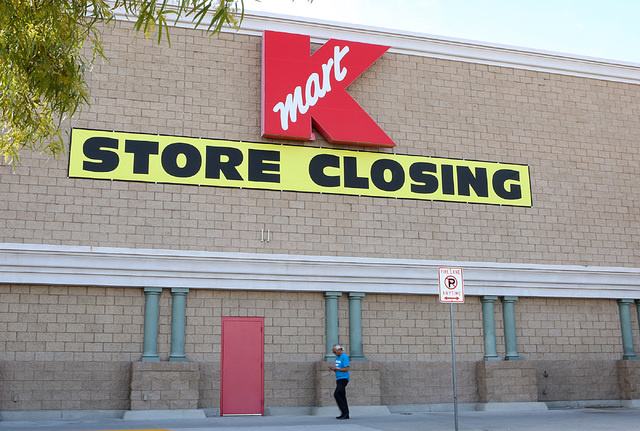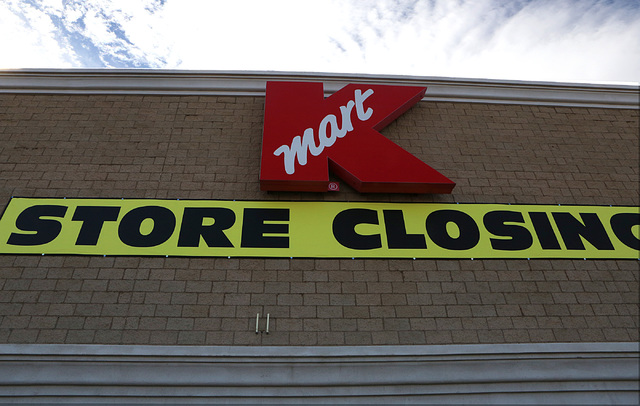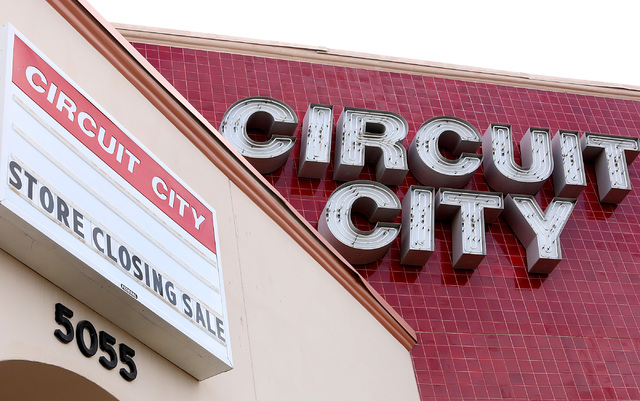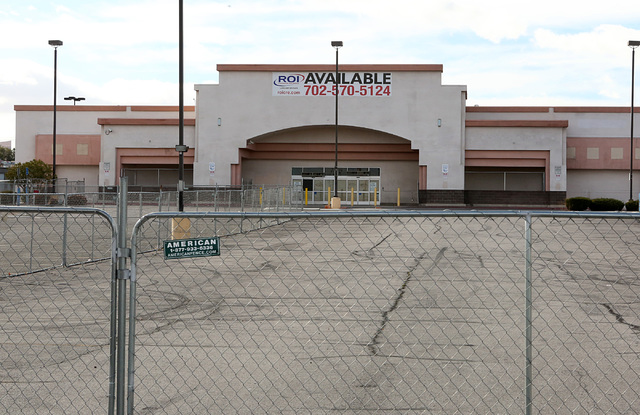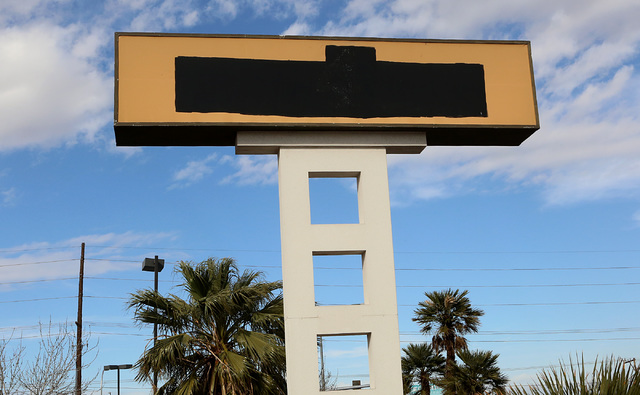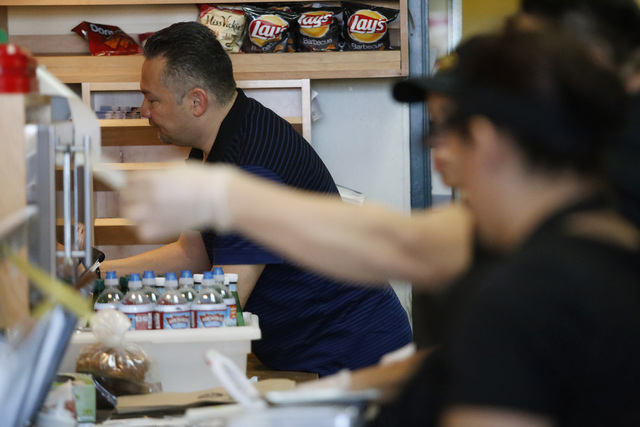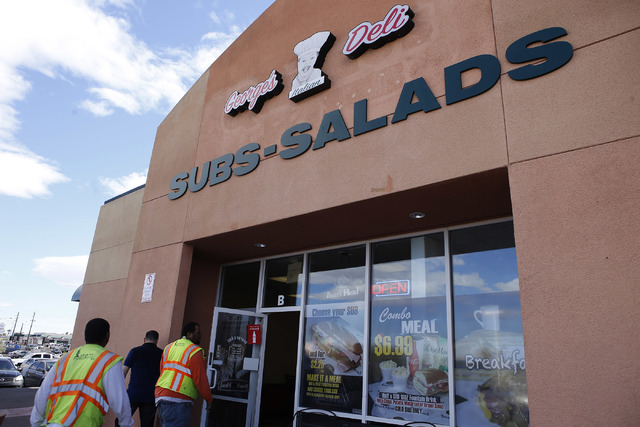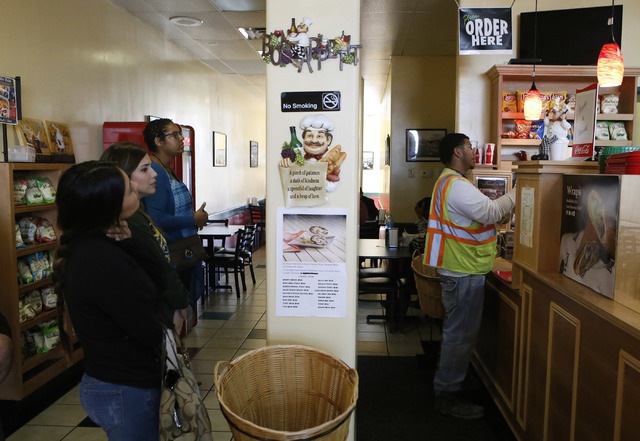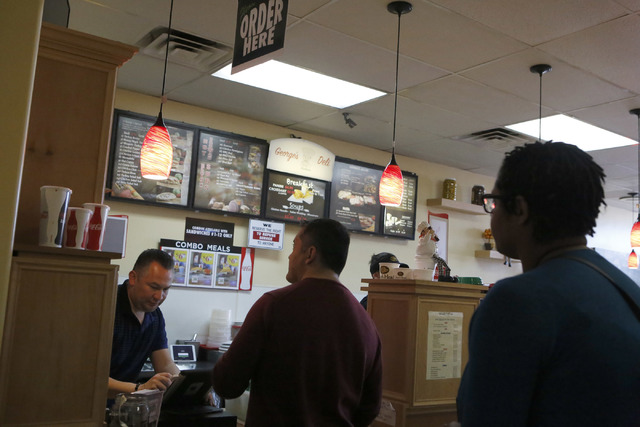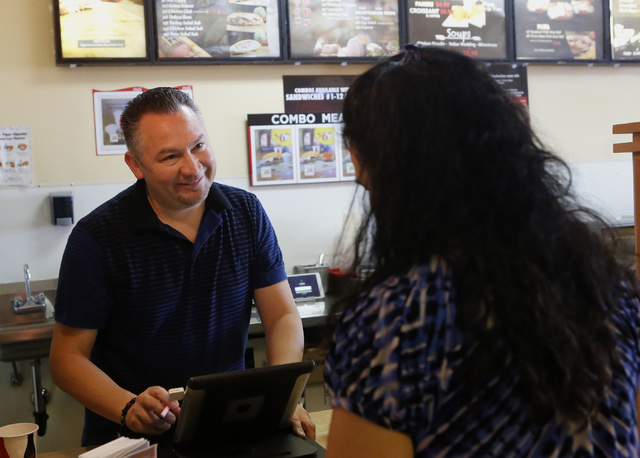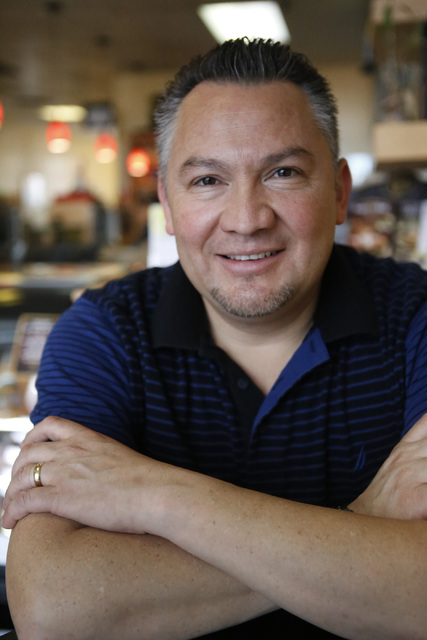 A few miles east of the Strip, an empty supermarket building has plenty of grave markers.
The property is fenced-off, and signs at the entrance declare the former Food 4 Less outlet "permanently closed." Even the grocer's signage along the street is blacked-out.
West of the Strip, an abandoned Circuit City still announces a "Store Closing Sale" more than eight years after the electronics chain went bankrupt. And in Henderson, lenders foreclosed a few months ago on a mostly empty shopping center, a few years after its anchor, an Albertsons grocery, locked its doors.
Plenty of shopping centers in Southern Nevada are filled with retailers and shoppers. But not every plaza is so lucky. Large, empty stores have left gaping holes in some retail centers around the valley.
Bankruptcies, heightened competition and other factors have made it more difficult to keep these boxes filled. And when a plaza loses a supermarket or other store that serves the masses, smaller shops there can suffer because of the drop in foot traffic.
More big-boxes were empty during the recession than today, real estate pros say, and supersized stores still are getting built. But vacancies persist.
There are 107 empty retail spaces in the valley that are at least 10,000 square feet each, according to brokerage Sage Commercial Advisors. Forty of the vacancies are at least 30,000 square feet.
All told, the typical grocery-anchored shopping center — a staple of American suburbia — that many people grew up with is "in trouble," said broker Rob Moore of Sun Commercial Real Estate.
Asked if he has any listings with an empty big-box, he said he didn't, "thank God."
CLOSE 'EM UP
Las Vegas' once-battered real estate market and broader economy are on stronger footing amid rising employment and tourism. But closures by national retailers keep coming.
Macy's said last month that it was closing 68 stores, including one at Boulevard Mall. The next day, Sears Holdings Corp. said it was closing 150 stores, including a Kmart in Henderson. And two weeks after that, the Review-Journal reported that Save-A-Lot would close its four Las Vegas groceries as it exits Nevada and California.
Meanwhile, sporting-goods chain Sports Authority went bankrupt last year, followed by rival Sport Chalet's parent weeks later. Both had stores in the valley.
Those followed waves of grocery closures here in 2014 and 2015, when Albertsons shuttered some stores, Food 4 Less closed several outlets, Haggen filed for bankruptcy and Fresh & Easy shut down.
Some retailers can do fine in an anchor-less plaza, but others "suffer miserably," said broker Dan Adamson, founder of ROI Commercial Real Estate.
MIXED RESULTS
Richard Black holds the unfortunate distinction of having leased space in two shopping centers to lose an Albertsons.
Black has been in the martial-arts studio business for 32 years and operates a series of studios in the valley under the name United Studios of Self Defense.
He called it quits in one of the Alberstons-less shopping centers, Horizon Pointe in Henderson, after 16 years and moved into what he said is a more affordable plaza down the street. Located at Horizon Ridge Parkway and Eastern Avenue, his old shopping-center space cost too much, he said, considering the missing grocer reduced his ability to land new clients.
To boost business, Black has invested in a website for United Studios and done cross-promotions with other tenants in his shopping centers. He's tried online coupons, online advertising and even paid a company to hang ads on people's front doors.
The results have been mixed.
"Nothing has been proven to work," the 56-year-old said. "You just have to get your name out there."
Black has decided to shut down his studio in the other Albertsons-less plaza, Green Valley Town & Country, a struggling Henderson center at Green Valley Parkway and Sunset Road.
In January, Steve Overlay opened a restaurant in the same center. He looked for about a year for the right spot for a brick-and-mortar version of Sin City Smokers, the name he uses for competitive barbecue cooking and for catering.
He found Green Valley affordable and wants something to take over the empty former Albertsons space.
"That hurts somewhat," Overlay said. "A grocery store brings someone once a week. And anything that brings someone in once a week does my advertising for me."
The plaza is 67 percent vacant, said listing broker Scot Marker of Colliers International. The Albertsons closed in 2014, and county records show that lenders seized the property through foreclosure last fall.
A spokeswoman for former landlord Kimco Realty declined to comment.
About four miles north of Sin City Smokers, in the Renaissance III shopping center near the intersection of Flamingo and Pecos roads, Luis Escobar would agree with his fellow restaurateur.
Escobar has run George's Italian Deli in the plaza for about two years. The center had already lost a Food 4 Less by the time he decided to open there, but it still had decent foot traffic, he said.
People ask him all the time when his landlord will fill the vacant grocery. He never has an answer.
Escobar works a second job as a financing manager at a car dealership, and through his industry contacts, he gets weekend catering gigs at various dealerships.
"I cannot just wait for the customers," he said. "You have to look for business elsewhere."
'STORES CAN SURVIVE'
A number of strip malls nationwide have found success even without an anchor, said C. Britt Beemer, founder of America's Research Group, a South Carolina-based consulting firm for retailers.
During his trips to Las Vegas, Beemer said, he often goes to strip malls with restaurants that draw customers from across the valley. Small retailers with their own followings can make up for a missing anchor, he said.
"Stores can survive by themselves if their base of shoppers is big enough," Beemer said.
Still, the recession, changing consumer tastes and increased competition from online retailers and powerhouse chains like Wal-Mart and Target have helped kill many stores, including ones that would rent a big box.
Other factors can keep a box empty. Landlords might still be collecting rent from the tenant that vacated, giving them less incentive to quickly fill the space, real estate pros say. Or the big-box is owned separately from the rest of the center, and the box's landlord "doesn't really care that much" about adjacent shops or the center's overall health, Sage founder Lisa Callahan said.
Smaller stores have good reason to worry: In a typical retail center, tenants lose $30 to $40 per square foot in annual sales with the loss of an anchor, according to research firm CoStar.
Faced with depleted foot traffic, mom-and-pop stores might then want to renogotiate their leases for lower rents, according to Colliers' Marker.
"It's a downward spiral," he said.
SPLIT IT
Some anchorless plazas still have plenty of tenants, and landlords have filled empty boxes with supermarkets and other users. Some property owners also are dividing vacant spaces, figuring it's easier to find two smaller tenants than one large one.
Developer J Dapper, head of Dapper Cos., said he filled a former Vons grocery with two discount retailers. He's also under contract to buy a former Rite Aid building that he plans to split.
"If you're willing to do it, it opens up the amount of tenants willing to take the space," he said.
Big-box construction hasn't stopped, either. One project in the pipeline is St. Rose Square, a 54-acre retail center on St. Rose Parkway at Amigo Street in Henderson.
Project developer Joe Kennedy, founder of J.A. Kennedy Real Estate Co., said he aims to start construction this year and that he expects anchor store Costco to open in spring 2018.
He declined to name his other anchor but said he wasn't worried about building a project with two big-boxes, saying Costco and the other store are "very strong financially." But he is "nervous" about the smaller boxes, noting he had letters of intent for Sports Authority and Sport Chalet before they went out of business.
Kennedy said St. Rose Square would be the biggest retail project he's ever built. But would he have tried it without first lining up a powerhouse anchor like Costco?
"No way," he said.
Contact Review-Journal writer Wade Tyler Millward at 702-383-4602 or wmillward@reviewjournal.com. Follow @wademillward on Twitter. Contact Review-Journal writer Eli Segall at 702-383-0342 or esegall@reviewjournal.com. Follow @eli_segall on Twitter.