Faraday Future vows work on North Las Vegas plant to start soon
February 16, 2017 - 8:30 pm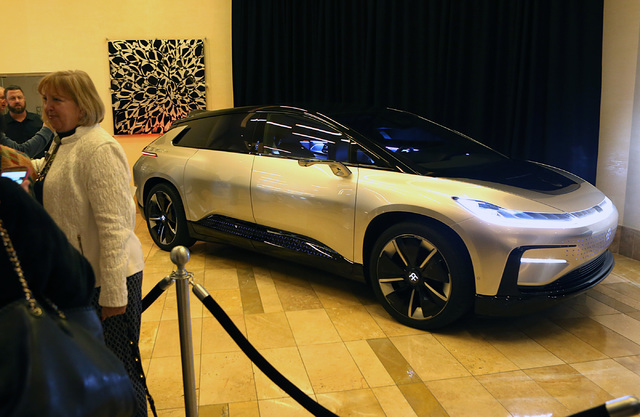 A spokeswoman for Faraday Future said on Thursday the company is "absolutely not" scaling back its operations and will begin work on an approximately 650,000-square-foot plant at Apex Industrial Park in North Las Vegas "in a few months."
Spokeswoman Dan Zhu told the Review-Journal that the plant is in addition to the 3 million-square-foot plant for which the company intends to begin construction in this year's third or fourth quarter.
The plant will be used to produce their flagship FF 91 vehicle, she said, which the company debuted last month during CES 2017.
In a statement, the company said the facility is an "extra investment" Faraday made in order to "facilitate the orders" which have "far exceeded expectations after the CES reveal of our first production car."
Faraday Future opened up construction of that facility to public bidding at the beginning of the year.
INCONSISTENT MESSAGES
Nevada Treasurer Dan Schwartz said he is even more skeptical of the project now than he was when lawmakers approved $215 million in tax incentives in December 2015.
"Their story changes," Schwartz said.
A general contractor overseeing construction of the Faraday Future electric car manufacturing plant in North Las Vegas told the Review-Journal in November that Faraday had suspended construction.
A Faraday spokesman at the time confirmed that.
"We are acknowledging that there has been a temporary work stop at the site," Rich Otto, Faraday communications specialist, told the Review-Journal in November. "We are re-evaluating where we're at, while we refocus our resources toward bringing this car to life."
Another Faraday Future spokeswoman with whom the RJ spoke Thursday morning said it's not that the company suspended construction, but that the first phase of their construction plan ended with the completion of "massive grading."
'POOR PAYMENT RECORD'
Schwartz said he would advise any private company that is thinking about working for Faraday to ask for payment up front.
"These guys have a pretty poor payment record," he said.
Last October, the general contractor overseeing more than $500 million in construction on the $1 billion project issued a warning to Faraday over an unpaid $21 million deposit that had been due in September.
AECOM, the contractor, declined to comment on the status of Faraday's payments, but a company spokesman did say via email that AECOM is "still fully engaged with Faraday Future and we look forward to being part of delivering this world-class manufacturing facility."
Zhu repeated that message and added that Faraday is still counting on AECOM to construct the 3 million-square-foot plant.
Beim Maple Properties — a property owner in Torrance, California — filed a lawsuit Dec. 6, 2016, against Faraday, claiming the company missed $104,950 in rent for a warehouse.
Three days later, Futuris, an auto supplier, sued Faraday alleging Faraday became delinquent on invoices and owes Futuris more than $10 million.
Zhu declined to comment on their payment record but said, "We are still very much committed to the state of Nevada and having this one billion dollar investment over several years."
PROTECTED TAXPAYERS
In a budget hearing Thursday morning, Steve Hill, director of the Governor's Office of Economic Development, said Faraday has invested $160 million into Southern Nevada. About $120 million of that has been spent on the site, and the company has made equipment deposits of $40 million, according to the economic development office.
"They have put a significant investment into the engineering work that it takes in order to put the infrastructure at the site — water, waste water, storm water, they paid for the engineering work for that to be done," Hill told the Review-Journal.
Hill said he would like to see Faraday Future's vision come to fruition.
"We want this to work, he said. "We think it would be great for the state and the region, but we are protected if it doesn't," he said.
A spokeswoman for the city of North Las Vegas declined comment.
Contact Nicole Raz at nraz@reviewjournal.com or 702-380-4512. Follow @JournalistNikki on Twitter.