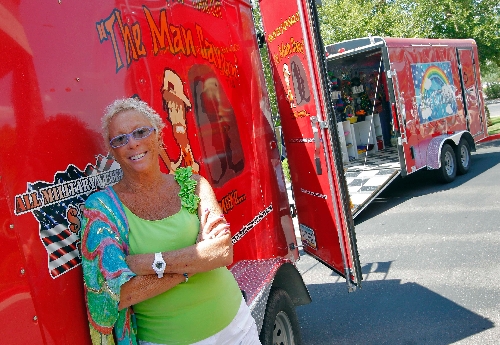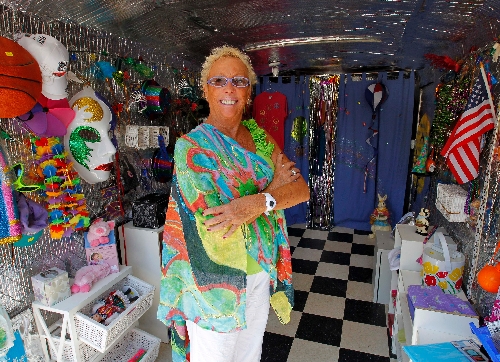 When Las Vegas' fashion mavens need an outfit in a hurry, they know where to go: the truck.
The Haute Chix Fashion Truck can be found at special events normally laden with food trucks, such as Saturday's Vegas StrEATs. Since its grand opening at the monthly downtown food festival, the truck has become the saving grace of many a stylish lady caught out and about without the right duds.
Owned and operated by Selena Viskovich and Mandi Staggs, the pair also own two brick-and-mortar Haute Chix locations, and Cityfied, a retail outlet for both sexes. But it's the fashion truck that gets the most attention.
Viskovich found her former FedEx truck for $4,000 on Craigslist. The women negotiated a $1,500 exterior vehicle wrap and spent $1,000 on the interior and a new radiator. With almost 200,000 miles on it, the truck needs a lot of TLC.
"Every time we take it out, it's an experience in itself," Viskovich said with a laugh.
Because the truck is prone to overheating, the women have to top it off with coolant for every drive.
"I drive it and that's really shocking to people. Whenever I pull up to places, people laugh or chuckle," said Viskovich, who ranks the hard work as worth the effort.
"We've definitely gotten new customers because of it," Viskovich said.
With that, Viskovich and Staggs have joined a growing national trend of retail on the move.
GOOD MECHANIC HELPS
The first time the brakes went out in her trailer/store, Joey Wolffer ran a stoplight and worried what would happen to her high-end accessories inside. Two years later, she has a close relationship with a mechanic, knows the best spot to park in New York's Meatpacking district and has a devoted summer following in the Hamptons.
Wolffer transformed a greasy potato chip truck into a 1980s glam, bohemian den named Styleliner. It's stocked with limited-edition accessories, like a $430 crystal and fringe necklace, from her world travels.
Friends were always asking Wolffer where she got a piece of jewelry, and the former trend director for Jones Apparel Group said she was looking for a unique way to introduce favorite designers to the U.S. market, along with some of her own creations. So she bought the truck.
Styleliner is among a handful of mobile retail stores in New York, Las Vegas, Los Angeles, Portland, Ore., and across the U.S. that are hawking vintage accessories, sexy shoes and denim to die for in their haute wheels. Owners say they're taking cues from the food truck industry, which glamorized street cuisine and garnered a cult following.
"I wanted relationships with customers. I wanted to get out there and work with people and meet new people all the time," said Wolffer, who made a profit her first summer in business in 2010.
Viskovich and Staggs were inspired by the Fuku Burger truck, which often stopped near their Cityfied store.
The boutiques on wheels can only accommodate a few customers at a time, providing a more intimate shopping experience than a crowded department store. Styleliner can fit about five customers at a time. When needed, Haute Chix adds a tent in the back.
"The old door-to-door salesman is too difficult in today's world but we're seeing an uptick in bringing the product to the consumers," said Marshal Cohen, retail analyst at NPD group in New York.
It's also a cheaper way for startup companies to break into the business.
When former fashion editor Sarah Ellison Lewis wanted to open a funky shoe boutique in Austin, Texas, she had sticker shock every time she saw the cost of a store lease. So for a quarter of the price she bought a 30-foot trailer, decorated it with vintage wallpaper photography and reclaimed wooden benches and leased a parking spot between a chic hotel and popular brunch spot.
Retail spots in hot Austin neighborhoods can be as high as $45 per square foot. Lewis does not pay property taxes, but many mobile retailers do pay permit fees, which vary by city.
The 36-year-old stylist specializes in smaller, hard-to-find designers of men's and women's shoes . The trailer was turning a profit in nine months, said Lewis, who is about to embark on a 20-city tour .
"This was about being an entrepreneur and doing it in a strange and audacious way and the trailer brings out all these great stories from people that I love," Lewis said. "I wanted to do something that was also really friendly and really warm. I'm really sick of retails being cold and stark and snotty."
SOCIAL SHOPPERS
Experts say traditional stores should collaborate with mobile retailers, not fear them. The trend comes as brick and mortar stores are struggling to get customers excited about shopping in a struggling economy.
"It's an opportunity to get (customers) into the parking lot and go to the mobile truck and we believe there's overflow traffic that goes right into the store from there," said Mike Gatti, a senior vice president of the National Retail Federation. "We're not hearing really any complaints about them."
Customers are also drawn to the novel experience and personal attention.
"People love it. You are now back to the social aspect of shopping," Cohen said.
And it's not just retail. Experts say consumers will see more industries, including medical and home furnishings, hitting the road.
That's already the case in Las Vegas.
On the Hangover Heaven bus, drinkers can get a morning-after cure from anesthesiologist Jason Burke.
"People thought that I was a quack," Burke said of the initial reaction.
But, business is booming, Burke said.
And for $99, photos included, lovers can get hitched at the rear bumper of the Wedding Wagon, Las Vegas' newest option for nuptials. Just call, and founders Andy Gonzalez and James Cass will drive to meet you.
What limits mobile retail options?
Only human imagination.
In Phoenix, The Man Cave offers haircuts, shoe shines and neck massages in an air-conditioned trailer with high-end cigars and a humidifier. Owner Julia Hutton also runs two other mobile retailers and her company, ExTreme ReTrailers, designs custom trailers to look like mini stores complete with wireless credit card machines, changing rooms and air conditioning. The custom units start at $10,000.
Hutton said mobile retail makes sense for entrepreneurs.
"They own their own business. They own their own building that the business is in. They own their own billboard. They have a traveling billboard wherever they go."