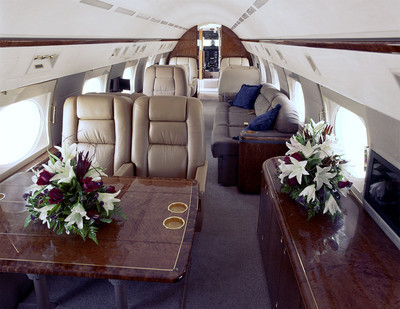 Even as she endured the pain of a 2004 hip-replacement procedure and cancer treatment, Penny Hays didn't want to give up visits to her family's second home on the Monterey Peninsula in California.
But it was clear to Penny and her husband, Patrick, of Henderson, she was in no condition to cope with the lines, crowds and long walks through airport terminals most people view as little more than an inconvenience.
"It was clear to me she could no longer tolerate commercial flight," Patrick Hays said recently. "I didn't think she could tolerate car travel either."
So the semiretired health care executive, decided to join a swiftly growing class of business and leisure travelers who buy access to private jets.
Hays bought two blocks of 121/2 hours each of flight time on a Citation V Ultra through Marquis Jet, a bundle that would cost slightly less than $120,000 under the company's current rate structure.
"Her first reaction was that was way too extravagant for us," Patrick Hays said. "We decided to forgo giving each other any kind of a Christmas gift and try out Marquis Jet."
The purchase not only allowed Penny Hays to make trips to California, it helped the couple's children fly to Nevada on short notice during her final days in December 2006.
"All of my wife's family was at her bedside when she died," he said.
Although the circumstances around the Hays' decision to buy time on a private jet were unique, the practice is becoming more popular as costs decrease and hassles associated with commercial traffic increase.
Hays, who still has hours of flight time remaining, said the contrast between flying private and commercial is striking.
He would have liked to have had the service during his days as a more frequent business traveler.
"It is abysmally bad," he said of the deterioration of commercial business travel. "You name the criteria, and it is bad."
Whether it pays for business operators to try to fly privately is another matter. It may be a question of the value of time.
It can cost around $4,400 per hour for service like that offered by Marquis, significantly more than the cost of even a first-class airline ticket. But flying privately costs considerably less than time.
That's because the plane is ready to go before the traveler arrives.
And since there is no baggage and passengers are prescreened for security they can walk through a small terminal, meet their crew, board and take off in minutes.
The jets can also go to the airport that is closest to the traveler's ultimate destination as long as the airport is safe and can accommodate a small jet.
That means no connecting flights or long commutes from large urban airports to conduct business in smaller cities or towns.
"You are leaving when you want to from the airport you want to," said Randy Brandoff, vice president of marketing for Marquis Jet.
In addition to Marquis, which operates from a private terminal at McCarran International Airport, several companies fly shared private jets to and from Southern Nevada, one of the top destinations for Marquis Jet. They include NetJets, the industry giant and a Marquis partner, along with FlexJet and Citation Shares.
Most of the companies operate like time shares.
People buy a fractional interest in an aircraft and pay a share of operating costs as opposed to buying their own private jet, which can cost millions of dollars to purchase and tens of thousands of dollars a month to own.
Marquis Jet is slightly different. The firm sells time in 25-hour increments on NetJets aircraft. The structure lowers the cost of entry by letting customers, called owners by company officials, get the benefit of access to a private jet without the cost of owning one in whole or in part.
"It is wheels up to wheels down," said Jae Schmutz, vice president of the southwest region for Marquis, of the company's pricing. "So you are purchasing just airtime."
But flying privately is still expensive. A Gulfstream 400 or 450, which seats 13 to 14 passengers and can make overseas flights, costs nearly $340,000 for 25 hours of airtime.
"People don't opt to fly this way to save money," said Randy Brandoff, vice president of marketing for Marquis Jet. "But when you run the numbers, the difference in cost is typically manageable."
And the costs are expected to get lower.
Aircraft manufacturers are hurrying to fill orders for a new generation of aircraft called very light jets, also called VLJs or microjets.
Microjets can have twin engines, glass cockpits and seat four to nine passengers while flying at a speed of about 440 mph. One company reportedly plans to provide microjet flight at a cost of $3 to $4 per mile.
"As these new very light jets come on line, fractional ownership is going to be grilled down to a much lower economic level than it is today," said Michael Boyd of the Boyd Group, an Evergreen Colorado aviation consulting firm. "Fractional ownership of a $20 million plane is one thing.
Potential fractional ownership of a $1.5 million jet is a quantum leap upward."
For now, though, travelers are buying Marquis Jet time for convenience, not price.
Since it was founded in 2001, Marquis Jet has grown to include more than 2,000 owners.
Combined with NetJets, the companies have 694 aircraft, 3,600 pilots and 370,000 flights annually. They have about 100 Las Vegas-based owners, Schmutz said.
Marquis promises to have a jet ready to fly on 10 hours notice. And it will arrive and depart any safe airport. That means owners can fly direct between small cities without having to deal with security lines or any other airport hassles. They just walk from the parking lot to their jet-in-waiting.
"You get on, you close the doors and you taxi out," Schmutz said. "There is no taking your shoes off, no going through metal detectors, no throwing out your water bottle."
This story first appeared in the Business Press. Benjamin Spillman writes for the Business Press' sister publication, the Review-Journal. He can be reached at 477-3861 or by email at bspillman@reviewjournal.com