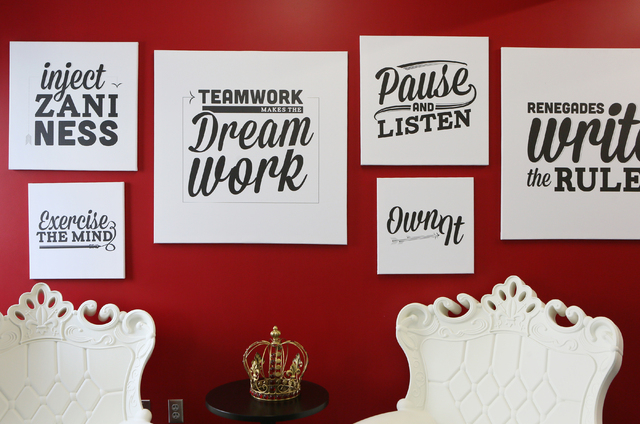 Bill Foley confesses he's not a big social media fan.
The mortgage company billionaire from Jacksonville, Fla., who also owns 14 wineries, says Twitter and Facebook did "not work great in the wine business."
But Foley, Fidelity National Financial chairman, is placing renewed faith in social media for his latest high-profile business venture. Foley has hired a growing Las Vegas social media company that has cultivated an array of sports clients as part of his campaign to generate 10,000 season ticket deposits for a potential National Hockey League team in Las Vegas.
Foley is partnering with the Maloof brothers of Las Vegas, the former owners of the NBA Sacramento Kings, in a bid to create an NHL franchise that would play in the new privately financed MGM Resorts International/AEG arena being built behind New York-New York. The NHL has given Foley/Maloof the OK to launch the ticket campaign. Foley wants the campaign to show NHL brass that Las Vegas is ready for a big-league sports team.
Last week, Foley visited the downtown offices of Digital Royalty at 124 S. Sixth St. and company owner Amy Jo Martin, who has worked with retired NBA star Shaquille O'Neal, action star Dwayne "The Rock" Johnson and Ultimate Fighting Championship President Dana White to add millions of followers to their Twitter accounts and teach them social media's business relevance. When Martin began tutoring White, he had less than 100,000 Twitter followers; now, he's up to 3.02 million.
Digital Royalty plans to use social communications not only to build excitement about the prospect of Las Vegas playing host to an NHL team but also educate fans about the NHL team ticket drive, Martin said Wednesday.
Her 30-employee company will, as Martin put it, "monitor the entire ecosystem" of social media to track communications about hockey in Las Vegas. She has 20 employees in Las Vegas and others in London, the United Arab Emirates, Germany and Phoenix.
"Social media channels are the fastest ways to spread the energy of people talking about pro sports," said Martin, 35, who has 1.17 million Twitter followers. "If someone has a question about the initiative, we'll provide a quote from Bill Foley or a link to a story."
Digital Royalty deploys 26 types of software and tool sets to monitor communications, intercept conversations and engage social media users on social media such as Twitter, Facebook and Instagram, she said. Digital Royalty staffers will track social media conversations round-the-clock and inject information about the NHL team ticket drive.
"People will be responding in real time. They're trained to listen and engage at all hours. Conversations just don't happen during work hours," Martin said. "It's after work when many sports conversations take place."
Building on her strong professional sports roots, Martin has cultivated a niche consulting in the professional sports industry to show teams and players how to deploy social media to grow their brands. She worked with the NFL Arizona Cardinals and NHL Phoenix Coyotes at the E.B. Lane ad agency in Phoenix in 2001. She served as the former director of digital media and research for the NBA Phoenix Suns from 2005-09.
During her Suns stint, Martin met O'Neal. She eventually helped him to build his social media following.
Martin moved Digital Royalty to Las Vegas from Phoenix in June 2012, when Zappos CEO Tony Hsieh became a minority investor. Martin and Hsieh met on Twitter, with the Downtown Project founder serving as friend and mentor.
Martin's company, which keeps an office on the second floor of the John E. Carson Hotel commercial building, has grown from 10 workers in June 2012 to the current 30, and is looking to hire more content developers and account managers.
"It's not necessarily the most typical mash-up," she said. "But I believe transparency is needed and that's how you build trust."
Hiring Digital Royalty is just one part of the Foley/Maloof ticket campaign, which launches Feb. 10. Foley said he's spending $1.5 million on the ticket deposit effort, which also includes hiring R&R Partners as the public relations consultant and a sales manager and renting a ticket sales office outside Henderson.
Foley hopes to target what he calls "130,000 avid hockey fans" with annual salaries of at least $55,000. He also is leaning on a core group called the Las Vegas Founding 75 — a committee of 75 business leaders charged with rounding up at least 60 season ticket commitments.
Foley said the ticket campaign has no time frame, but that he will learn early after the launch whether Las Vegas is ready for an NHL team. He's confident the NHL will award a team to Las Vegas when at least 10,000 season ticket commitments are realized. The ticket deposits will each cost $150-$900.
Contact reporter Alan Snel at asnel@reviewjournal.com or 702-387-5273. Find him on Twitter: @BicycleManSnel.