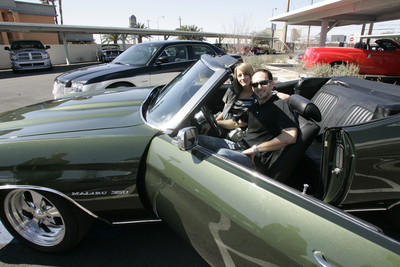 Robert McCarthy of Chicago found a perfect birthday gift for his dad during their weekend celebration in Las Vegas. Her name is Cheryl and she costs $200 a day.
No, Cheryl wasn't called from one of those cards they hand out on the Strip. She's a 1972 Chevelle SS-350 convertible — dad's favorite car– in mint condition.
McCarthy rented the beauty at Voyager Classics, a business that opened last year at Tropicana Avenue and Paradise Road.
"He's coming to Vegas tomorrow with my mom, so we wanted to surprise him and pick him up at the airport in his dream car," McCarthy said before he climbed into the racing-green muscle car with his girlfriend, Kelly Wisniewski.
In today's tight economy, renting at Voyager instead of Enterprise or Budget may seem a little lavish. Flaunting wealth is frowned upon these days.
But the recession is depressing and sometimes people need something to lift their psyches, said Carmen Marcuccio, operations manager for the fleet of vintage and classic cars at Voyager.
"We try to have cars that nobody else has," he said. "We're an entertainment company, so we want people to come to Voyager and have a blast. The news is depressing, depressing, depressing. People just want to feel normal again and have fun."
Why not? You're in Vegas. Live it up in style.
How often do you get a chance to cruise the Strip in a 1936 Auburn Boat Tail Speedster?
"Abigail's been to the altar a few times. People rent her to get married," said Frank Glankler, owner of Voyager Classics who started the business with his private collection of 15 restored classics and built the inventory to 45 to 50 cars valued at about $2 million.
Some of the prizes include a 1965 Cobra that rents for $325 a day, a 1957 Chevy for $300 a day and a 1958 Corvette for $400 a day. Pop singer Mariah Carey once rented the 'Vette to shoot a video in Las Vegas. Abigail (the Auburn) costs $600 a day.
Marcuccio said Voyager started with about 65 classic cars. The company realized there was more demand for newer, faster cars, so Voyager created its Extreme Motor Sports brand. The Dodge Challenger SRT-8, Chrysler 300C SRT-8 and Chevy SSR Roadster are counted among its fleet.
Voyager's rental selection "changes like blackbirds on a fence," Glankler said.
Older cars have been modernized with new engines and transmissions, air conditioning, electric windows and current suspension systems. Chelsea, the '57 Chevy, has been converted from drum brakes to disc brakes and the original 283-cubic-inch engine has been replaced by a 350 to give it some get-up-and-go when you pull into traffic on Tropicana Boulevard, Glankler said.
No question, insurance is expensive for these cars, he said. Sometimes they come back scratched or dented, but that can be fixed.
A customer once had an accident at Tropicana and Swenson Street, not two minutes after leaving the lot with a Cobra, but it wasn't his fault. Someone hit him in the intersection.
"I don't care about the car. Cars have no soul," Glankler said. "We worry about the people. We have them sign papers on the fast cars. We don't want them wiping out a family of five."
Wisniewski, a tourist from Chicago, said everybody's pinching pennies where they can these days.
"(Still,) if you're going on vacation anyway, you might as well do it up," she said.
Contact reporter Hubble Smith at hsmith@reviewjournal.com or 702-383-0491.