For sale: Gaping reminder of Las Vegas' boom and bust
January 20, 2017 - 3:49 pm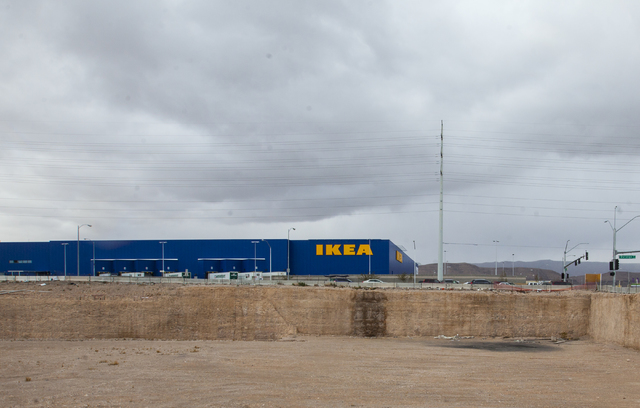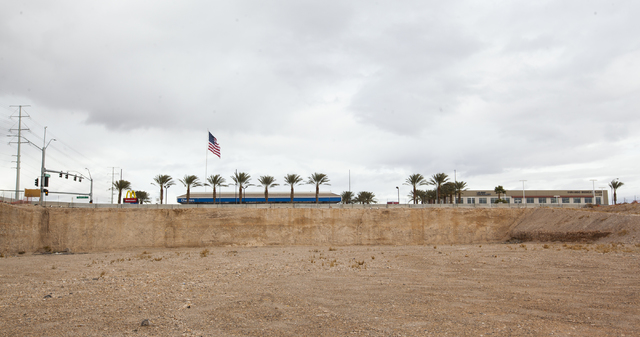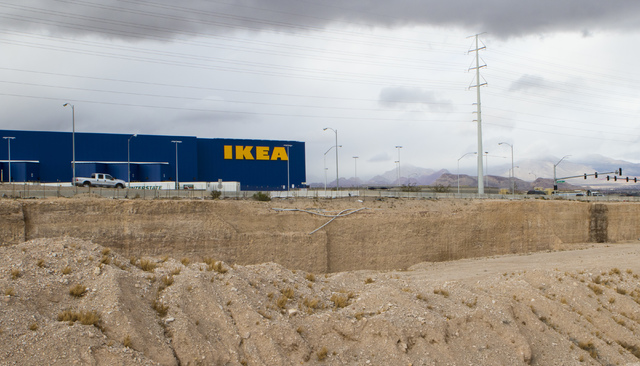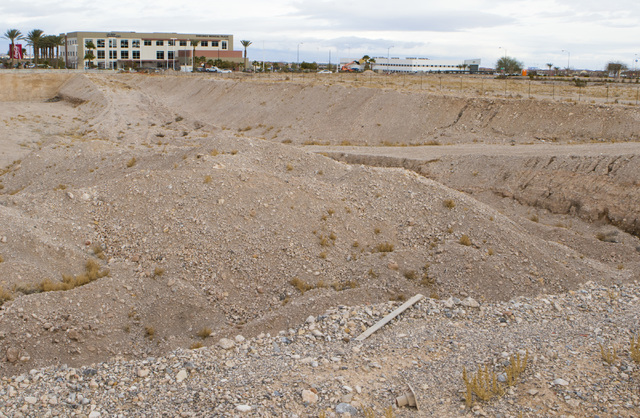 Sullivan Square was supposed to be an urban enclave built from scratch in the Las Vegas suburbs, with high-rises, bike lanes, a dog park, art fairs and fitness centers.
Today? It's a giant hole in the ground.
The project, at the southeast corner of Sunset Road and Durango Drive, was one of dozens last decade that was supposed to bring soaring towers to flat, sprawling Las Vegas. And like most high-rise proposals from the bubble years, Sullivan Square never materialized, amid a heap of lawsuits over the project.
Now, this gaping reminder of the real estate boom and bust can be yours.
Dublin, Ireland-based Harcourt Developments, a partner in the failed project, put the 14.9-acre property on the market this month. It's looking to sell the site but doesn't have an asking price, though its "focus" is finding a partner for a possible development, said listing broker Aman Lal, an associate with The Hoffman Co.
The fenced-off, dirt property is across Durango from the Ikea furniture store, and Lal said the excavated portion is roughly 30 feet deep.
Other mixed-use projects in the valley faced steep problems during the recession, ranging from foreclosure and litigation to outright abandonment. But properties like Town Square, The District at Green Valley Ranch and The Gramercy are up and running today, not massive craters.
"You look at that site today," Lal said of Sullivan Square, "this was one of the big lessons of the downturn: you can't build urban projects in suburban locations."
A sale could bring new life to a long-abandoned property in perhaps the fastest-growing area of the valley, the southwest. And while this sort of land may seem unique, it's not the only one in its neighborhood.
A short drive away, off Buffalo Drive just south of the 215 Beltway, Spanish View Tower was designed to have three 18-story condo towers. It's now a massive hole in the desert, 40 to 50 feet deep, with a rust-streaked, partially built underground parking garage, and an abandoned construction trailer with broken windows that's visible to passersby.
The site's owner, Las Vegas broker and investor Jack Woodcock – a lender to Spanish View's original developer – has been trying to sell the 15-acre property for $18.9 million.
Lal said it would cost about $1.3 million to fill the hole at Sullivan Square with dirt. He said Harcourt owns the site free and clear, without debt on it, and that to his knowledge none of the lawsuits over the project are still open.
Harcourt, led by founder Pat Doherty, and Las Vegas-based Glen, Smith & Glen Development Co. partnered in summer 2006, around the peak of the bubble, to build the mixed-use project, court records show.
With a reported price of $800 million, Sullivan Square called for 1,380 residential units, 45,000 square feet of retail and 272,000 square feet of office space, Clark County records show.
This huge undertaking seems highly unlikely to be tried today, but it fit with the era. Flooded with easy money, Las Vegas' real estate market was going wild, and perhaps few projects epitomized the frenzy as much as high-rises. Investors laid out plans for dozens of condo, hotel and other towers last decade, in what supporters called the "Manhattanization" of Las Vegas.
Drilling and blasting for Sullivan Square was slated to start in spring 2007, and the developers held a groundbreaking ceremony that summer with an early-morning launch of eight hot-air balloons, reports said.
But like most proposed high-rise projects from those years, Sullivan Square never came out of the ground. And, like numerous other projects from the boom era, it was hit with litigation.
An architecture firm sued the developers, claiming it was owed about $650,000. Sullivan Square's general contractor sued the developers, claiming it was owed $1.1 million. And the developers sued a contractor that performed blasting work, alleging the company was overpaid by $32,000 but refused to return the money.
The project's partners also fought.
Glen, Smith & Glen sued Harcourt in spring 2008 in Clark County District Court, claiming its partner "failed to timely and sufficiently fund the project," which led to lawsuits and liens and "a halt in construction."
Glen, Smith & Glen does not appear to be in business anymore, and efforts this week to get comments from Harcourt were unsuccessful.
In hindsight, with Las Vegas and Irish developers teaming up in 2006 on a high-rise project here, Sullivan Square's outcome seems almost inevitable.
Las Vegas was a poster child for America's real estate boom and bust – soaring prices and construction followed by widespread foreclosures, job losses and bankruptcies, with abandoned projects littering the valley. Fueled by bank lending, Ireland also had a big housing bubble last decade that, after it burst, left the country with a reported 2,800 abandoned projects by 2010.
Moreover, Harcourt reportedly secured financing for Sullivan Square from Anglo Irish Bank, a heavy real estate lender that was nationalized in 2009 and liquidated.
The bank, according to The Irish Times newspaper, was "synonymous with Ireland's economic collapse."
Contact Eli Segall at 702-383-0342 or esegall@reviewjournal.com. Follow @eli_segall on Twitter.