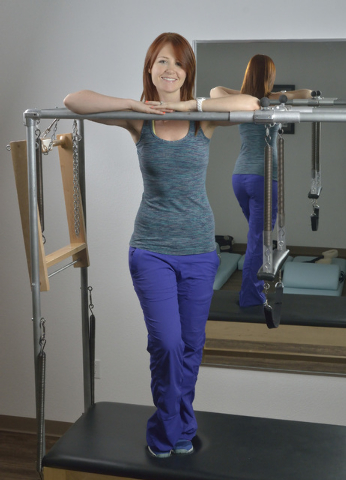 Juliet Lauren Clingan has cheered on a National Football League team from the sidelines of 70,000-seat stadium and danced on stage in one of the longest-running Strip spectaculars.
But she considers the opening last month of a 1,200-square-foot Pilates studio in a southwestern Las Vegas commercial center a career high point.
Clingan opened The Pilates Firm at 8359 W. Sunset Road in mid-June and is quickly filling her time with classes, workshops and other client needs.
Since 2008, Clingan has taught Pilates in her home studio, Las Vegas country clubs, and other privately run studios.
She is a Pilates instructor one day a week for performers in Cirque du Soleil's "Zumanity" show at New York-New York.
Pilates is a fitness system that maximizes and strengthens a person's skeletal alignment and improves flexibility, endurance and control.
That's one reason Clingan said the exercise routine is important for dancers.
"Many dancers are doing the same movements and using the same muscles for two shows every night," Clingan said. "Pilates allows people to strengthen different muscle groups and avoid injury."
Some of the "Zumanity" performers are contortionists and can reach backward and grab their ankles.
"But they can't touch their toes reaching forward," she said. "Pilates helps them work those other muscles."
Clingan speaks from experience.
She moved to Las Vegas in 2007 to perform as a showgirl in "Jubilee" at Bally's Las Vegas. She spent a year in the Jubilee Theater while earning her Romana's Pilates Certification.
"It was an amazing experience," she said.
A year earlier, Clingan spent the season as a cheerleader for the NFL's Philadelphia Eagles, cheering on the team during its home games, including the playoffs.
"I love football and it was exciting to part of the game," Clingan said. "Nowadays, you see football teams bringing their guys into Pilates studios because they see the benefits of the exercise."
Since moving to Las Vegas, Clingan has taken continuing education courses annually to improve her Pilates teaching skills.
She has twice run marathons and carved out a niche in working with runners and cyclists and introducing them to Pilates.
"Actually, I love teaching Pilates to anyone," she said. "The key is to balance a person's muscle movement. When you are able to balance the use of different muscles, you become more effective as an athlete."
The new studio includes workout space, group classes and offers online scheduling and special workshops.
On July 9, Clingan said she will celebrate the studio's opening with a ribbon-cutting ceremony conducted by the Las Vegas Metro Chamber of Commerce.
Contact reporter Howard Stutz at hstutz@reviewjournal.com or 702-477-3871. Follow @howardstutz on Twitter.