Fortune 500 company to open North Las Vegas distribution center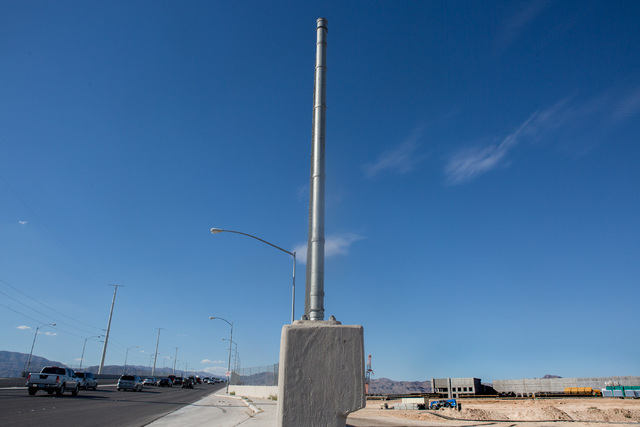 Fanatics Inc., a Fortune 500 company known for manufacturing licensed sports gear, clothing and other merchandise, will open a distribution center in North Las Vegas by June 2017, under a deal approved Thursday by the Governor's Office of Economic Development.
The company will receive $813,790 in tax incentives for the move, with plans to move into a 400,000-square-foot distribution center already under construction just southwest of the Interstate 15 and 215 Beltway, said Lonnie Phillips, senior vice president of operations at Fanatics Inc.
In turn, Fanatics is projected to spend about $8 million in capital equipment investments at the site, with plans within the first year to create 189 jobs that will pay an average hourly wage of $16.87. Hiring will start in January, with local residents making up 80 percent of the workforce.
Phillips said Nevada is closer to 25 percent of the company's customer base, so a plant in North Las Vegas would allow Fanatics to make deliveries within two days.
"Right now, it's a three- to five-day transit," Phillips said. "Nobody orders their potential Las Vegas Raiders jersey when you're supposed to get it in five days, so we'd like to get it to you same day, next day."
FedEx is the primary delivery provider for Fanatics, but Phillips said the company will use additional regional carriers to provide same-day deliveries.
"You mentioned the potential for a NFL franchise, but we do have a NHL franchise," Gov. Brian Sandoval said, tongue in cheek. "It looks like, on your schedule, you'll be open just in time to directly serve Nevada."
Fanatics' distribution center in North Las Vegas is projected to produce more than $18.3 million in new tax revenue over the next decade, according to estimates by the Governor's Office of Economic Development. Nationally, the company's goal is to generate $1.5 billion in annual revenue this year and $5 billion a year within five years, Phillips said.
Fanatics is the first Fortune 500 company moving into North Las Vegas but not the first high-profile newcomer.
The announcement comes a year after Faraday Future released plans to build a $1 billion factory to manufacture electric cars and Hyperloop Technology said it would develop a test track for a high-speed transit system, both at Apex Industrial Park several miles north of the Fanatics distribution center.
"Fanatics knows what more and more companies across the world are learning: that North Las Vegas is the best city in the country for doing business," North Las Vegas Mayor John Lee said. "If anyone doubts that North Las Vegas has reinvented itself, this is proof positive that our turnaround town is doing business with the world."
Contact Art Marroquin at amarroquin@reviewjournal.com or 702-383-0336. Find @AMarroquin_LV on Twitter.