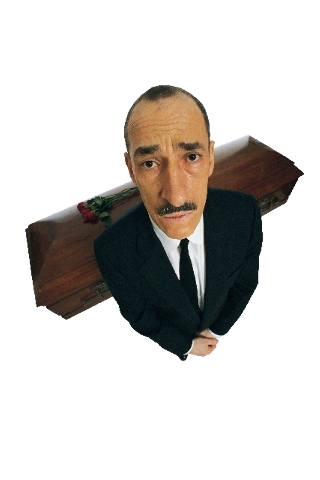 Retired sales manager George Franklin stands over an 8-foot-long, 3-foot-wide hole in the ground.
The empty grave at Palms Eastern Mortuary and Cemetery in Las Vegas isn't for anyone he knows.
But it might be exactly what he's looking for.
Never married and childless, 66-year-old Franklin decided to start planning his funeral after a small investment yielded some unexpected cash.
He has budgeted around $3,000 for a nice piece of land with some shade and a good view.
He peers into freshly dug plot waiting for a new resident. Not bad, he says.
Industry experts say more and more baby boomers like Franklin are looking beyond retirement by planning their funerals. With that comes a changing funeral industry in Las Vegas as new and existing businesses accommodate a growing number of customers who arrive well before they knock on death's door.
When times are tough, purchasing funeral services pre-need, or before death, is the first thing to go, said James Mullikin, managing partner for Las Vegas-based Bunkers Mortuaries.
"They're going to pay for their car expense, their mortgage and their life insurance, but then they'll set the funeral cost to the side," he said.
But business is getting better, and pre-need sales are slowly coming back, Mullikin said. Death care services — which include funeral homes, cemeteries and crematories — generated more than $16 billion in revenue nationwide in 2012, according to U.S. Census numbers.
Exactly how much of the $16 billion comes from pre-need sales is hard to determine. The money goes into a trust account and counts as part of a company's revenue only after the services are delivered.
Still, it's the biggest increase in the past decade. Revenue fluctuated around $15 billion per year since 2003.
Stephen Brown, a UNLV economics professor, said it isn't surprising the funeral industry remained relatively unaffected by an economic downturn.
"The economy doesn't forestall death, so one would expect the death-care industry to be pretty consistent over the business cycle," Brown said.
GOOD GRIEF
The Federal Trade Commission estimates a funeral is the third-largest expenditure consumers will make, behind purchasing a home and a car. The average cost of a funeral in 2009 was $6,560.
That price tag doesn't include a cemetery plot, markers and other costs, such as flowers or obituaries.
The FTC also found nearly half of consumers have never arranged a funeral, and 25 percent have done so only once.
Step in Seasons Funeral Planning Services, a Las Vegas-based funeral event planning company that opened its doors in July.
CEO Allison Copening, a former state senator, said she saw a need for a business to mediate between grieving families and funeral homes. Even if consumers don't want to pre-purchase a casket or a cemetery plot, they can still use her company to pre-plan their memorials.
"A few more people are doing pre-planning, which is just smart because that takes a lot of that rushed vulnerability out of it," she said.
Critics say purchasing a funeral ahead of time makes it difficult for consumers to renegotiate contracts if they change their minds. But industry experts say purchasing pre-need services helps consumers not only avoid making hasty financial decisions, but also lock in current prices.
Though the recession made many cut back on spending, Copening speculated that some elderly might have been more eager to buy pre-need services to ensure their afterlife care.
"Elderly parents generally always expected their adult children to take care of the funeral arrangements, but during the recession, it was the adult children whose homes were in foreclosure, who had lost their jobs," she said. "My thought was that many of these older folks, realizing that their adult children had no money to pay for services, took it into their own hands and bought pre-need services."
A DIFFERENT SERVICE
But baby boomers aren't buying the same product as their parents and grandparents. More are opting for cremation, which is quick, efficient and usually a third of the cost of a burial.
The U.S. cremation rate grew from 26 percent in 2000 to 42 percent a decade later, according to the Cremation Association of North America. Nevada ranks first in the nation with 73.9 percent of deaths leading to cremation.
"We're seeing the cremation rate go up across the country, and we think that's attributable to the boomers being very transient," said Lisa Marshall, spokeswoman for Service Corporation International, the largest provider of death-care products and services in North America.
She added, "They don't have a local cemetery where they all want to go or where the family is. … But with that comes a neat opportunity for families to be creative in how they memorialize."
Instead of somber funeral processions and wakes, "life celebration" parties are becoming the memorial of choice. Catered favorite foods, funny anecdotes and photos are often exchanged with condolences.
"It's like any business," Marshall said. "Every business has to adapt, and the death-care industry is no different. But I do think that we will continue to memorialize the members of society that we lose, and there's an important role that death care services provide to a community."
RETURN HOME
At the top of Franklin's bucket list is a trip to Israel, where his mother was born. Whether he pre-purchases or not, Franklin says it's the right time to at least start thinking about his funeral.
"And just in case, you know, something happens overseas," says Franklin.
A quick flash of the eyes and he walks to the nearest tree.
Tap, tap, tap.
"You never know," he laughs, rubbing his knuckles.
Contact Melissah Yang at myang@reviewjournal.com or 702-383-0491. Follow her @MelissahYang.
$6,560 Average cost of a funeral $7,755 Average cost of a funeral with vault $3,725 Average cost of cremation SOURCES: National Funeral Directors Association, eFuneral.com