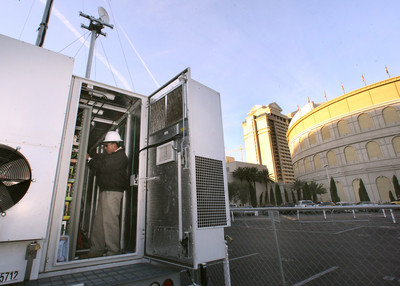 When mobile phone users of Sprint Nextel call friends and family from the Strip on New Year's Eve, they can thank a couple of COWs if their calls go through.
The wireless company has set up two Cells on Wheels, or COW, mobile call stations near Caesars Palace to handle the surge in phone calls and text messages that are expected as the clock approaches midnight.
Police expect 250,000 visitors will gather at Strip and downtown casinos for New Years, and Sprint wants its customers to be able to call people without a hitch during the two- or three-hour stretch before and after midnight, said Kelly McGonigal, regional director of business sales.
Sprint Nextel has used mobile equipment like COWs and Sat COLTS (short for Satellite Cells on Light Trucks) before for big events, ranging from Nascar races at Las Vegas to political speeches for President-elect Barack Obama, said spokeswoman Kathleen Dunleavy.
The arrangements can make mobile communications seamless for customers. "Unless they see the COW, they would never know it was there," McGonigal said.
The COWs in Las Vegas will link cell phone calls to wire-line networks.
Cell phone companies don't always rely on COWs and COLTs to beef up capacity for big events.
Sprint Nextel has enhanced permanent cell sites with additional radio equipment for New Year's at New York's Time Square, Dunleavy said. The company has not decided whether to remove the radio equipment after New Year's night or leave it there.
Verizon expects to handle the flood of cell phone calls by its users in Las Vegas without temporary mobile equipment, said spokeswoman Jenny Weaver. The company spent $50 million on additional equipment in Nevada last year.
Nothing is guaranteed in any case.
"Sometimes even with these additional cell towers, people can expect cell blockage, particularly at the peak of midnight," Dunleavy said.
If a phone call isn't connected, try sending a text message, Dunleavy said. Text messages take less capacity on wireless phone networks and are more likely to reach their destination.
Contact reporter John G. Edwards at jedwards@reviewjournal.com or 702-383-0420.