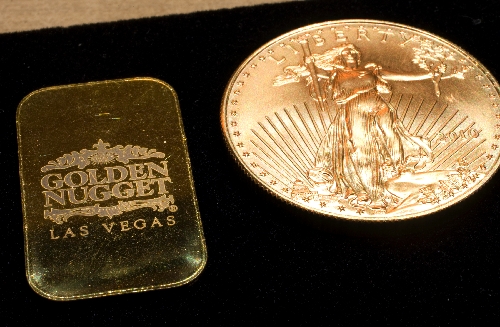 You're sitting before a slot machine at the Golden Nugget when it begins whirling and chirping with the news: You have just won $50.
Flush with excitement, you look and see an ATM that dispenses gold. Should you invest your winnings in a gram of the precious metal, which probably will increase its value over time or walk away with your hard-won cash?
While you might not be able to resist the lure of putting that $50 right back into the slot machine, Golden Nugget CEO Tilman J. Fertitta said he hopes the downtown casino's guests will get a kick out of the new Gold to Go ATM.
"It lets our guests win a little money in the casino and go right over to the machine: Make a little money, and invest it in a lot of money," Fertitta said.
The gold leaf-finished ATM, is near the "Hand of Faith," the largest golden nugget in the world, in the hotel's Gold Tower lobby.
The ATM, which is operated by German-based Ex Oriente Lux AG, dispenses 24-karat gold in five sizes: 1 gram, 2.5 grams, 5 grams, 10 grams and 1 ounce.
Ex Oriente Lux AG CEO Thomas Geissler was on hand Wednesday to make the first purchase: a 10-gram gold bar, emblazoned with the Golden Nugget logo, for $564. The gold is dispensed in a sealed black gift box.
The machine determines prices in real-time from the financial markets. Once you make your selection, the ATM holds the price for 10 minutes while you decide whether to keep gambling or make the purchase.
The Golden Nugget's Gold to Go ATM is the second of its kind in North America (the first is in Boca Raton, Fla.).
There are 14 other Gold to Go machines around the world, 11 of them in Germany.
Geissler said the ATM has been successful in Boca Raton, where the company refills the machine every two to three days. Geissler declined to say how much gold is kept in the machine at one time, though Fertitta said the ATM is secured at all times.
"We're not expecting anybody to put it on a motorcycle," he said.
Contact reporter Caitlin McGarry at cmcgarry@lv businesspress.com or 702-387-5273.