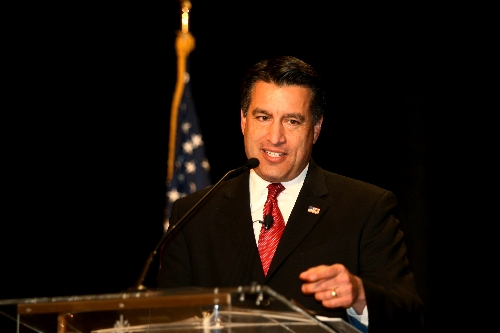 Tax increases are the last thing Nevada businesses need now, Gov. Brian Sandoval told a receptive audience Wednesday during a speech to the Las Vegas Chamber of Commerce.
Sandoval told a packed room at the Four Seasons that he would not cause "ruin" for many of them by imposing or increasing service and franchise taxes.
"I get letters from businesses all the time that say they are working 60 to 80 hours a week, having to lay off workers and losing money," he said. "Taxes will ruin them. Tax increases are the last thing that struggling businesses and struggling individuals need."
Sandoval also said he won't raise taxes on mining, even though the industry has long been a target for such increases. He pointed to the struggles in Northern Nevada and other rural parts of the states.
"Some rural counties have a higher foreclosure rate than we do," Sandoval said.
Nevada faces as much as a
$3 billion budget shortfall, leading to calls by some to change the state's low-tax structure. Sandoval promised to save money in other areas.
"We trimmed $1.6 billion in spending from various departments in state government," he said.
Reforming the Public Employees Retirement System, or PERS, has long been a chamber goal and Sandoval sent his business constituents the message they wanted to hear.
"My understanding is that PERS is an $8 (billion) or $9 billion unfunded liability that Nevada can't afford," he said. Sandoval said benefits reform must start with the new employees hired by the state.
"Eighty percent of our members are small businesses, and more taxes will put a huge burden on them," Las Vegas Chamber of Commerce Chairman Michael Bonner said after the speech.
Sandoval's proposed educational reforms have set off a firestorm of protests among teachers' unions and their supporters, but he didn't back down from his harsh criticism of the state's educational system.
He called Nevada's low ranking in many national categories "unacceptable."
Economic development entities will also "be held accountable" for Nevada's future success, or failure, in diversifying the economy.
Sandoval is proposing to eliminate the Nevada Commission on Economic Development and implementing a coalition made of members of both the private and public sectors.
He invited small businesses to take part in his economic revival efforts, and emphasized their importance.
"Seventy percent of the jobs will be generated by you — all of you in this room," he told the crowd.
Contact reporter Valerie Miller at vmiller@
lvbusinesspress.com or 702-387-5286.