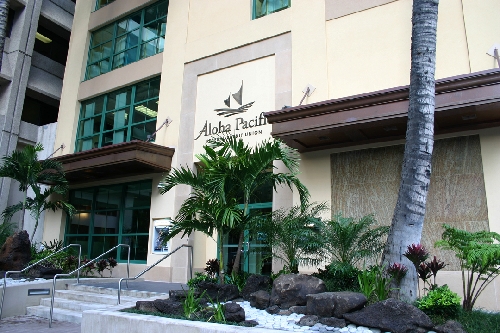 Lured by tens of thousands former Hawaiians in Southern Nevada and limited opportunities in the island state, Aloha Pacific Federal Credit Union on Wednesday announced it will open a branch in Las Vegas.
Aloha Pacific on Nov. 1 will take over the lease for a branch location that Silver State Schools Credit Union intends to close, said Aloha Pacific CEO Wallace Watanabe.
The move is the first by a credit union in Hawaii to open an out-of-state branch, according to Aloha Pacific.
Hawaii's third-largest credit union, Aloha Pacific has $725 million in assets and 34,000 members. It started as a credit union for city and county workers in Honolulu but has expanded to represent multiple groups.
In Las Vegas, Aloha Pacific intends to accept alumni of the University of Hawaii and other Hawaiian groups.
Watanabe estimates that 140,000 former Hawaii residents live in the Las Vegas area.
"We thought we could at least get 10 percent (of those), and we would be happy," he said.
In addition, the credit union will offer services to Hawaiian residents visiting Las Vegas.
Many Hawaiians are of Japanese and Chinese descent, and the credit union might compete some with banks that focus on serving Asian-American businesses, including First Asian Bank and Nevada National Bank.
While Southern Nevada remains in a recession, Aloha Pacific will offer commercial loans, residential mortgage loans and home equity loans, he said.
Watanabe said his philosophy is to get aggressive when others are curtailing operations.
"When it is hot, we start pulling back," he said.
Watanabe believes the Las Vegas area offers more opportunities to grow.
Hawaii, which has about 1.4 million residents, has 89 credit unions, although most of them are small with less than $50 million in assets, he said. The Las Vegas area, with an estimate 2 million population, has only 11 credit unions.
He expects to open a second Las Vegas branch in a year. The institution is open to potential credit union merger opportunities in Nevada, Watanabe said.
Aloha Pacific earned $892,000 in the first half of 2010. Its net worth equals 8 percent of total assets, which makes it well capitalized.
Silver State Schools is scheduled to close the branch at 8660 W. Cheyenne Ave., Suite 110, on Sept. 30. Aloha Pacific plans to reopen in the location with six employees about one month later.
Silver State is under a regulatory consent order and is following a multi-faceted plan to restructure itself, David Rhamy, chief executive officer of Silver State, told members in the second-quarter newsletter. The credit union closed five branches around Nevada in June.
Silver state has left vacancies unfilled at its 15 other locations for several months to make room for the staff from the Cheyenne location, Rhamy said in an e-mail.
Contact reporter John G. Edwards at jedwards@reviewjournal.com or 702-383-0420.