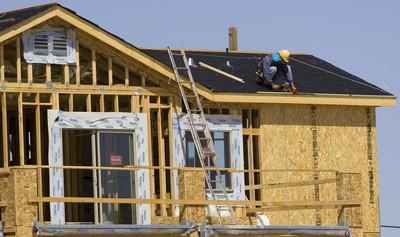 New home closings dropped 43.2 percent in the first quarter to 5,264 and existing home sales are down nearly 20 percent at 8,539, Larry Murphy of Las Vegas-based SalesTraq reported Thursday.
"Despite the fact that sales are down, prices are pretty stable," Murphy said at his Crystal Ball housing seminar at Texas Station. "That's what's different about this town. It's been three years since the boom and how many times has Money magazine and Forbes magazine said there's going to be a bursting of the bubble and a 30 percent drop in prices? That hasn't happened."
Murphy told about 1,000 real estate professionals at the session there are some alarming figures, like the 402 bank repossessions that accounted for 13 percent of the 3,175 existing home closings in March. That's up from 9 percent in both February (231) and January (248), Murphy said.
"However, we may be at or near the bottom," he said. "Even with the repos, we have month-over-month sales gains, the highest number of new home permits since August and prices are still relatively stable."
Murphy showed the median new home price at $308,471 in March, a 3.5 percent decline from the same month a year ago. For the first quarter, the median price of $324,035 is up 4 percent.
The existing median home price of $280,000 in March is down 1.8 percent from a year ago and the first-quarter median of $280,667 is down 0.3 percent.
"We can disagree on what's going to happen, we can even disagree on what did happen," Murphy said. "There are people out there who deny that we ever landed on the moon and there's some who say the holocaust never happened. I'm just saying people disagree on what happened, but quarter by quarter, this is what happened. Sales are down, prices are mixed and inventory is up."
SalesTraq showed 22,970 available listings on the MLS in March, a 13-month supply based on current sales figures. With some 590,000 residential units in Las Vegas Valley, that's less than 5 percent of the inventory, Murphy noted.
Federal regulators are tightening lending requirements for so-called subprime loans and that's going to cool off the rapid increase in housing and land prices in Las Vegas, economist John Restrepo of Restrepo Consulting Group said.
"It's good for buyers," he said. "It's going to improve affordability a little bit. This is a good cycle."
Dennis Smith of Home Builders Research, another Las Vegas-based housing research firm, reported 1,799 new home sales in March, bringing the total for the quarter to 5,204. It's the lowest first three months since 2001, he said.
"The first quarter of 2007 will go into the archives as one that most in the home building industry would like to forget," Smith said. "However, it would be better if many would file it into their memory banks to be able to reflect on how the housing market can fluctuate."
Since the late 1980s, housing sales, prices and permits have risen almost every year in Las Vegas. Starting in 2005 and continuing into this year, the "back side" of the cycle reminded the real estate industry that annual increases are not automatic, Smith said.
"It also reminded everyone that although Las Vegas has some unique traits, it is not impervious to what goes in the region and nation," he said.
Las Vegas' housing market fits in perfectly with the laws of supply and demand, Andrew Pugh of SellFastLV.com said. With the excess supply of homes for sale, the question is how does the market return to equilibrium and how long will it take, he said.
"Right now, I see little evidence of rising demand or falling supply," he said. "Wages are pretty steady and interest rates don't have much room to fall. Construction has slowed, but there's plenty (of homes) available and few speculators in sight. In other words, unless there is a significant drop in rates, I expect there to be an excess supply until prices drop. Once that happens, we'll start to see an increase in the number of sales. How long this takes is another issue altogether."
Steve Bottfeld of Marketing Solutions said it may be sooner than everyone thinks. He made two predictions at Crystal Ball.
"One, we're at the bottom of the real estate cycle. We go up from here, starting in May," Bottfeld said to a round of applause. "Two, when will prices finally be affected by sales? Let me show you."
He then put up a picture on the video screen of a frozen lake with the word, "Hell," on it.
Kurt Lehman of Realty One Group said he's not so sure about that. He searches the "revisions to price" field in the MLS and sometimes finds 300 price reductions in a 24-hour period.
"I've been showing houses to some buyers in the low-$300,000 range and I'm surprised at how the prices in certain areas are dropping," Lehman said. "And still sales are very slow."
BY THE NUMBERS
New home closings: Down 43.2 percent in first quarter
Existing home sales: Down nearly 20 percent in first quarter
Closings from bank repossessions: 402 in March, up from February (231) and January (248)
Quotable: "I'm just saying people disagree on what happened, but quarter by quarter, this is what happened. Sales are down, prices are mixed and inventory is up."
SOURCE: Larry Murphy, SalesTraq