Hospitality executive makes helping community front-burner priority
January 7, 2008 - 10:00 pm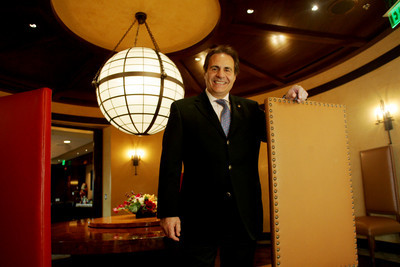 Although many hospitality executives talk about giving back to the Las Vegas community, many never find the time to do anything but write a check.
Rino Armeni, executive marketing director of Southern Wine and Spirits of Nevada and former vice president of food and beverage at Caesars Palace, wanted to do more.
In 2001, the 57-year-old Italian-born Las Vegan founded the nonprofit Epicurean Charitable Foundation. He used his extensive local connections to help underprivileged students join the industry that had been good to him.
The hospitality industry had taken him around the world from his native Rome and allowed him to build a family in his adoptive city.
Forty-one current food and beverage executives from area hotel-casinos and gaming companies make up the foundation's board of directors; many of them work one-on-one with the students.
"We don't pretend to teach them math or history," he said. "We work with them in understanding how important it is to have integrity and to be honest. Not only with their family but also with their co-workers."
Honesty, integrity, family. These are ideas that come through in Armeni's thick Italian-accented speech.
Question: How did the Epicurean Charitable Foundation come about?
Answer: I was having lunch with five or six executives in the tourist industries and we were talking about two things; First, we talked about how lucky we were to live in a city like Las Vegas who had given us all a good living. Given us our families. Contrary to other cities, Las Vegas is always busy. People pay better here than they do in Los Angeles or New York because of the casino industry. So we all thought about how lucky we were to live in a community like Las Vegas. We thought maybe we should give back to the community.
The other thing we talked about was how we felt there was a void of intermediate managers, young people who would eventually take over our jobs. So we decided to form a charitable organization so we could help the community and help underprivileged children who lack the financial means to become educated and go to college.
Question: How many students are now involved with the foundation?
Answer: We have 14 students in college. We pay them up to $10,000 a year. We raise the money through a major fundraiser every year. We are blessed and lucky that we have so many people willing to support us financially. Private individuals, major corporations and major casino companies support us because they believe in what we do. But the most important aspect of our program is that we have 41 board members.
Each student is mentored by one of the board members for four years. We are trying to build the foundation for these young people to become excellent executives one day.
Question: In December the foundation started sponsoring the player-of-the-game at University of Nevada, Las Vegas basketball games, giving $1,000 to the student-athlete scholarship fund. How did this come about?
Answer: UNLV represents Las Vegas very well. We have a lot faith in the integrity of Lon Kruger as head coach. It's a way for us to help the community as well. I called Lon Kruger and I said we were thinking about doing this; he said he liked it.
Question: Why did you move to the United States in 1980?
Answer: The company that brought me to the States was Marriott Corp. I worked for them in Washington. (D.C.), then at the Essex House in New York. I then opened the Marriott Marquee on Broadway in New York. I left Marriott, joined Disney and opened the Grand Floridian.
Question: How did you come to be hired in 1989 by Caesars Palace working for Disney in Florida?
Answer: A headhunter called me. They were looking for a vice president of food and beverage. I didn't know what to expect.
But the moment I landed I was taken by Las Vegas. I wondered how my wife would react to a desert town. My wife had the same reaction I did; she just loved it.
Question: Why did you leave Caesars in 1994 to work for the distribution company?
Answer: All my life I worked extremely hard and I never had time to enjoy my family. So, I decided that when I was offered this special opportunity to work for a great company, improve my financial position, touch a lot of people more than ever, and also being able on weekends and holidays to spend time with my family. I used to work Christmas, New Year's, Easter, Thanksgiving. Now I spend all those holidays with my family and it's the best gift I've ever received from my boss.
Question: Can you point to anyone in Las Vegas that has strongly influenced your career?
Answer: (Current MGM Mirage Chairman and CEO) Terry Lanni was a great influence on me. I have never met a man that has the integrity and the vision and the fairness of this man. He's amazing. I've been trying to model myself after him. If you have the opportunity to talk to him one day for half an hour you'll see what I'm talking about.
Question: How have restaurants on the Strip changed in the past two decades?
Answer: Las Vegas in the 1990s re-engineered itself. I think all the chefs coming in started with Wolfgang Puck (opening Spago in 1992), he was the one who really brought quality and vision to Las Vegas. Both Wolfgang and (Puck's business partner) Tom Kaplan, I was lucky enough that we became friends immediately when they came to town.
I think they have changed the culinary world for Las Vegas so they deserve a lot of credit. They used to call Las Vegas the buffet town. Now it's the culinary capital of the world.
Question: Was there a doubt that high-end dining would work in Las Vegas on a large scale?
Answer: I didn't doubt it, because I've been all over the world, I've worked all over the world. When I walked into Caesars one of the things I did was bring the food and beverage operation to a different level of quality. I felt if somebody would have come from the outside it would have given a different perspective to the city for visitors. Now we had somebody (Puck) with a name and a reputation well known coming from Los Angeles.
And I think that is what made an impact and convinced other chefs that it was world it for them investing their time in this great city. And history has proved right.
Question: Do you ever get back to Italy?
Answer: Twice a year I go back to see my family in Rome. I am very close with my family even though I have lived most of my life outside the country.
My brother, sister and mother still live there (His father died in October). My family is all coming here in April. My daughter is having a baby, I'm going to be a grandfather. It's going to be beautiful. We're all going to be together again.
Contact reporter Arnold M. Knightly at aknightly@reviewjournal.com or (702) 477-3893.
VITAL STATISTICS Name: Rino Armeni. Position: Executive marketing director, Southern Wine And Spirits Of Nevada. Age: 57Family: Wife, Marie-Claire; daughters, Paola and Laura. Education: Bachelor's degree In hotel administration in Stresa, Italy. Work history: Intercontinental Hotels and Hilton Hotels in London, Paris, Dusseldorf, Germany and Vienna, Austria, before 1980; Marriott Corp. (executive) 1980-1988; Walt Disney World in Florida (executive) 1988-1989; Caesars Palace (vice president of food and beverage) 1989-1994; Southern Wine and Spirits (executive marketing director) 1994-present. Hobbies: Reading books and exercise. Favorite book: "Lord of the Rings," Trilogy by J.R.R. Tolkien. Hometown: Rome. In Las Vegas since: 1989. Quotable: "So we all thought about how lucky we were to live in a community like Las Vegas. We thought maybe we should give back to the community." Southern Wine and Spirits of Nevada is at 8400 S. Jones Blvd. and can be reached at 876-4500.