Big Las Vegas landlords see value in renting single-family homes
Updated July 28, 2018 - 5:16 pm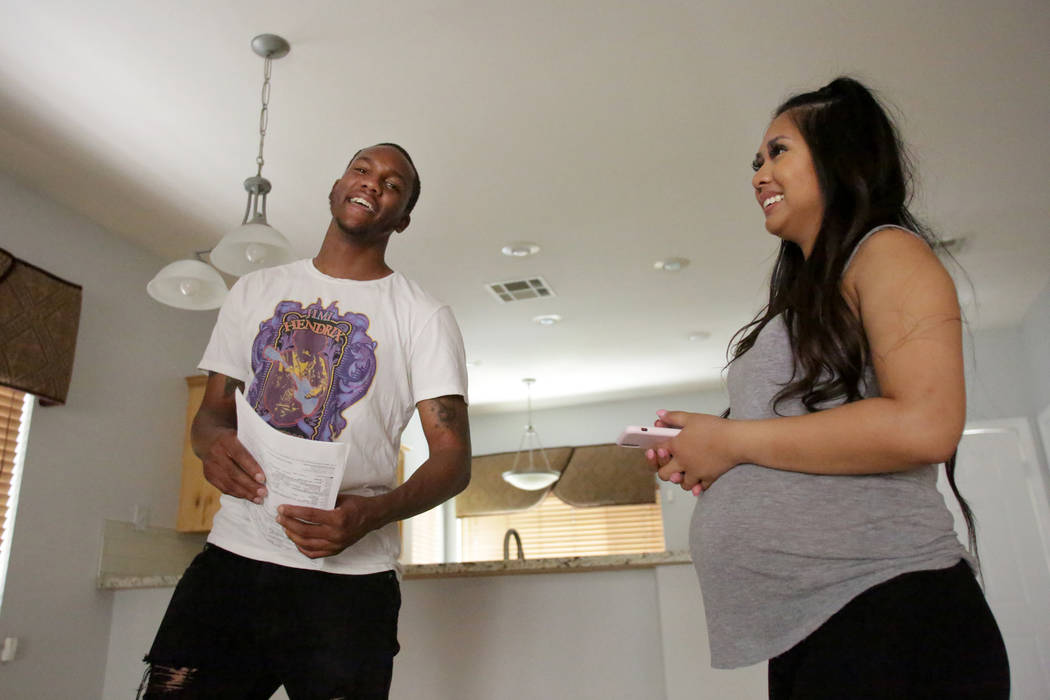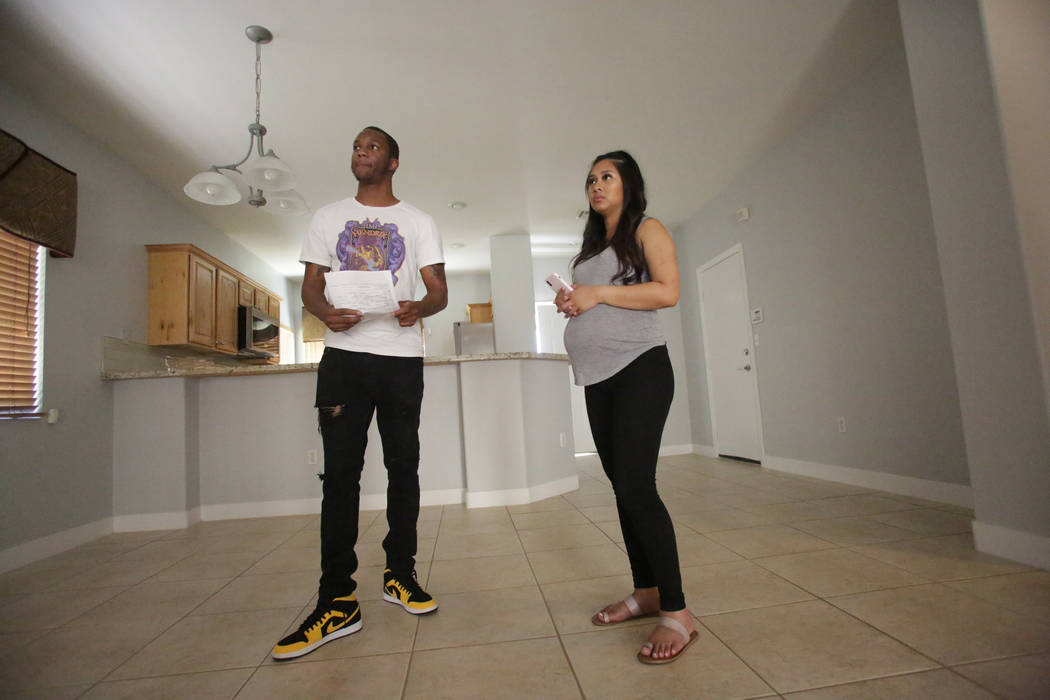 Big-money investors have owned rental homes around Las Vegas for years. But despite fast-rising sales prices, they aren't ready to cash in, thanks to people like Darrius Mathis and Kayte Fernandez.

The couple, both in their 20s, are expecting their first child and looking for a rental property. Mathis figures a single-family house offers more living space than a regular apartment — not to mention a yard and a garage — for the same price.
"It's definitely worth renting a house over renting an apartment any day," he said.
Investors bought cheap homes in bulk to turn into rentals after the market crashed last decade, and now seems like a ripe time to sell, at least in theory. Las Vegas home prices are rising at one of the fastest rates in the country, fueled by strong demand and low availability.
But big landlords are holding on to their properties, a sign that the rental market is still making them plenty of money and that Las Vegas' low inventory of sales listings won't get a boost from these property owners anytime soon.
"They think there's more juice left in the system before it runs out," said Las Vegas broker and investor Josh Galindo, owner of Galindo Group Real Estate.
Asked if he's seen big landlords selling, he said, "Not even a little bit."
April rents for single-family homes in Las Vegas rose nearly 6 percent from a year earlier, according to a recent report from CoreLogic. The growth rate was highest among the 20 metro areas listed.
Las Vegas broker David J. Tina, co-owner of Urban Nest Realty, said rentals offer a "great rate of return" and there is "no doubt" that big landlords aren't selling.
Orange Realty Group managing broker Tom Blanchard sold 300 houses for an investor client, but he's not seeing anyone else shed all their holdings in the valley.
"Everybody else is still in the purchasing mode," he said.
Evercore ISI analyst Steve Sakwa said in a recent research note that the house-rental industry has "significant growth opportunity" amid an array of obstacles facing homebuyers, including higher borrowing costs, low inventory and rising prices.
Investors' refusal to sell has "definitely contributed" to Las Vegas' low tally of listings, Blanchard said. As he sees it, most of the houses would have been entry-level purchases four or five years ago, and after years of rising property values, the owners would be selling by now.
"That's not happening," he said.
'Culling their inventory'
Nationally, big landlords have bet on a long-term shift from homeownership toward rentals in the wake of America's housing collapse last decade, said Daren Blomquist, senior vice president of communications at housing tracker Attom Data Solutions.
They are selling some houses, including in markets that aren't performing well, Blomquist said, but the expression he hears from investors and brokers is "They're culling their inventory."
Dallas-based Invitation Homes — a powerhouse landlord with more than 82,000 homes, including 2,700 in Las Vegas — reported about 1,300 sales nationally last year. Only seven were in Las Vegas.
Toronto's Tricon Capital Group, which owned 585 homes in Las Vegas as of March, hasn't sold any here in the past few years, managing director Jon Ellenzweig said.
Then again, it's not dumping houses anywhere, and Tricon last month announced a joint venture to buy up to 12,000 rental homes.
"There's not any market where we're having major sales," Ellenzweig said.
Las Vegas' rising home prices are creating a windfall for sellers and sparking affordability concerns. But with fewer options on the market, landlords might not have much trouble selling if they want to.
Blanchard's client bought the 300 houses four to five years ago, and Blanchard sold them in phases over the last year, typically for at least $50,000 to $60,000 above their purchase price. Most were fetching $1,100 to $1,200 in monthly rent, and they sold quickly.
"It was easy," he said.
'You don't get your money's worth'
Las Vegas agent Karen Feldman of America's Choice Realty said demand for rental houses is strong — something her clients Mathis and Fernandez, who have been looking to rent a condo or a house, know firsthand.
Mathis, a receptionist originally from Atlanta, said if he and Fernandez, a salon manager born in the Philippines, don't submit a rental application right away, the home can be taken within 48 hours.
They also have lower credit scores, making it tougher to land a place, Mathis said recently while touring a one-story house in Summerlin.
The two-bedroom, 1,042-square-foot home with a garage and a tiny backyard was listed for $1,400 a month. Until recently, Mathis lived in a luxury apartment complex in the southwest valley, where a two-bedroom, 1,025-square-foot unit is listed for $1,970.
"You don't get your money's worth in an apartment," Mathis said. "You don't at all."
Contact Eli Segall at esegall@reviewjournal.com or 702-383-0342. Follow @eli_segall on Twitter.