Developer talks plans for land east of Downtown Summerlin
November 18, 2017 - 9:30 am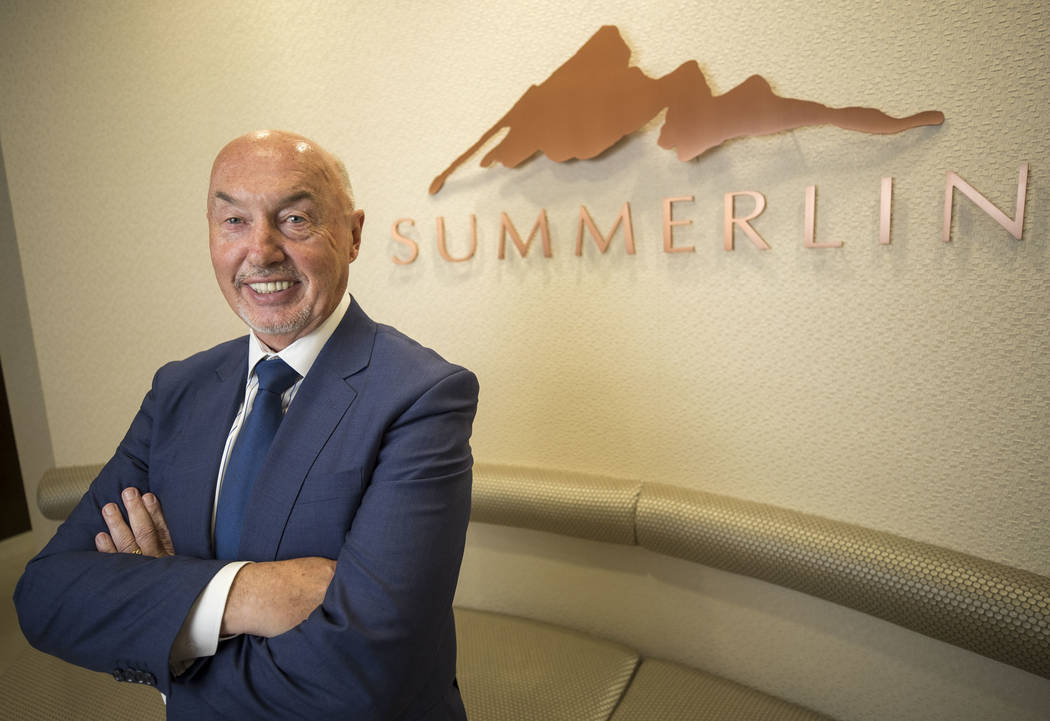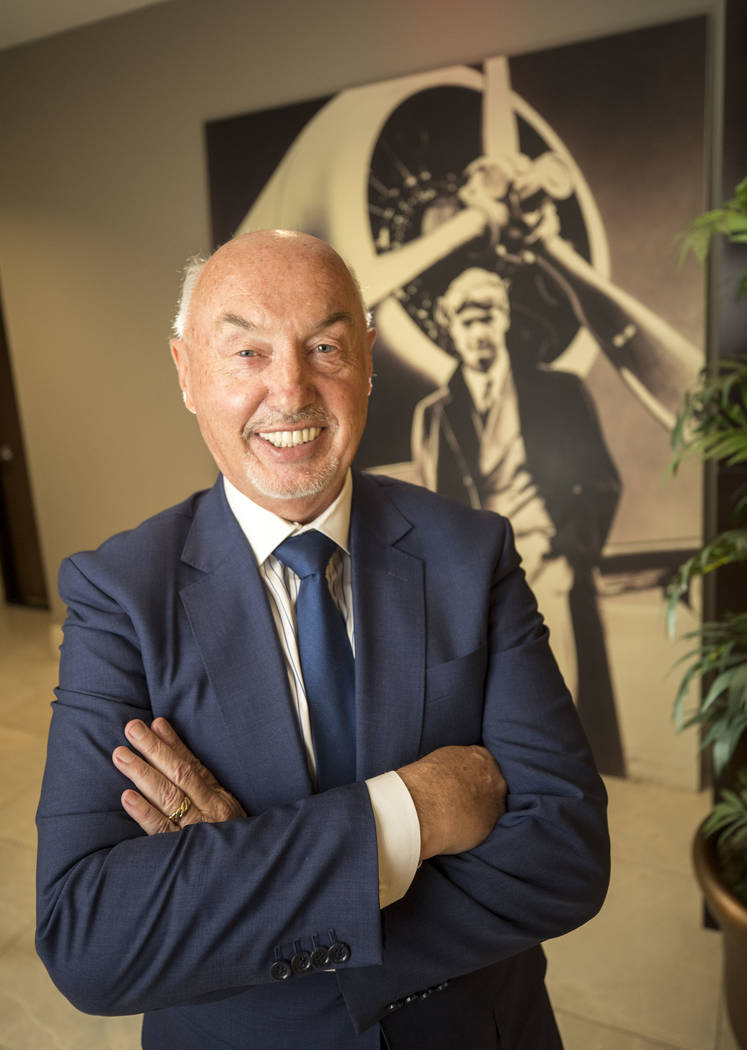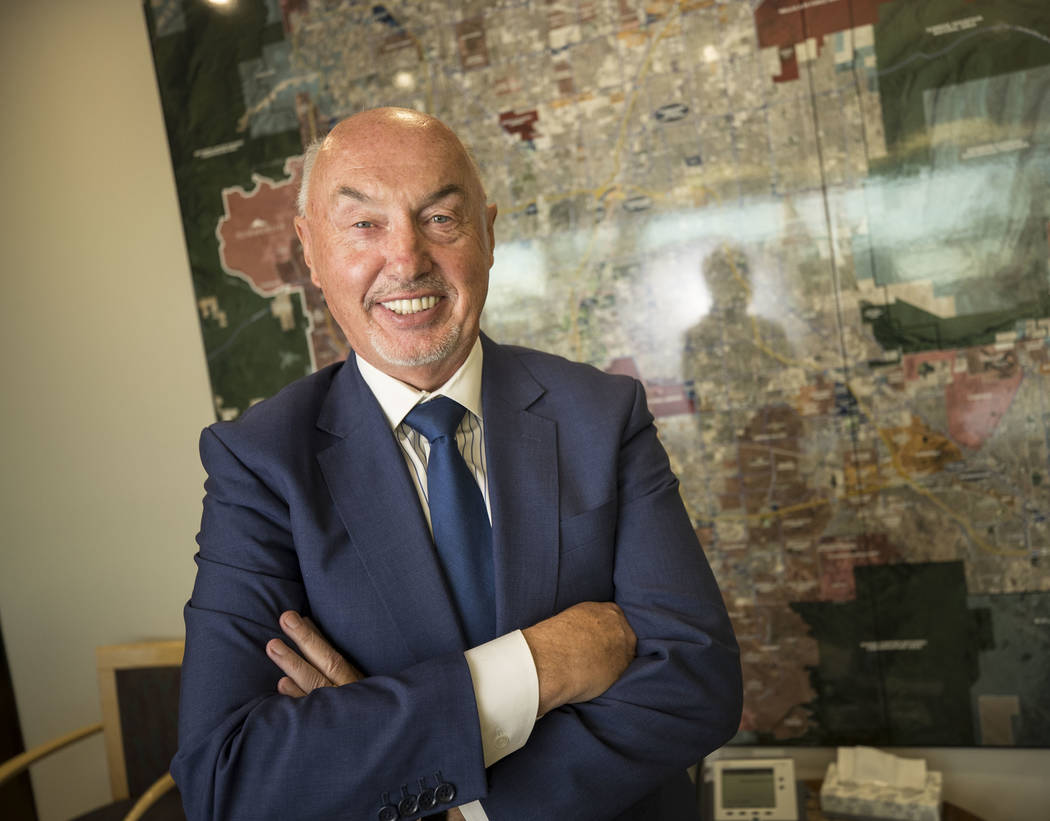 It has been three years since Downtown Summerlin opened, bringing shops and restaurants to a suburban spot that, not long before, was an abandoned, partially built relic of the recession.
Now, its developer is building out a much larger tract of land next door.
The Howard Hughes Corp. envisions 1.2 million square feet of offices, 77,000 square feet of retail and 4,000 residential units just east of the open-air mall off Sahara Avenue at the 215 Beltway, according to securities filings.
The 200-acre stretch is mostly empty. It has an office building, a gym, an apartment complex that opened last year and the Vegas Golden Knights' practice facility, City National Arena, which debuted a few months ago.
More projects are on the way. The Las Vegas 51s ballpark is slated to open in 2019, a 267-unit apartment complex is scheduled to open that year too, and a six-story office building, now under construction, is set to debut in 2018.
The Downtown Summerlin mall spans 106 acres and features department stores, restaurants and other shops, and a nine-story office building.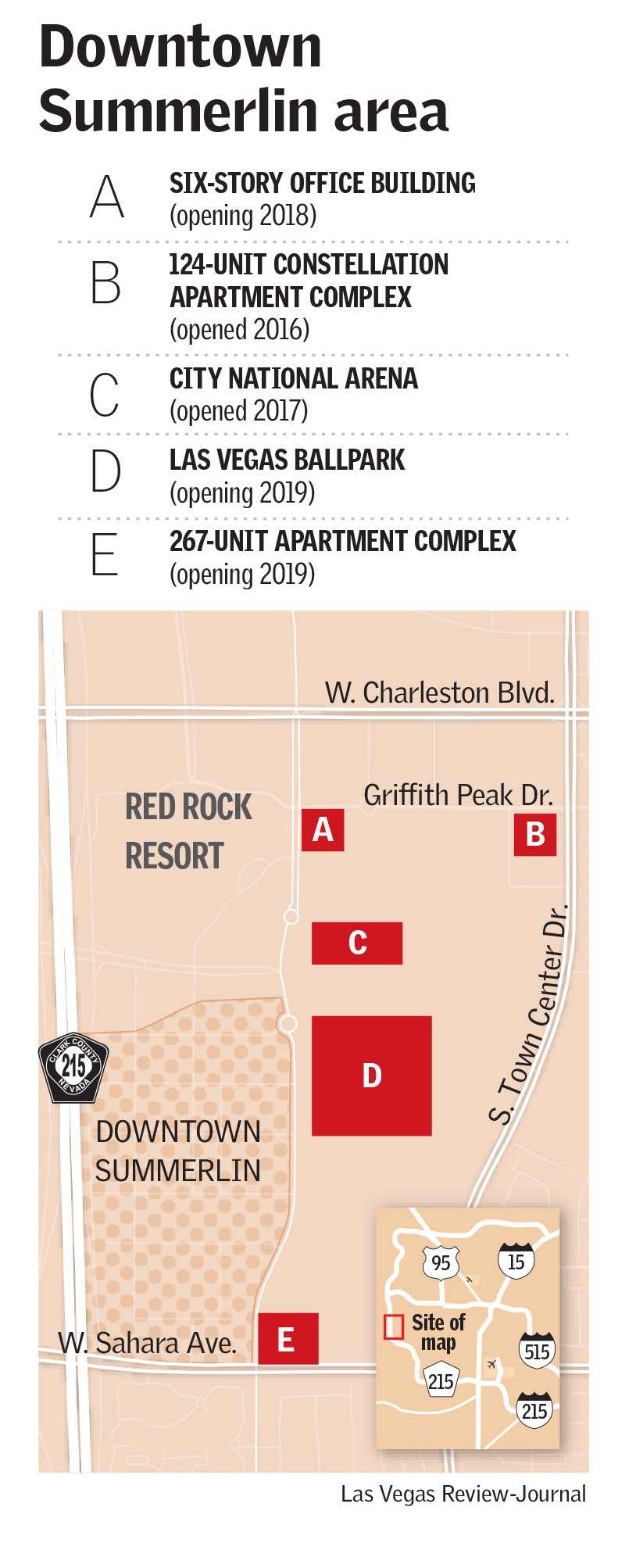 Dallas-based Howard Hughes finished the project, formerly known as the Shops at Summerlin Centre, after previous owners halted work in 2008 as the economy was imploding.
Howard Hughes, developer of the broader Summerlin community, also owns the 51s minor league baseball team, which plays near downtown at Cashman Field. The Las Vegas Convention and Visitors Authority last month approved spending $80 million for a 20-year naming-rights deal for the Summerlin stadium, which will have a 10,000-fan capacity and will be called Las Vegas Ballpark.
Summerlin is Las Vegas' largest master-planned community, spanning 22,500 acres along the valley's western rim. More than 100,000 people live there.
Howard Hughes executive Kevin Orrock, Summerlin president, spoke with the Las Vegas Review-Journal about development just east of the mall.
Howard Hughes has outlined its development plans for the land next to Downtown Summerlin. What is the timeline for all of that?
It could change depending on market demand and future development possibilities. A project of this magnitude, it could be 10 to 15 years.
Your company recently announced the new office building's first tenant, law firm Greenberg Traurig, which is moving from the Hughes Center office park. How do you pitch tenants who may have been in the Hughes Center for a long time because they want proximity to the Strip, the airport, downtown, that they should move to Summerlin?
A lot of these people live throughout the valley, or a lot of the principals may live in Summerlin. Everybody loves to work closer to where they live. When you look at access to this property — if you live in Green Valley and want to get to the Hughes Center or to Summerlin, there's not a significant time difference.
Which sort of projects will come next here?
My guess would be another office building because we've had so much interest in the building under construction. Or it could be a hospitality play, a nongaming hotel.
But the timeline for everything could change.
It could change overnight. I've lived through the best of times and the worst of times. I like a sustainable market; that's where everybody wins. This market's starting to get a little frothy on the residential side now because there's less supply and the demand's starting to ramp up.
For this tract, have the plans changed since the recession or even in the past few years?
It's always evolving, depending on what's going on in the market. We have a conceptual plan, but it's not locked in stone.
Five years ago you weren't planning to build an ice rink.
Exactly. We didn't built it; it's a ground lease with us. But you're absolutely right: Who would have thought, five years ago, that there'd be an ice rink — a professional, NHL ice rink — in the middle of Downtown Summerlin? Not in your wildest imagination.
There had been talk about the 51s moving to Summerlin even before the stadium was announced. When did you decide to build the stadium on this site?
What's fortunate is that hockey came along, and a hockey practice facility and a Triple-A baseball team work well together. They just create an interest in two different sports located in the same area.
Did Howard Hughes have to take full ownership of the 51s, as it did earlier this year, to ensure the move to Summerlin?
It was unrelated. We probably would have been out here anyway.
How did the naming-rights deal come about? Did the LVCVA approach your company? Did you approach the LVCVA?
I think I'd rather have you talk to the LVCVA on that. But when you think about it, the 51s, this is a community asset, the ballpark and the team. The way I looked at it, this is in everybody's best interest to put Triple-A baseball in probably one of the best locations in the valley. The location that it's in now has run its time. Change is good here.
(After the Review-Journal requested comment from the LVCVA about who pitched the deal, spokeswoman Jackie Dennis sent a statement that didn't answer the question but said, in part: The LVCVA has "regular conversations" with the 51s' ownership "to develop programs to market the destination and attract visitors," including "the marketing partnership for the new stadium.")
What about financing for the ballpark?
We're still working on it.
Would your company have unveiled definitive plans to move the team to Summerlin if you hadn't first lined up the naming-rights deal and the revenue that brings?
It was a critical step in announcing the team would come to Summerlin. It was a significant piece of the puzzle.
Contact Eli Segall at esegall@reviewjournal.com or 702-383-0342. Follow @eli_segall on Twitter.