Las Vegas homebuilders see record prices, lower sales
August 12, 2017 - 7:46 am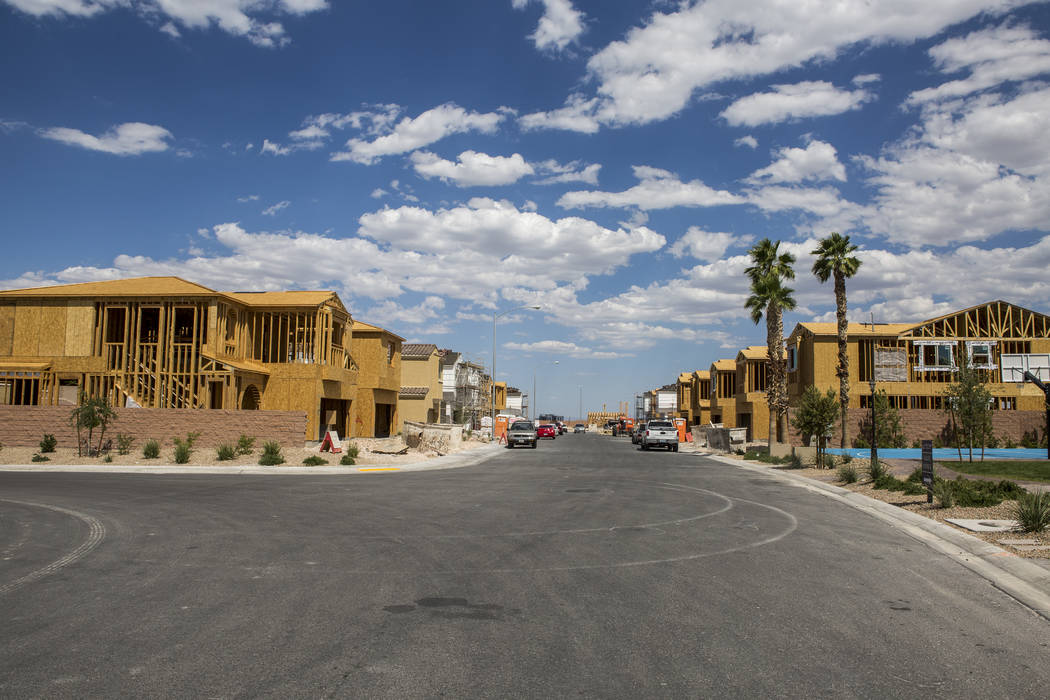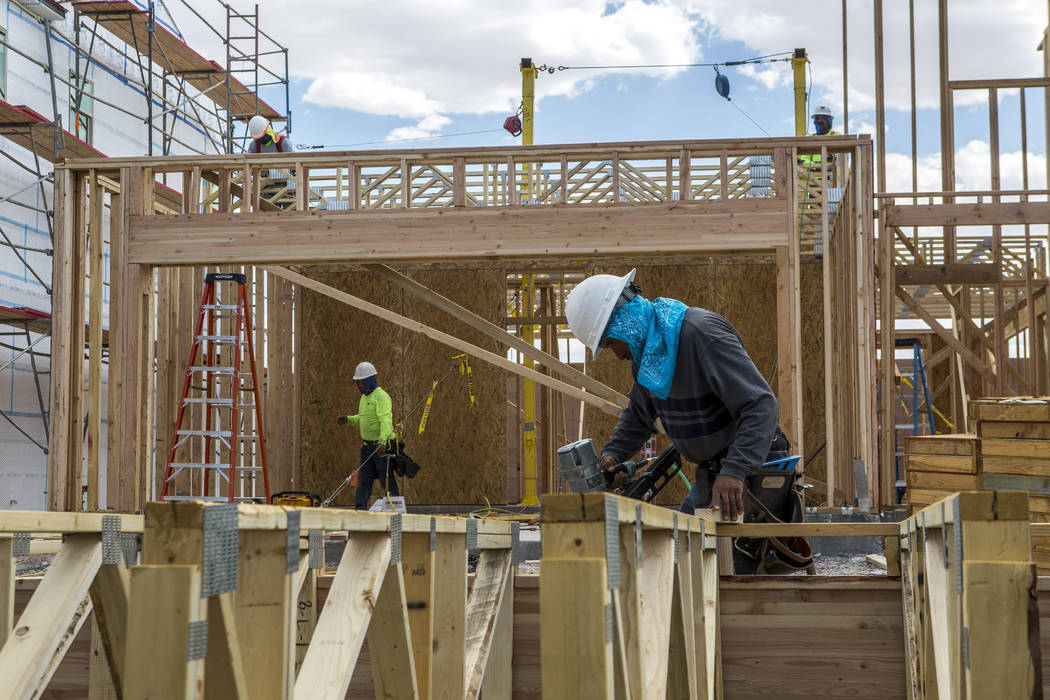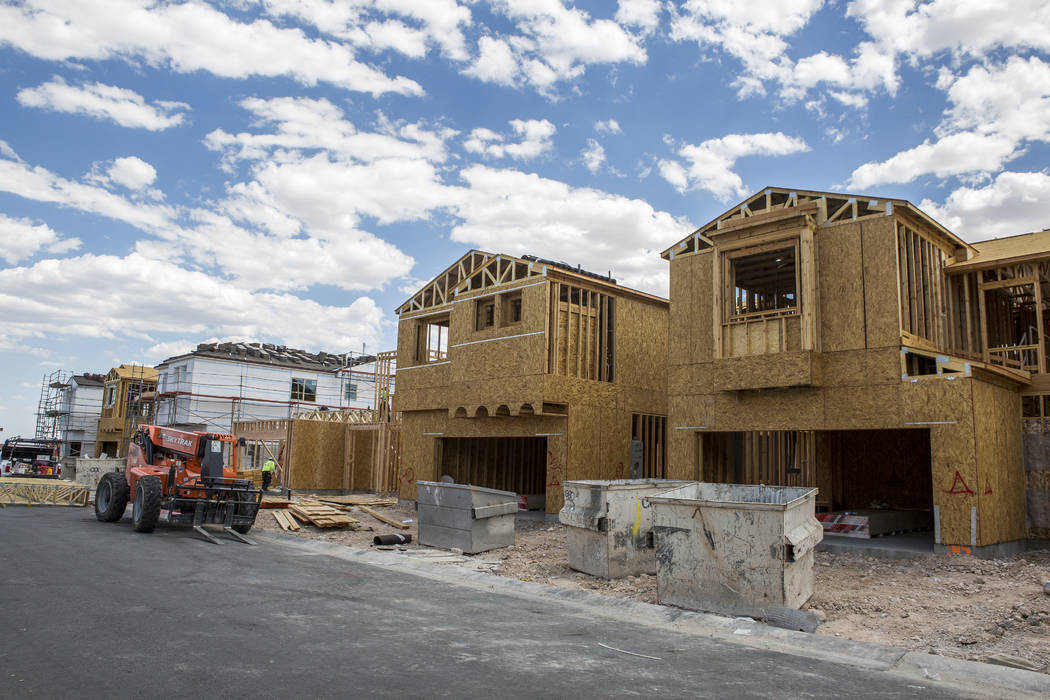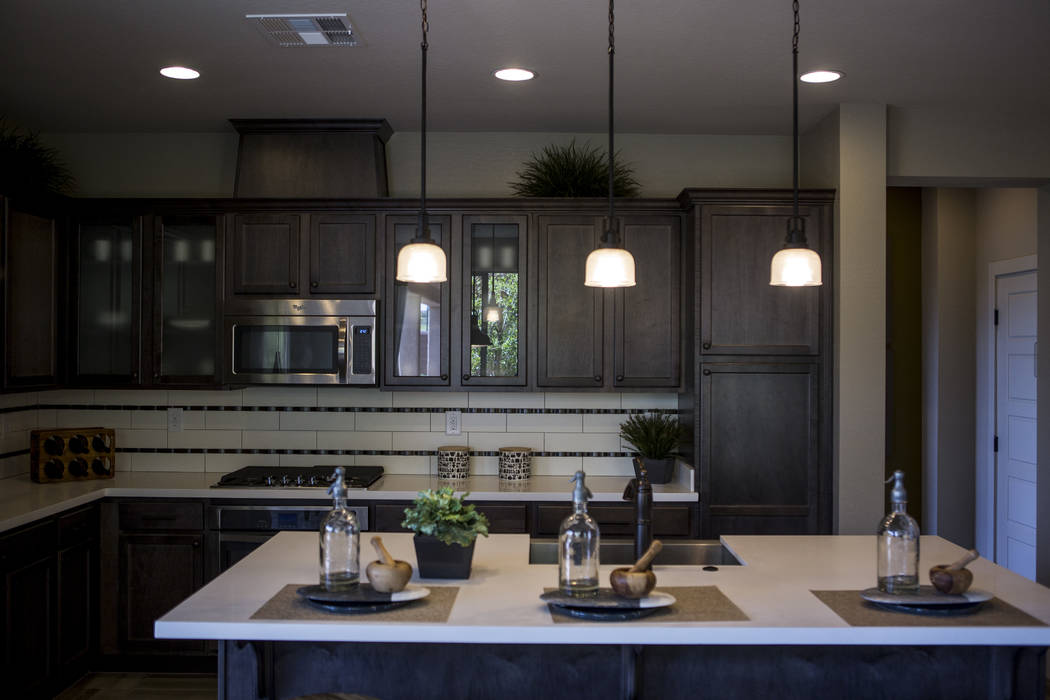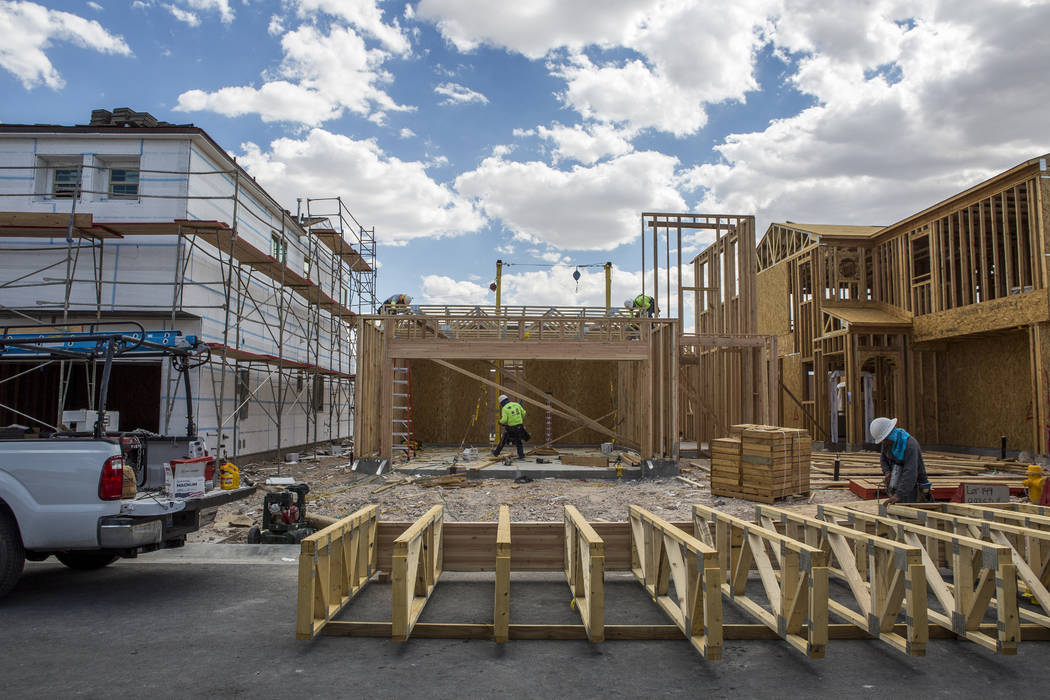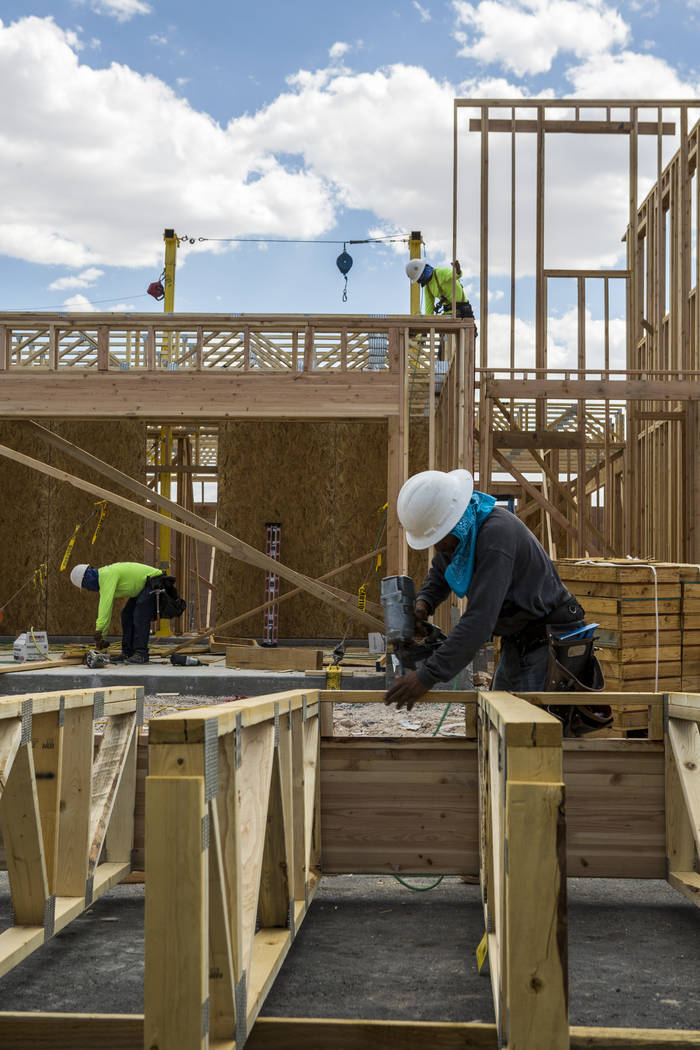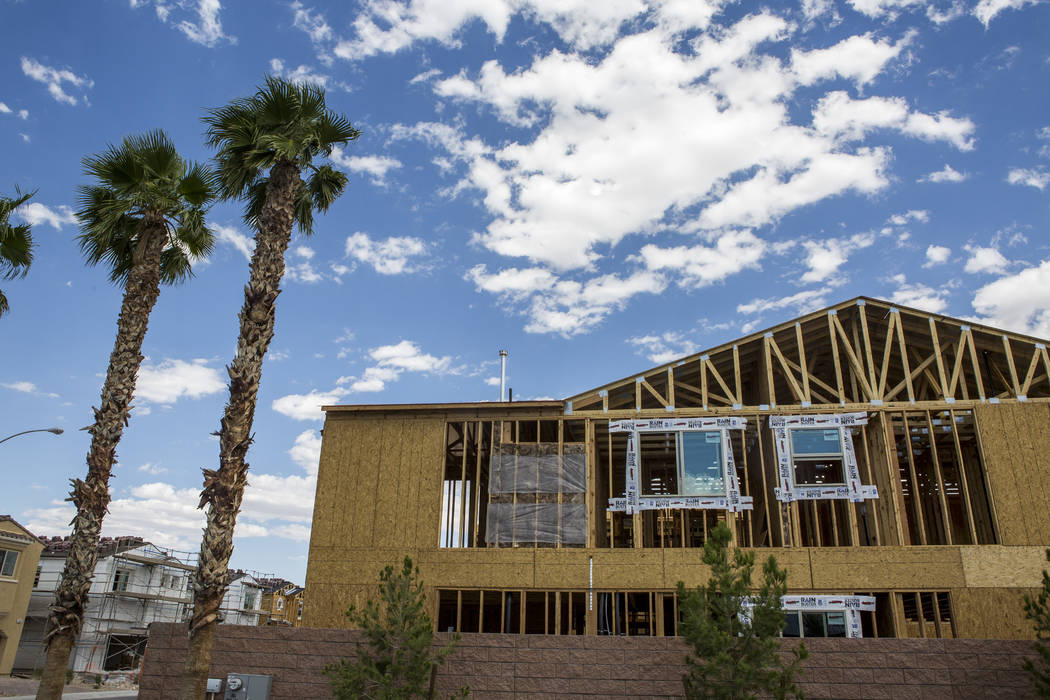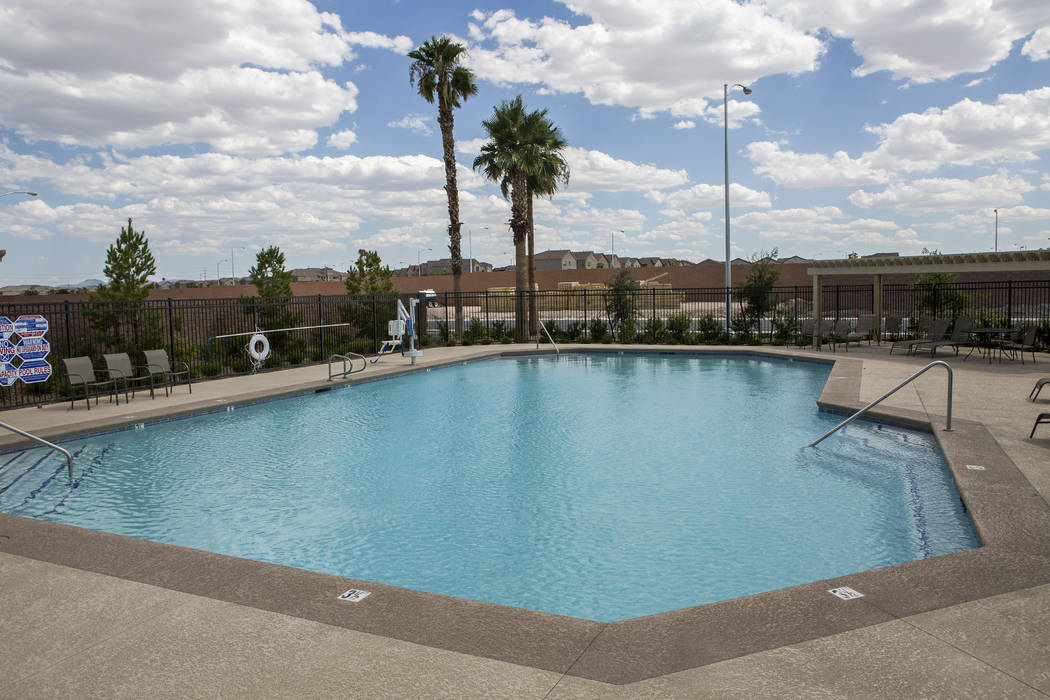 Las Vegas homebuilders are fetching record prices, with buyers writing checks not seen since the bubble years.
But sales totals still are nowhere near their peaks — and it seems no one expects them to reach new highs anytime soon, if ever.
Builders closed roughly 4,300 new-home sales in Clark County this year through June. It was the highest midyear sales tally in almost a decade, according to Home Builders Research, but the pace was still far below that of the white-hot mid-2000s or of the 1990s.
Meanwhile, the peak median sales price from the boom days — about $338,600 in summer 2007 — has been eclipsed twice this year.
The disparity shows that while buyers are paying big prices and new subdivisions keep popping up, construction, at least, remains a long way off from the days when the housing market was so bloated it eventually burst.
Fueling the record prices are rising demand, tighter inventory, higher development costs and a focus on building bigger, pricier homes.
Higher prices are holding sales totals down, but so are labor shortages, a smaller roster of builders and decreased available land. Other factors include Las Vegas' long recovery from the recession and more-normal mortgage lending that, unlike last decade, doesn't let practically anyone buy a house, builders and analysts said.
Las Vegas isn't alone. There is a supply-demand "imbalance" nationally, making for an "unusual period" in the home-construction industry, National Association of Home Builders chief economist Robert Dietz said.
Despite the changed market, sales still are climbing fast in Las Vegas, as the midyear tally was 22 percent above last year's.
Home Builders Research founder Dennis Smith said he hasn't been surprised by the pace, adding that he expected sales to climb as the economy and consumer confidence improved.
Plus, after the homebuilding market was wiped out during the recession, there was only one way it could go.
"It couldn't get any worse," he said.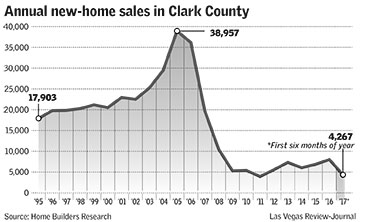 'Artificial growth'
Las Vegas grew fast for decades, and by the late 1990s, builders were selling around 20,000 homes a year.
That soared to almost 39,000 sales in 2005 during the bubble and then plunged to just 3,900 in 2011 after it burst, according to Smith's research.
Annual sales have more than doubled since hitting bottom amid a growing population and rebounding employment. Locals say they expect sales to keep climbing, but to a point.
KB Home's Nevada division president, Brian Kunec, figures there is enough demand to get back to 15,000 sales but not to the previous peak. "I don't believe we'll get there," he said.
He said lenders aren't doling out "crazy mortgage products" as they did in years past that would spur "artificial growth."
And finding enough people to build homes has been difficult. Contractors are "constantly short" on laborers, lengthening the time it takes to deliver a house, said Robb Beville, Nevada division president for Century Communities.
Also, there isn't enough demand for 40,000 new homes a year, Beville said, but 15,000 is "realistic."
"It's an aircraft carrier; this thing does not turn quickly," he said.
More sales if prices lower
Smith said Las Vegas is at least five years away from 15,000 annual sales, and he recently wrote that it doesn't seem "at all possible" that sales will ever get back to the levels of the early or mid-2000s.
The number of builders has been slashed. Smith figures there are around 40 homebuilders in the Las Vegas area, down from about 190 before the market tanked.
Land sales are by no means drying up, but the shrinking supply of choice parcels and Las Vegas' stubbornly high rate of underwater borrowers also are crimping new-home sales, Smith said.
Underwater homeowners, whose mortgage outweighs their home value, can't easily sell, making them less likely to soon buy again.
Also, it's "pretty clear" that if prices were lower, builders "would sell more houses," said Klif Andrews, Las Vegas division president for Pardee Homes.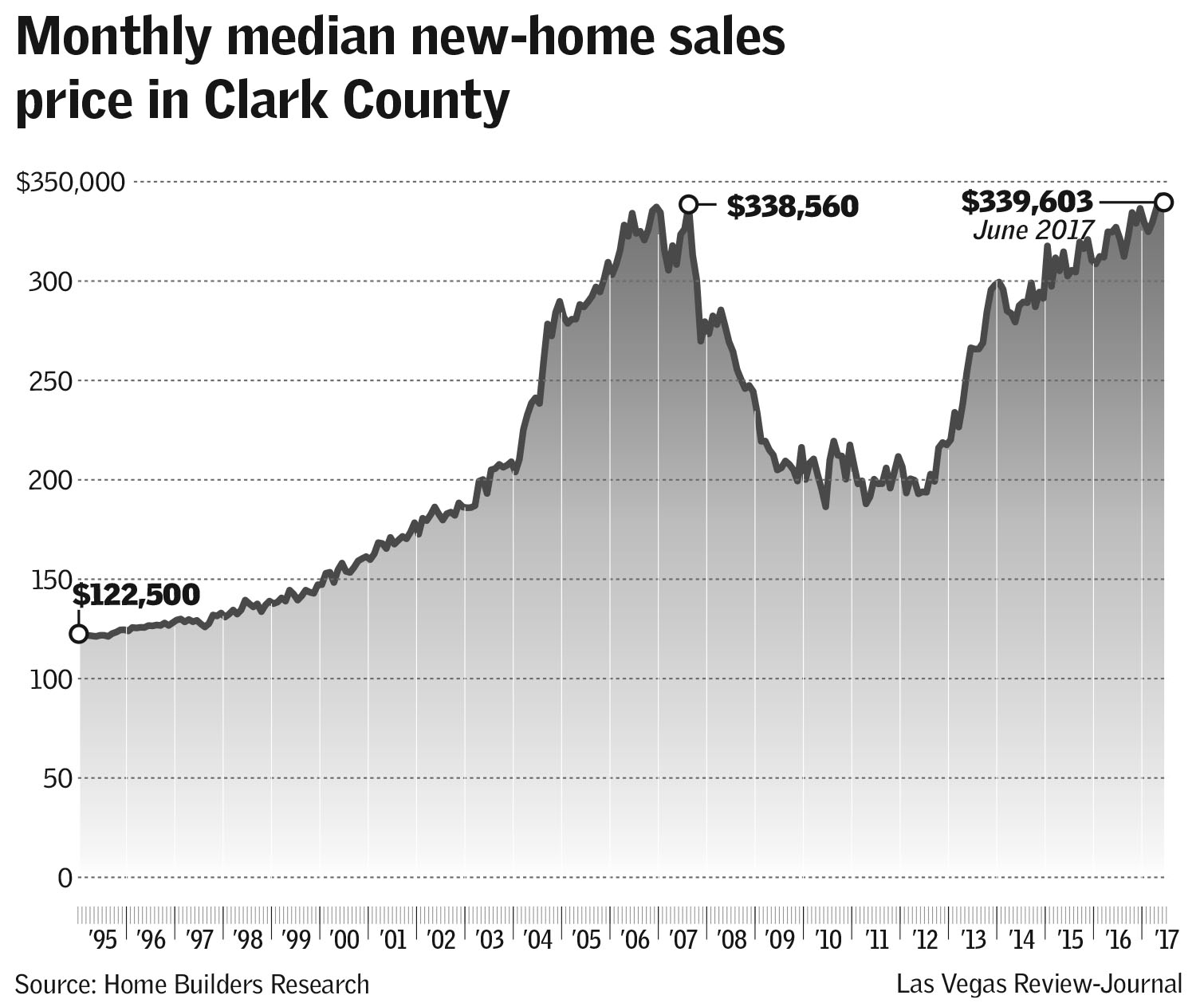 Long recovery
Nationally, builders have been focused on larger, more expensive houses. Locally, they still sell in the more-affordable $200,000 range, but Beville said entry-level homes "disappeared for a few years" because the profits weren't there.
Among the rising costs this year: Lumber prices are up about 20 percent, economist Dietz said, amid new tariffs by the Trump administration on imported Canadian softwood lumber and wildfires in that country.
Still, low interest rates are helping people buy costlier homes, allowing prices to rise, Andrews said, and a sliding inventory of resales might be pushing house-hunters to construction sites.
Las Vegas also is growing, creating an influx of potential buyers. Clark County's population rose 10.5 percent from 2010 to 2016, to almost 2.2 million, U.S. Census Bureau data show.
But given how badly Las Vegas got pummeled by the recession, the economy still is recovering or lagging in some ways. And the housing market, like other industries, feels the impact.
"Whoever thought it would take 10 years or more to get out of the recession?" Smith said.
Contact Eli Segall at esegall@reviewjournal.com or 702-383-0342. Follow @eli_segall on Twitter.
Price gap
Here's some sticker shock: The price gap between new homes and resales is much wider in Las Vegas than the national average.
The median sales price for new homes in Clark County in June was $339,603, 48 percent higher than the median sales price of previously owned homes, according to Home Builders Research.
Its reported prices cover all types of homes, such as single-family dwellings and condos.
Nationally, the median sales price for new homes in June was $310,800, 18 percent higher than the median price of resales that month, according to data from the U.S. Census Bureau and the National Association of Realtors.