Will Las Vegas have enough workers for major construction projects?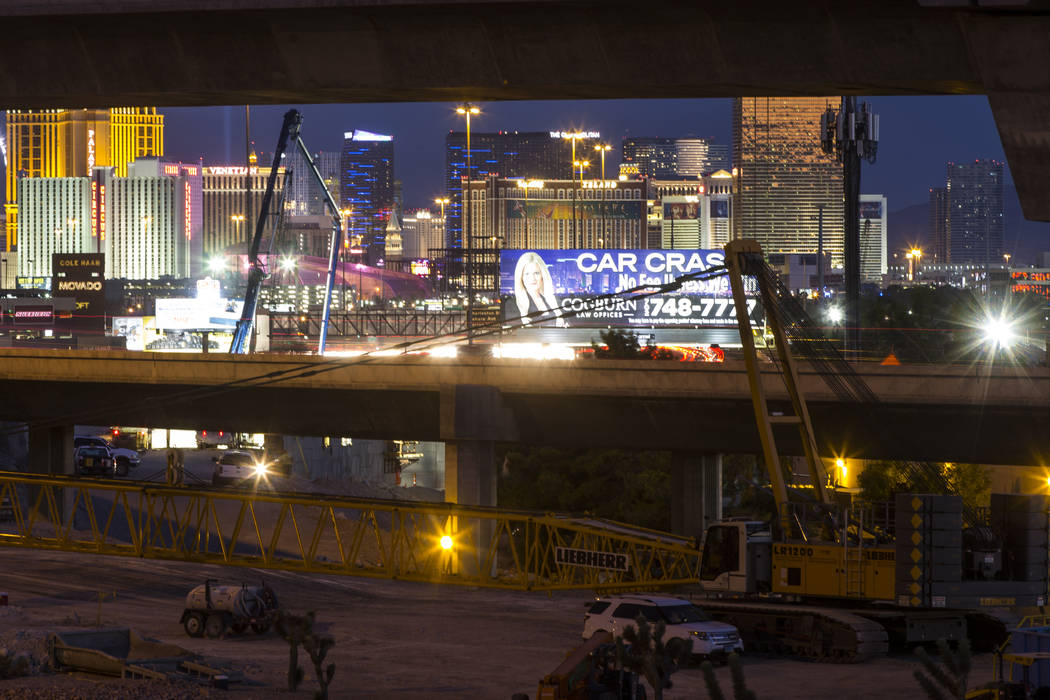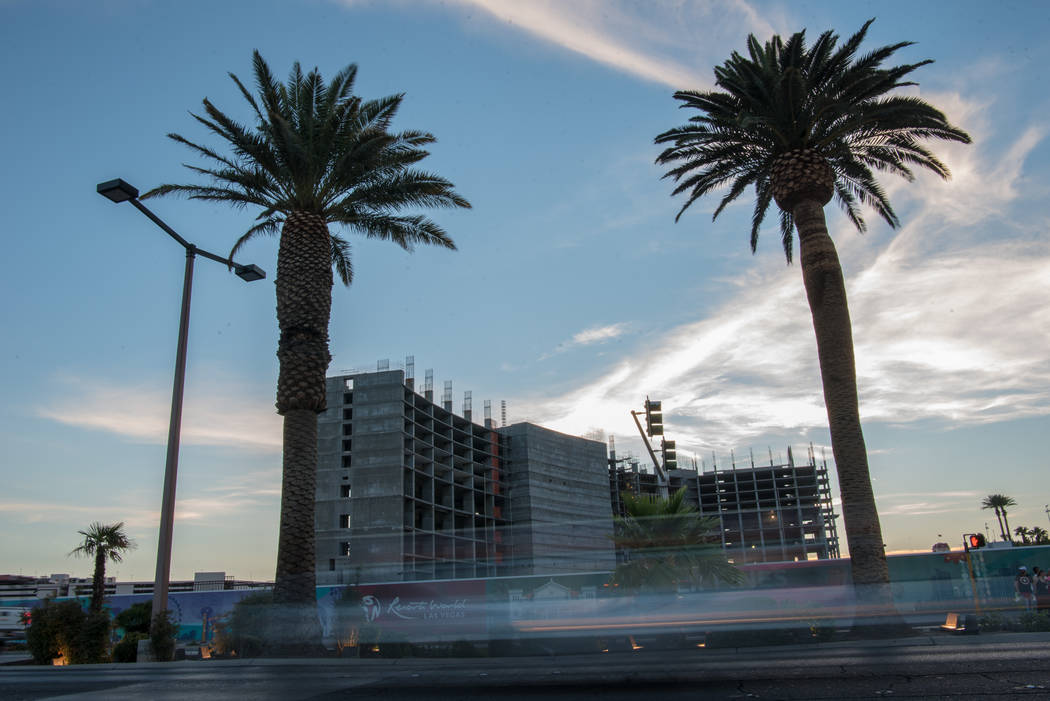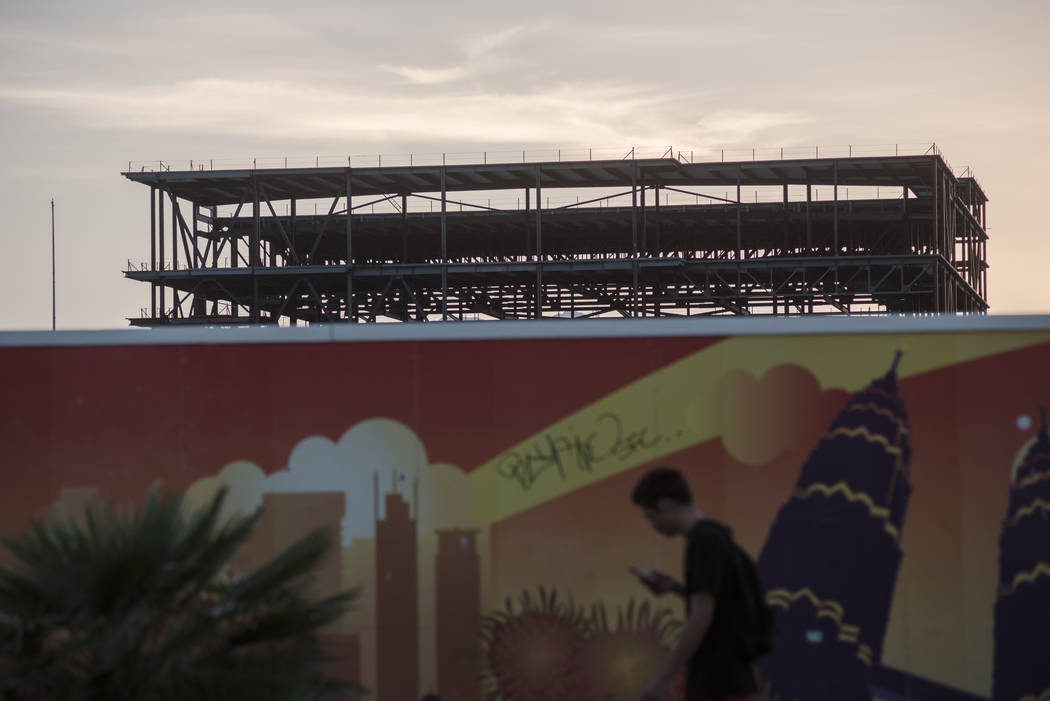 If you plan to build it in Las Vegas — whether it's a new casino, a freeway, or a stadium for the Raiders and UNLV — construction workers will come, officials believe.
And many of them will be needed to finish projects already planned.
Southern Nevada has seen many boom periods in its history. Another boom is now unfolding across Southern Nevada, with planned, proposed and construction projects underway totaling as much as $15 billion, according to Jeremy Aguero, a principal at Las Vegas-based Applied Analysis.
Laborers Union Local 872 workers regularly rally at Las Vegas Stadium Authority meetings, offering a can-do spirit. They say they will absolutely be able to complete the stadium project by the beginning of the 2020 football season.
But data suggests Nevada does not have enough construction workers to accommodate the timing needs of the stadium along with several existing and future major construction projects, including a Strip megaresort, two highway projects and a manufacturing plant.
10,000 construction workers short
"We're about 25 percent above the national average for construction workers," said Bob Potts, research director for the Governor's Office of Economic Development. "But, our growth is exceeding that 25 percent. That means we don't have enough of those workers for the current demand that exists."
How short is Southern Nevada?
Aguero estimates Southern Nevada will be about 10,000 construction workers short of planned projects in the pipeline.
Construction industry professionals have said the most acute shortage may occur among professionals and specialists, such as architects and engineers.
On the rebound
Construction is currently the second-fastest growing industry as it rebounds from the major hit the industry took during the recession.
"Construction is dependent on growth that comes from a primary industry," Potts said, referring to hospitality or manufacturing.
Likewise, its decline also depends on a primary industry.
While the hospitality industry lost 30,100 jobs between 2007 and 2010, the construction industry shed 75,400 jobs, according to the Nevada Department of Employment, Training and Rehabilitation.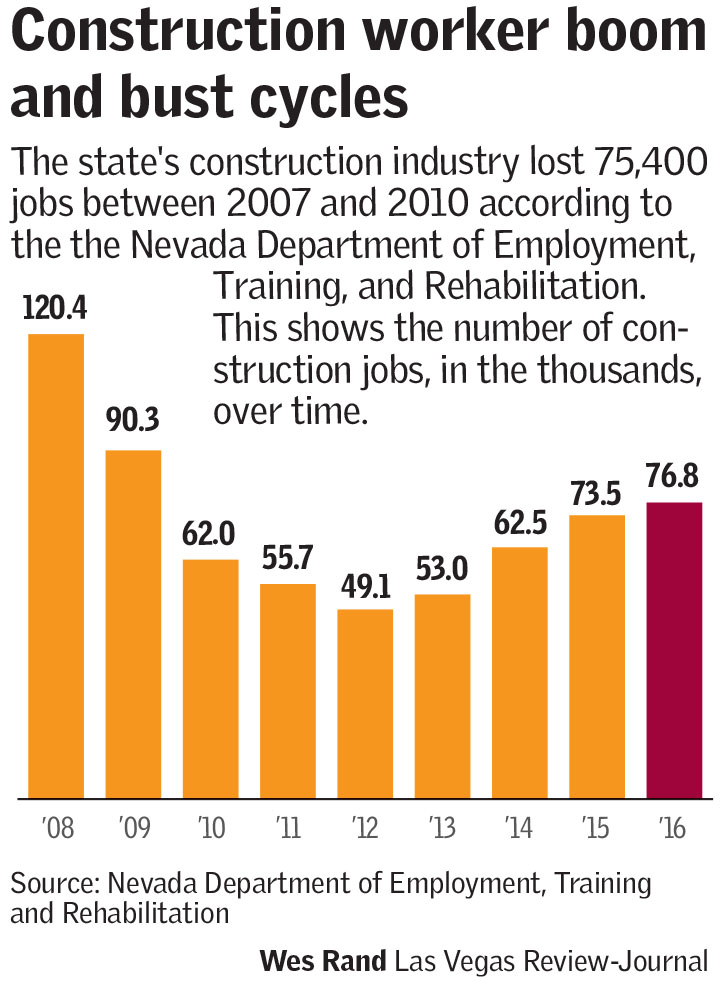 "Part of the issue in construction is what happens to those construction workers once a building is built. They go away unless there's another big project that they can roll over into," Potts said.
There wasn't another big project during that period and many construction workers left.
But visitation is thriving anew with 42.9 million visitors in 2016 and 42.3 million projected for 2017.
Moreover, the construction industry has been consistently adding jobs since 2013. There are currently about 81,000 construction workers in the state, according to the employment department's most recent statistics.
Nevada is now on a "big growth curve," Potts said, and the state has identified the construction industry as a key growth industry.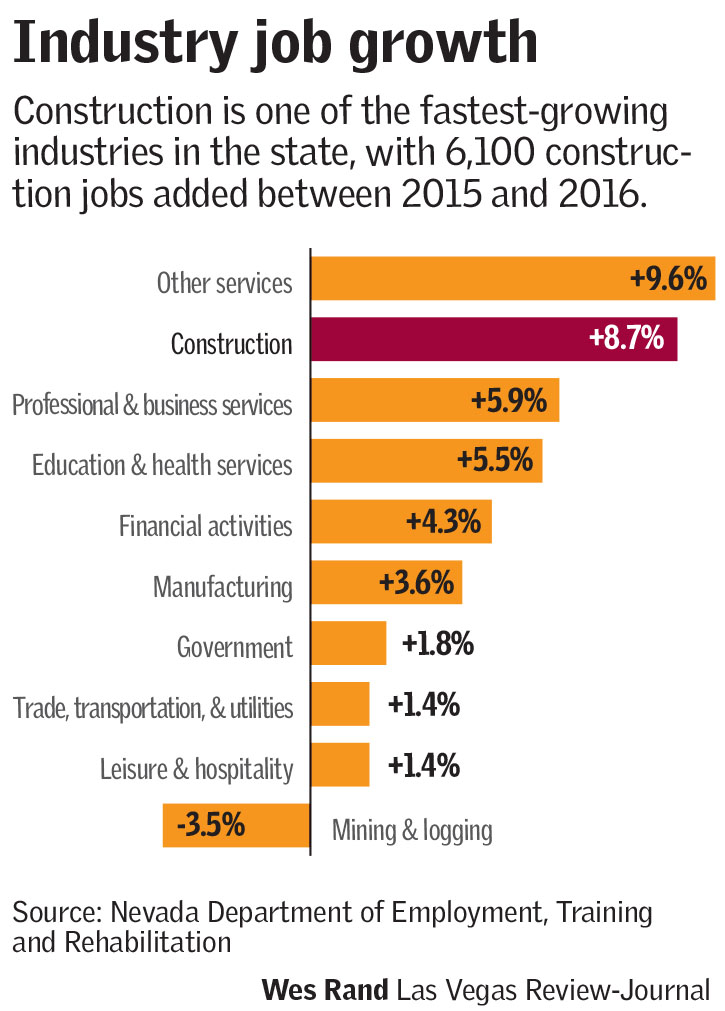 Now hiring
"We need to get more workers, especially when you think about how fast we're growing in these export-based industries (tourism, in the case of the Raiders, and manufacturing, in the case of Faraday) that are really going to need those construction workers to get things going," Potts said.
A Las Vegas construction official agreed.
Martin-Harris Construction President Guy Martin said the construction industry is "starved" for more craftsmen. Amid the shortage, projects in Las Vegas are taking longer to build, prices can climb and contractors are looking farther to find workers.
Laborers streamed out of Las Vegas when the real estate bubble burst last decade and construction dried up. The valley was one of the hardest-hit markets in the country during the recession, and traveling laborers still "associate our market with their pain and suffering," Martin said.
Today, massive projects in the pipeline such as Resorts World Las Vegas on the Strip or the Las Vegas stadium won't compete for all the same talent as, say, new housing tracts in the suburbs. But with big projects gobbling up construction materials, commodity prices are poised to rise, Martin said.
That, he added, "is a scarier prospect for me."
DC Building Group has reduced the impact of the labor shortage by "searching for additional resources regionally and helping people relocate back to the Las Vegas Valley," CEO Shawn Danoski said in an email, adding that these measures have helped his management-level positions.
Danoski, however, expects "the challenge to increase" with the start of such developments as the Las Vegas stadium and ongoing, major roadway projects.

He indicated the labor shortage will likely continue to push up prices and cause projects to take longer to finish.
That scenario is worrisome to the Las Vegas Convention and Visitors Authority, which will spend $1.4 billion to expand and renovate the Las Vegas Convention Center over the next 5½ years. The LVCVA will be on a strict timeline to complete a new 600,000-square-foot exhibition hall by the end of 2020 in time to host the 2021 CES.
The need to finish the project on time has resulted in the LVCVA putting $114.9 million in contingency funding within the $860 million budget dedicated to the expansion project, some of which will account for anticipated higher costs associated with compression in the construction industry.
Optimism from the governor
Jonas Peterson, CEO of the Las Vegas Global Economic Alliance, says the construction worker shortage points to good things for the economy. The alliance is a private-public partnership that works to recruit businesses to the state as well as expand existing businesses.
To meet the demand, Peterson said Nevada needs to continue to focus on job training.
"It's not like it once was, where we are way out of bounds. We are just showing strong demand for our growing economy," he said.
Gov. Brian Sandoval said he's confident Nevada will be able to meet the demand as it comes, adding that he's sure more construction workers will move into the state to meet market needs.
Sandoval said wage inflation isn't necessarily a bad thing in the short term. As construction companies raise wages to attract workers, Nevada may become competitive, he said.
"We want to have high wages. That means people are making a good living," Sandoval said.
Aguero of Applied Analysis said he shares Sandoval's optimism, but he said that does not discount the fact that it will take "a lot of work" to fill the construction worker gap. Not only does Southern Nevada need to get more construction workers to the state, but Southern Nevada needs to keep them here, he said.
"We've got to get those folks here, and we have to have places for them to live and schools for them to send their kids to, and all those type of things — and that's going to take some time," Aguero said.
Contact Wade Tyler Millward at millward@reviewjournal.com or 702-383-4602. Follow @wademillward on Twitter. Contact Todd Prince at tprince@reviewjournal.com or 702-383-0386. Follow @toddprincetv on Twitter. Contact Nicole Raz at nraz@reviewjournal.com or 702-380-4512. Follow @JournalistNikki on Twitter. Contact Eli Segall at esegall@reviewjournal.com or 702-383-0342. Follow @eli_segall on Twitter. Contact Richard N. Velotta at rvelotta@reviewjournal.com or 702-477-3893. Follow @RickVelotta on Twitter. Review-Journal writer Art Marroquin contributed to this report.
RELATED
Workers try to better skills, achieve wage gains