The housing market hasn't been a snoozer lately, as sales are up, prices are climbing and competition is heated.
But in recent months, fewer buyers in Southern Nevada relied on a key ingredient when getting a home: a mortgage.
Buyers obtained about 7,300 home-purchase loans in the Las Vegas area in the first quarter, down 5 percent from the same period last year. At the same time, cash sales climbed 19 percent year-over-year to almost 4,200 purchases, according to housing tracker Attom Data Solutions.
Mortgage lending still was at one of its highest first-quarter levels in almost a decade. But the pullback came amid higher borrowing costs and a shrinking inventory of listings that's giving cash buyers the upper hand, analysts say.
Las Vegas wasn't alone: Among 98 markets analyzed by Attom, 18 had year-over-year jumps in sales and cash deals but a drop in loan totals.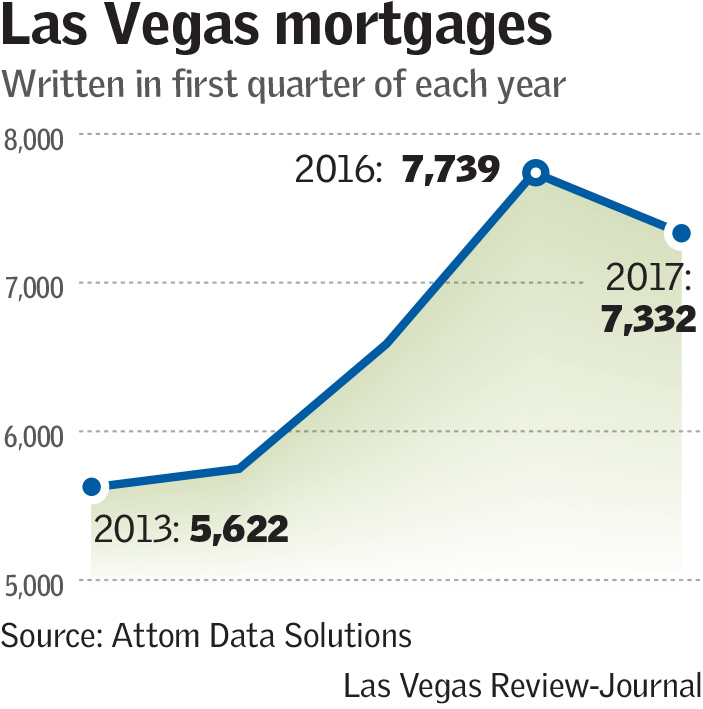 Attom senior vice president Daren Blomquist said it's "somewhat counterintuitive" to see loan totals fall amid the rising sales. But higher interest rates put more homes "out of reach" for borrowers due to the bigger monthly payments, and sellers might prefer a cash buyer, who can close a deal faster.
The average rate on a 30-year mortgage hovered between 4.15 and 4.2 percent in the first quarter, up from 3.66 to 3.87 percent during the same period last year, according to mortgage finance company Freddie Mac.
"Cash buyers have always been around, but this gives them an extra advantage now," Blomquist said.
'Sold within a day'
Nationally, home sales and mortgage applications are on the rise, so Las Vegas' situation is different from most, according to National Association of Realtors chief economist Lawrence Yun.
House hunters have to make stronger offers amid the competitive market, he said, and one way to show "you're a serious buyer with less chance of fallout" is to pay cash.
Rick Piette, owner of Henderson brokerage firm Premier Mortgage Lending, hasn't noticed a drop in loan totals around the valley, adding that his company, formed in 2010, had its best month ever in May.
But he sees firsthand how tight the market is.
Around 5,100 single-family homes were on the market without offers at the end of April, down 31 percent from a year earlier, according to the Greater Las Vegas Association of Realtors.
"A house under two fifty in this town is sold within a day," Piette said.
'Housing shortage'
Inventory has been sliding for months amid a nationwide drop and is especially tight for lower-priced homes, real estate pros say.
Factors pushing or holding availability down include increased demand from buyers, a still-large tally of underwater borrowers who can't easily sell and a sizable number of rental homes that were acquired by investors after the market crashed and aren't listed for sale.
All told, the supply of listings is "getting to the point where it's fair to call this a housing shortage," GLVAR President David J. Tina, co-owner of Urban Nest Realty, said last month.
Nevertheless, buyers picked up about 14,900 previously owned homes in Clark County this year through April, up 8 percent from the same period in 2016, as well as 2,656 new homes, up 31 percent, according to Home Builders Research.
And while the valley's first-quarter loan total was higher than in recent years, it was a fraction of the levels of the bubble era last decade, when practically anyone could get a mortgage.
In the first quarter of 2006, according to Attom, lenders issued almost 19,900 purchase loans in the Las Vegas area alone.
Contact Eli Segall at esegall@reviewjournal.com or 702-383-0342. Follow @eli_segall on Twitter.
Las Vegas housing market: More sales, fewer loans
* 14,908 previously owned homes sold this year through April, up 8 percent from same period last year
* 7,332 home-purchase loans issued in first quarter, down 5 percent from same period last year