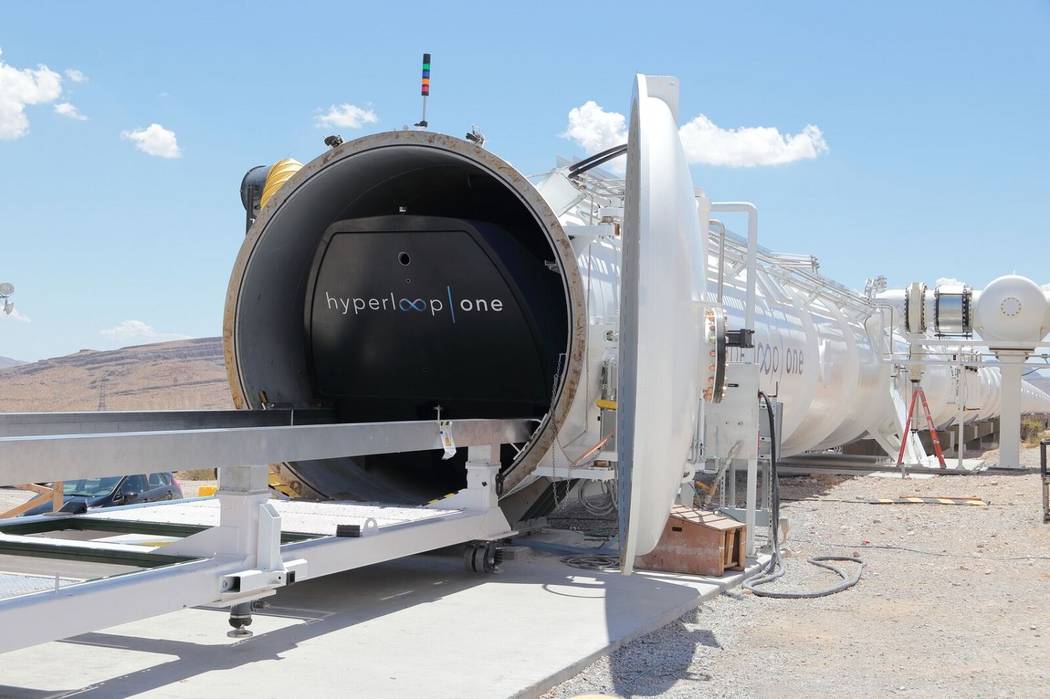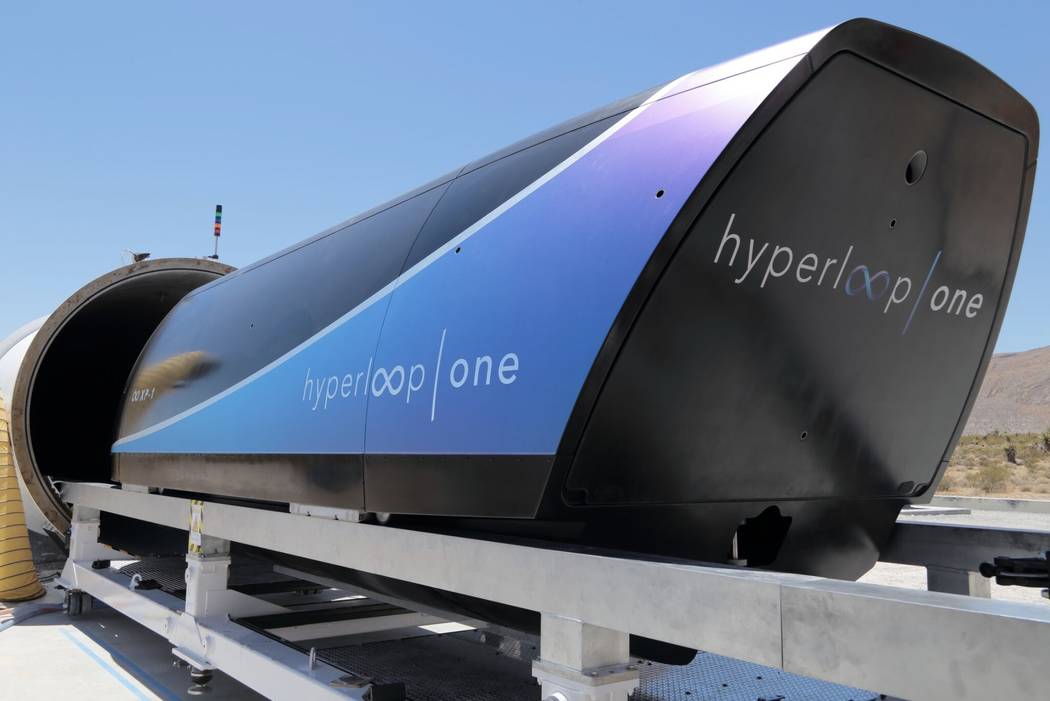 Despite Hyperloop One's test track in North Las Vegas, Nevada will not be the first in the U.S. with a working version of the company's experimental mode of transportation.
The company announced Thursday that it had selected 10 routes worldwide that are viable for a working Hyperloop track and had begun a feasibility study on a route in Colorado.
The list of routes includes four in the U.S., none of which are in Nevada.
The Hyperloop mode of transit, designed by Tesla CEO Elon Musk, has the potential to send cargo from Las Vegas to Los Angeles in about 30 minutes using a pod magnetically levitated and electrically accelerated.
A team from Nevada had pitched Hyperloop One in April on a Hyperloop route from Las Vegas to Reno. The route was chosen as one of 11 finalists in the contest, but it was unclear what, if any, benefits are available to finalists.
Nevada officials will include travel by Hyperloop as a realistic part in future transportation plans, said Sondra Rosenberg, assistant director of planning for the state's Department of Transportation.
A Las Vegas-Reno route lost out to other routes with higher potential rider demands, Rosenberg said. The state could become a possible working track site for Hyperloop One should another track prove too difficult.
"While we're disappointed, we made it far enough that we have an opportunity in our state for future development," she said.
The Nevada team, made of state and local officials, proposed a 454-mile route from Apex Industrial Park near North Las Vegas, where the Hyperloop One test track is housed, to the Tahoe Reno Industrial Center that houses operations from companies like Tesla and Wal-Mart.
In March 2016, Nevada approved $9.2 million worth of tax incentives to Hyperloop One for the local test track.
Hyperloop One, the Los Angeles-based company that said it has sent a pod about 192 mph at its test track near North Las Vegas in early August, said it will partner with Colorado and engineering firm AECOM to create a feasibility study on a route that spans about 360 miles from Cheyenne, Wyoming, to Pueblo, Colorado.
Other U.S. routes that Hyperloop One will work with to develop working tracks include:
■ Chicago to Pittsburgh
■ Dallas to Laredo, Texas
■ Miami to Orlando
Winning routes outside the U.S. include:
■ Indian tracks from Bengaluru to Chennai and Chennai to Mumbai
■ U.K. tracks from Edinburgh, Scotland, to London and from Glasgow, Scotland, to Liverpool, England
■ A Mexican track from Mexico City to Guadalajara
■ A track from Montreal to Toronto
Nevada appeared on a list of finalists encouraged to keep working on their route proposals. Those other routes include:
■ Sydney to Melbourne in Australia
■ Tallinn, Estonia, to Helsinki
■ Madrid to Tangier, Morocco
■ Corsica, France, to Sardinia, Italy
■ Berlin to Hamburg, Germany
■ Eilat to Tel Aviv in Israel
■ Amsterdam to Lelystad, Netherlands
■ Glasgow to Cardiff, Wales
■ Cheyenne to Houston
■ Kansas City to St. Louis
Hyperloop One CEO Rob Lloyd still believes he can launch three operating Hyperloop systems by 2021, according to the Thursday statement from his company.
Contact Wade Tyler Millward at wmillward@reviewjournal.com or 702-383-4602. Follow @wademillward on Twitter.