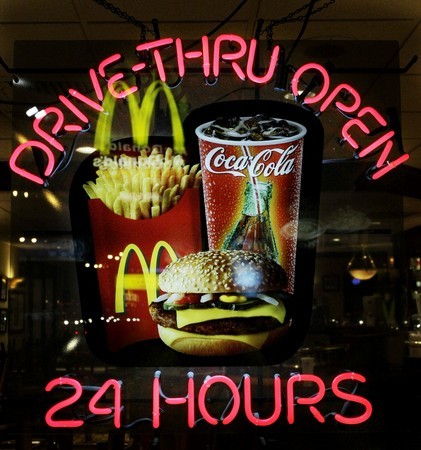 CHICAGO
Sales at McDonald's suffer rare decrease
The supersized recession that was a boon for business last year caught up further with McDonald's Corp. in November, as high unemployment ate into sales.
Although the world's largest burger chain is faring better than its competitors, which have increasingly been pushing value menus and discounts of their own, fortunes for McDonald's likely won't improve unless the U.S. economy does.
"I think ultimately, we'll need job growth to get things turned around to get back in the positive territory," Morningstar restaurant analyst R.J. Hottovy said.
On Tuesday, McDonald's said sales at restaurants open at least a year fell 0.6 percent in the United States. It was the second consecutive monthly decline for the measure, an important indicator of a restaurant chain's health, and a steeper fall than October's 0.1 percent.
Around the globe, sales in locations open at least a year rose 0.7 percent.
NEW YORK
CIT Group plan gets bankruptcy judge's OK
CIT Group Inc., one of the nation's biggest lenders to small and midsized businesses, said Tuesday that a judge approved its reorganization plan and it plans to emerge from bankruptcy protection on Thursday.
CIT Group filed for bankruptcy protection on Nov. 1 after it failed to restructure outstanding debt to alleviate a cash crunch. The reorganization plan, which was approved by key bondholders in advance, reduces CIT's total debt by $10.5 billion. It also defers debt maturities for three years.
CIT, based in New York, had continued to operate while working through bankruptcy proceedings.
ATLANTA
On-time performance declines for U.S. airlines
U.S. airlines did a poorer job getting passengers to their destinations on time in October compared with the same month a year ago.
The Department of Transportation said Tuesday that the 19 carriers surveyed recorded an overall on-time arrival rate of 77.3 percent in October. That was lower than the 86 percent recorded in October 2008 and below the 86.2 percent recorded in September of this year.
Hawaiian Airlines had the best on-time performance in October, with a 93.4 percent rate, followed by Alaska Airlines at 85.8 percent and JetBlue Airways at 82.9 percent.
Delta Air Lines subsidiary Northwest Airlines was worst, with a 69.3 percent on-time record. Atlantic Southeast Airlines was slightly better than that at 71.6 percent and ExpressJet Airlines was at 72.6 percent.
Weather delayed 41.1 percent of late flights in October, up from the same month a year ago, when 34.5 percent of late flights had weather delays, the Department of Transportation said.
WASHINGTON
Lending arm's earnings will improve, GE says
General Electric Co. says profits at its lending arm will start improving by 2011, but first it will have to endure another year of big losses on loans gone bad in areas like commercial real estate.
The conglomerate told analysts Tuesday that profit is expected to be flat next year, ranging between $2 billion to $2.5 billion, and then rise in 2011. GE is ahead of schedule with plans to shrink the size of GE Capital, which once provided nearly half of the company's overall profits. And GE says credit markets are improving, making it easier and cheaper to borrow money.
But some big problems that have beset GE Capital during the financial crisis and recession, like big losses, are expected to continue to dog the lender next year, including commercial real estate, where losses have soared as the broader market crumbles. Overall losses are expected to peak in 2010 at $13.6 billion.
DALLAS
Texas Instruments raises forecast for sales
Texas Instruments Inc. raised its fourth-quarter profit and sales outlook on Tuesday, citing an improving market for chips used in cell phones and other electronic gadgets like hard-disk drives and video game consoles.
Dallas-based Texas Instruments now expects to earn between 47 cents and 51 cents per share, up from a prior estimate of 42 cents to 50 cents and above third-quarter earnings of 42 cents per share. In its regular midquarter update, the company also lifted its revenue forecast to between $2.90 billion and $3.02 billion from $2.78 billion to $3.02 billion, previously. That would mark sequential growth of 1 percent to 5 percent.
Analysts are expecting the company to earn 47 cents per share on sales of $2.93 billion, according to a Thomson Reuters poll. The midpoint of the company's revenue guidance would total $2.96 billion, slightly above Wall Street's average estimate.
Simon Property still seeks its rival's assets
Simon Property Group Inc.'s chief financial officer said his company remains interested in buying malls from bankrupt General Growth Properties Inc. even with the $2.33 billion purchase of Prime Outlets Acquisition Co.
The purchase of Prime from Lightstone Group, announced Tuesday, will give Indianapolis-based Simon an additional 22 retail outlet centers, increasing its total to more than 60. Simon executives have said they're considering purchasing the assets of mall owner General Growth, its largest competitor.
David Simon, Simon's chief executive officer, amassed about $3.7 billion in cash in the past year to fund acquisitions, and last month the company said it hired merger adviser Lazard Ltd. and Wachtell Lipton Rosen & Katz, a law firm focusing on acquisitions, for advice on General Growth. With or without a General Growth purchase, the purchase of Prime makes sense for Simon, Sterrett said Tuesday.
Simon Property Group operates the Forum Shops at Caesars, Las Vegas Premium Outlets and Las Vegas Outlet Center in Las Vegas.