October 1, 2010 - 11:00 pm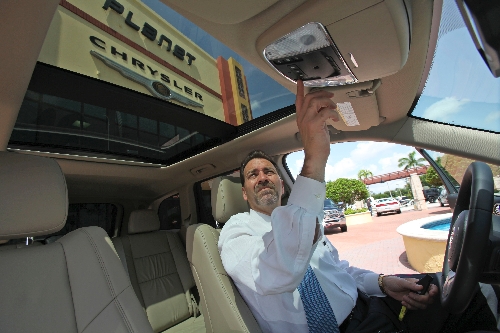 WASHINGTON
Government reports point to improvement for economy
A flurry of new data Friday showed the economy is improving — with temporary help from the government.
Consumer spending rose in August and incomes increased by the largest amount in eight months, the Commerce Department said. Still, the income gain was propelled mostly by the government's short-term extension of unemployment aid, not wage gains.
A big jump in government building projects lifted construction spending in August, Commerce said in a separate report. That offset the weakest level in private construction spending in 12 years.
Separately, a private trade group said manufacturing activity expanded in September for the 14th straight month, although it was the slowest pace in 10 months.
CARSON CITY
End near for hot line helping with jobless benefits claims
A temporary phone line set up in Las Vegas to help Nevadans navigate jobless benefit claims will be discontinued next week.
The Nevada Department of Employment, Training and Rehabilitation says the temporary line was set up Aug. 20 because of a surge in calls after extended benefits were held up in Congress for two months.
As of Sept. 24, the temporary unemployment insurance information message line received 8,489 calls. That was in addition to 61,000 calls handled by the Southern Nevada Unemployment Insurance Call Center.
But officials say the agency has since caught up on restoring benefits to those eligible, and the volume of calls has declined significantly. Because of that, the agency on Thursday said the temporary message line will be disconnected at 5 p.m. on Friday .
REDMOND, Wash.
Microsoft suing Motorola
for patent infringement
Microsoft Corp. is suing Motorola Inc. for infringing on its smart-phone patents.
The software maker on Friday said Motorola phones that use Google Inc.'s Android software step on Microsoft technology. The functions in question include synchronizing e-mail, calendars and contacts.
Microsoft filed its lawsuit in the U.S. District Court for the Western District of Washington. It also filed a claim with the International Trade Commission.
Microsoft said Motorola licensed some of its mobile technology from 2003 to 2007, but did not renew the license even as the handset maker continued to use the technology.
This isn't the first move Microsoft has made to protect its mobile patents. In April, it announced licensing agreement with another Android phone maker, Taiwan's HTC Corp.
A spokeswoman for Schaumburg, Ill.-based Motorola said the company has not seen the lawsuit and therefore can't comment.
DETROIT
September sales rise for Ford, Chrysler, fall for GM, Honda
New models and Labor Day promotions didn't do much to fire Americans' appetites for new cars in September.
Sales at Chrysler and Ford rose slightly from August. They fell at General Motors and Honda and were flat at Toyota. Car companies say a recovery is still happening, but it's not as strong as they had hoped following a terrible 2009.
Expressed as an annual rate, September sales came in at a 11.76 million pace. That's up from a 11.47 million rate in August, but far below 2007's pre-recession total of 16 million. "We're not going to bust loose as you sometimes see after a downturn, but we'll see steady growth," said Don Johnson, GM's vice president of U.S. sales.
Sales dropped 4 percent from August to 958,966 cars and light trucks, according to AutoData Corp. While it's typical for sales to decline after Labor Day, this August was one of the weakest on record.
Industry sales rose 29 percent from last September, but that was deceptive. The government's "Cash for Clunkers" rebate program, which ran during July and August of 2009, drew buyers who otherwise would have waited until later in the year.
NEW YORK
To give staff bigger grants, Facebook will split stock
Facebook, the world's largest online social network, said Friday it is splitting its shares five for one so that it can give larger stock grants to current and prospective employees.
The split doesn't change the actual value of these grants, however.
Spokesman Larry Yu says the split made sense as Facebook's valuation has grown. The split brings Facebook shares' value closer to what might be expected for a privately held company, he says.
Facebook isn't disclosing the value of its shares. The stock was recently trading between $72 and $76 on SharesPost, a secondary stock market. This values Facebook at up to $33.7 billion.
Such markets let stockholders sell shares before a company goes public. But those prices don't necessarily reflect how the stock would trade on public exchanges.
This is the third time Facebook has split its shares. Yu said the first time was in July 2006 and the second was in October 2007.
LOS ANGELES
Where's my good doggie? Twitter-tied tag will tell you
So your dog follows your every move around the house. Now, when you leave home, you can follow your dog.
Puppy Tweets is an electronic dog tag with a sensor that you attach to your dog's collar.
It detects your pet's movements and sounds and sends a variety of tweets to a Twitter page you set up for your dog on a computer or smart phone. You can invite all your friends to be followers.
The new Mattel Inc. novelty is aimed at the pet-loving social network crowd, spokeswoman Rachel Cooper said.
There are 500 tweets programmed into the software that comes with the 0.05-ounce devices, available in blue and pink.
The frequency of messages is directly related to the activity level of your dog, she said.