In divorce settlement, Wynn to give half his stock to wife
January 7, 2010 - 10:00 pm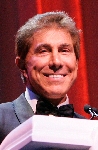 Wynn Resorts Ltd. Chairman Steve Wynn will transfer half of his stock in the Las Vegas-based casino operator to his wife, Elaine, as part of their divorce settlement, but he isn't relinquishing control of the company.
According to a filing Wednesday with the Securities and Exchange Commission, the casino billionaire will transfer more than 11 million shares of the company's stock, valued at some $741 million, to Elaine Wynn, a member of Wynn Resorts board of directors who was re-elected to a three-year term in May.
Steve Wynn and Elaine Wynn separately will each retain about 9 percent ownership in the outstanding shares of Wynn Resorts, which are traded on the Nasdaq National Market.
The transferred shares were previously communal property.
Aruze USA Inc., a subsidiary of a Japanese gaming company, controls 19.9 percent of the outstanding shares in Wynn Resorts and is the casino operator's largest shareholder.
Under an amended shareholders agreement, Aruze and the Wynns will vote their shares together on matters coming before the board, constituting 37.9 percent of the company's outstanding shares.
Wynn Resorts officials declined comment on the matter.
In August, Steve and Elaine Wynn sold 2 million shares of the company's common stock at $57 a share because of the "anticipated change in their marital status."
The couple filed for divorce March 5 in Las Vegas, and the case was sealed the same day.
Wynn Resorts stock closed at $66.96 on Wednesday. The company operates Wynn Las Vegas, Encore and Wynn Macau. An expansion to Wynn Macau, the $675 million Encore at Wynn Macau, is expected to open in the spring.
Contact reporter Howard Stutz at hstutz@reviewjournal.com or 702-477-3871. The Associated Press contributed to this report.