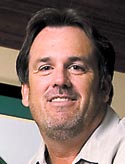 A group of investors are suing Jeff Guinn, son of former Gov. Kenny Guinn, and his company, Aspen Financial Services, based on claims that the younger Guinn put his and his family's interests ahead of that of the investors.
The lawsuit, filed by law firm Gordon Silver in Clark County District Court on Friday, alleges that Aspen solicited investor funds for first-mortgage loans but then gave preference to second-mortgage loans, "because Aspen's business associates, family members and employees were lenders on second position loans."
Jeff Guinn on Tuesday said the lawsuit has no merit.
"We never gave preferential treatment to anyone. We treated everyone the same," Jeff Guinn said. "We're going to vigorously fight (the lawsuit)."
Jeff Guinn said he didn't know whether his father was among the family members holding second-position loans. He said the lawsuit was driven by investors' unhappiness over nonperforming mortgage loans and the general economic climate.
The state Mortgage Lending Division examined the books and records at Aspen last month and found no deficiencies, Jeff Guinn said.
However, the lawsuit seeks to put the loans in receivership because of "defendants' egregious and conflict-burdened conduct in servicing plaintiff's first-position loans." It also seeks an accounting of Aspen loans.
Aspen Financial has about 4,000 investor clients and was servicing about $480 million in loans at the end of last year, Jeff Guinn said. Since then, some properties have been foreclosed and the company is struggling with the real estate bust and credit crunch, he said.
Aspen makes so-called hard-money loans that are secured by real estate using money solicited from individual investors. It requires that investors allow it to service these loans, according to the lawsuit.
The plaintiffs were solicited by Aspen to invest in first-mortgage loans, according to the lawsuit. First-mortgage lenders have priority when property is foreclosed and get paid first before second-mortgage lenders under the law.
The first-mortgage loan investors didn't know that Aspen offered the borrowers an opportunity to borrow from second-mortgage loans, the lawsuit says.
When some of the borrowers defaulted, the first-mortgage lenders directed Aspen to foreclose but the company delayed foreclosure to protect the interest of second-mortgage loan holders, Jeff Guinn and the borrowers, the lawsuit claims.
The lawsuit says that Aspen breached contractual duties to protect its first-position lenders, enforce their rights and avoid improprieties.
The lawsuit mentions an $18.2 million loan to Celebrate Investments secured by real estate in Clark County.
In March, Aspen informed Celebrate loan investors that it was planning to foreclose on the property on behalf of second-position lenders before foreclosing on first-position lenders, according to the lawsuit.
The lawsuit states that Aspen foreclosed on other loans on behalf of second-position lenders, instead of first-position lenders, as well.
Jeff Guinn was part owner of another borrower, Coronado Eastern LLC #80, but failed to disclose that to investors who made a $19.6 million loan, according to the lawsuit.
Guinn said he made all required disclosures to investors and obtained investor approval for action Aspen took as the servicer of the loans.
Contact reporter John G. Edwards at jedwards@reviewjournal.com or 702-383-0420.